Successful Reddit Marketing Starts Here

Reddit attracts millions of visitors and billions of page views each month, but few businesses see Reddit as a marketing opportunity. Most businesses that are using Reddit for marketing purposes are getting poor results or using unethical tactics that risk their brand's reputation. Where does this leave businesses who want to engage Reddit ethically and get results?
In 2012, we set out to answer that question by learning how Reddit works on a deep level and investigating the instances where businesses were engaging redditors honestly and successfully. We found that there is a method for successful and ethical marketing on Reddit. We created this blog to share what we learned and formed a marketing agency to help businesses put what we learned into practice.
After years of working with clients and writing about Reddit marketing, we published Understanding Reddit for Your Business which is the most comprehensive resource on Reddit marketing available today. If you are ready to start crafting a successful Reddit marketing campaign, we encourage you to purchase the book and let it guide you to Reddit marketing success.
If you would like to learn more about Reddit marketing, join our email list below!
When you sign up for our email list, we'll give you instant access to an important document that every business should read before attempting to use Reddit as a marketing platform. It's called, "The Most Common (and Costly) Reddit Marketing Mistakes". It will show you exactly why businesses are failing on Reddit and give you the proper mindset for success on the platform.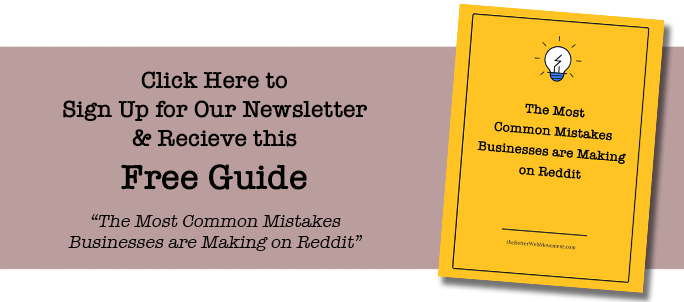 In addition to the Common Mistakes, we will also share our favorite case studies of successful Reddit marketing.
You'll learn about the Video Game Attorney that grew his practice, the food blogger that drives millions of hits to her blog, and the podcaster that changed her life by hitting the front page of Reddit. These stories will get you excited about Reddit and teach you important lessons on how to approach Reddit the right way.

"I was unsure about Reddit and was hesitant to use it. I read the Marketers Guide to Reddit AMAs and my AMA ended up #1 on the front page of Reddit. These guys are miracle workers! Thank you!"
– Jen Briney, podcast host with a front page AMA
---
If you would like to skip the email list and go straight to a comprehensive, step-by-step guide to Reddit Marketing, click to learn more about our book: Understanding Reddit.