Like any social network or discussion forum, keeping up with reddit can be a time consuming process. If done effectively, any leader or business can find rewarding engagements taking place on reddit each day. In this article, we explain how to monitor reddit from your email inbox with a tool called Karmalytics.
How to use Karmalytics:
1. Find the "Sign Up" to set up account at Karmalytics.co. Verify the email address and you will be ready to set up new key phrases.
2. Select key phrases to monitor. Karmalytics has different plans that allow you track 5 to 50 different keywords at a time. Custom packages are available if you need to track more keywords.

3. Receive email notifications. Karmalytics will scan reddit every day and send you a list of mentions directly to your email inbox (see sample email). This list will include snippets of each key phrase mention, the name of the subreddit it was mentioned in, and a direct link. If you want to receive "instant" emails for every mention you will need a premium account.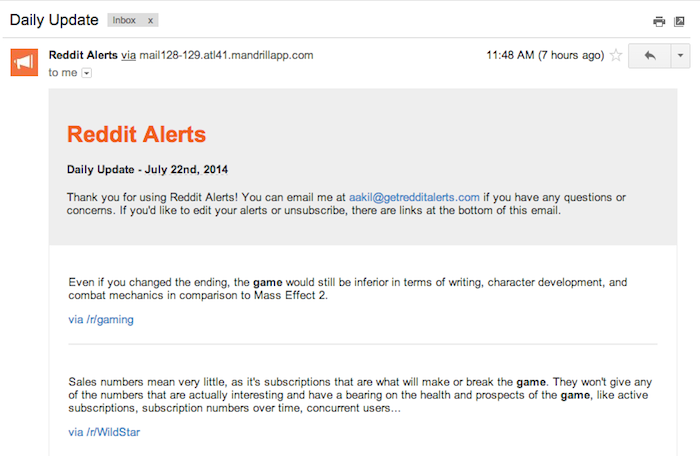 Tips for Using Karmalytics
Monitor your brand name, website url, and names of key leaders. Try to find keywords that will strongly signal that someone is talking about your business specifically.
Monitor keywords that signal conversations that you want to know about. This could be a product name, competitor's name, or a topic that is closely related to your business.
Optimize your keyword tracking over time. Remove keywords that are mentioned too frequently and do not produce meaningful leads. Experiment with adding new key phrases until you find the right mix.
Interact with people who are mentioning your keywords. This does not mean blasting them with advertising or a sales pitch. Become a respected member of the reddit community by engaging users in helpful ways. Be honest about who you are, defend your products, but do not try to actively sell redditors unless they ask for it.
Visit Karmalytics.co and sign up for a free starter account. Karmalytics is a powerful marketing tool that can help you save time and increase engagement with your audience on reddit.