Over the years, content optimization has kept on growing. Therefore, more and more tools and apps keep coming out, but not all of them are good. In today's article, we would like to talk about Clearscope, which is often described as one of the best content optimization tools, and also give you a few of its alternatives.
Let us start by saying that Clearscope is a keyword search and content optimization tool. Its main feature, called "Optimize," ranks your content based on its relevance. It is rich in features and can be used by everyone. Now, if it is that great, why would you be looking for its alternatives?
Well, just like everything in this world, nothing is flawless, and not everything will satisfy everyone's needs. If you are looking for some features that are not included in Clearscope or simply do not like it and want to find its replacement, this article is just for you.
In addition, if you want your content to rank well on search engines, you'll have to have a fast site. The first step towards it is great hosting. WPMU DEV hosting ticks all the boxes. It's affordable, fast, secure, fully dedicated, and the #1 rated WordPress host on TrustPilot. Get 20% off any of their plans here.
Now that the basics are out of the way, if you are ready, let's start talking about some of Clearscope's alternatives.
Outranking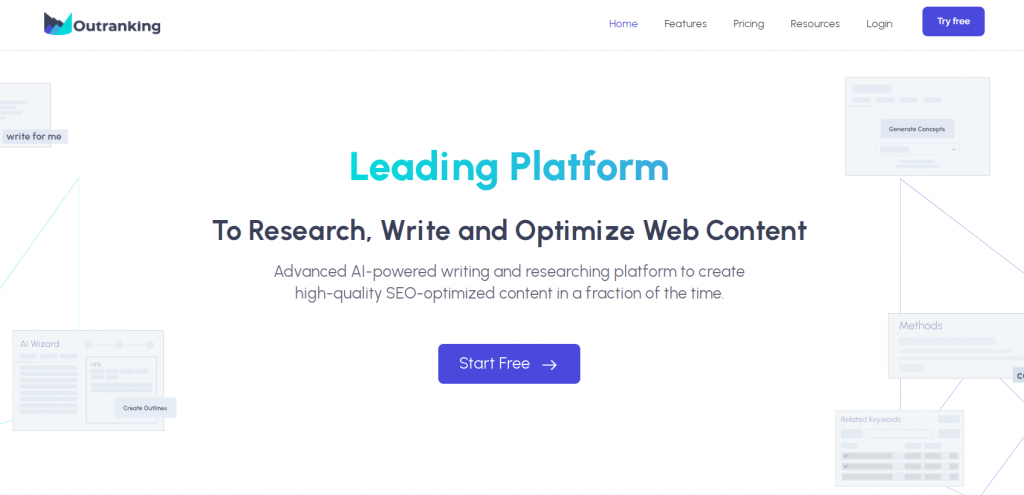 Our top choice is definitely Outranking, and we will tell you why. It is a relatively new SEO tool that will for sure help you write optimized content. Thanks to its user-friendly interface, it is not only eye-pleasing but can also be used even by the biggest beginners.
This tool comes with automatic SERP analysis, and also offers a preview of topic clusters, highest frequency keywords, backlink data, and everything else that is related to ranking. They offer different price plans, so you can choose which one is perfect for you, based on what you need in a tool such as this.
Do not waste your precious time researching the highest-ranking keywords and the most worthy SEO practices. Instead, let Outranking do all of the boring work.
Marketmuse
Marketmuse is a great alternative to Clearscope. Its AI does all of the work for you; collecting and analyzing your content, leaving only the writing to you. This tool makes you a great writer by allowing you to focus only on your writing, while Marketmuse is doing the "boring" work.
Getting everything done is much easier with this tool, and it sure doesn't hurt that it will rank better as well. Marketmuse offers three price plans, the first one being free and giving you seven days of access. The other two plans differ mostly in the number of domains they offer.
Overall it is a great tool that's bound to improve the SEO of any site that uses it.
Dashword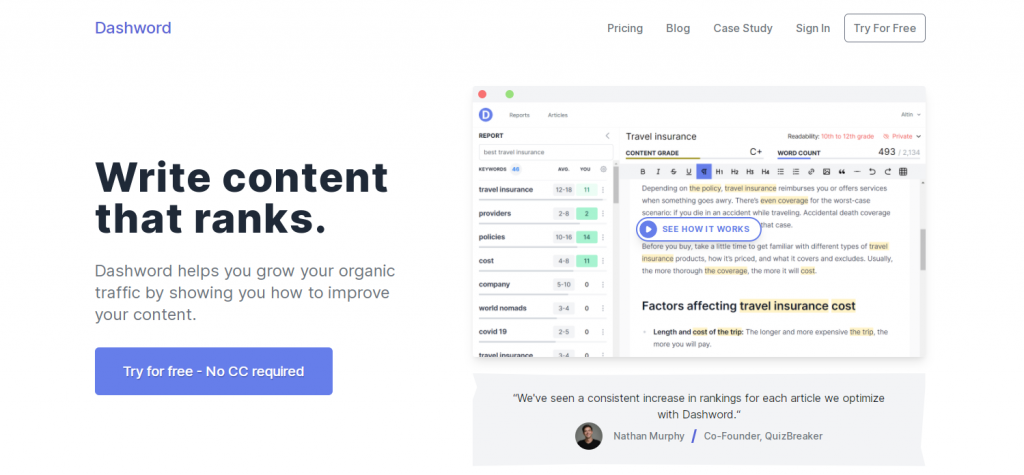 This tool, just like the ones above, allows you to mostly focus on your writing. Dashword improves your traffic, by focusing on your content's quality. It gives you a list of topics that might be relevant to your content so you can know what kind of content to write.
After writing, you will be given an opportunity to compare your work to top-ranking content, but also tips on how to improve it. You can even answer questions that might be given by your readers, making your site look richer.
Conclusion
All of these tools are definitely worth giving a try. It all depends on what you are looking for and how experienced you are when it comes to SEO. Giving any of these a try will definitely be worth it, especially Outranking. The tool was created to cover all bases, and it can be used by everyone no matter the level of experience. We hope that you have found this article helpful.