The demanding nature of internet shoppers and users, in general, makes it hard for businesses to keep up with clients' preferences. In the digital world, treating all clients in the best way you can does not necessarily mean that each one of them will be satisfied. It takes more than just ordinary work in this industry to meet the needs and demands of customers, especially when it comes to building your digital reputation.
Don't waste any more time and Grab Your Reviews from over 50 different platforms for purpose of building your online reputation management. Every review you get is gold worth and you should recognize it as a chance to build your online status and reputation.
There are numerous tools available, but there are certain aspects that make Grab Your Review stand out from the competition, and you are about to find out what exactly. To tickle your imagination, let's just say that the text in front of you will speak about both collection and customization of sophisticated feedback systems such as SMS and email. 
Grab Your Reviews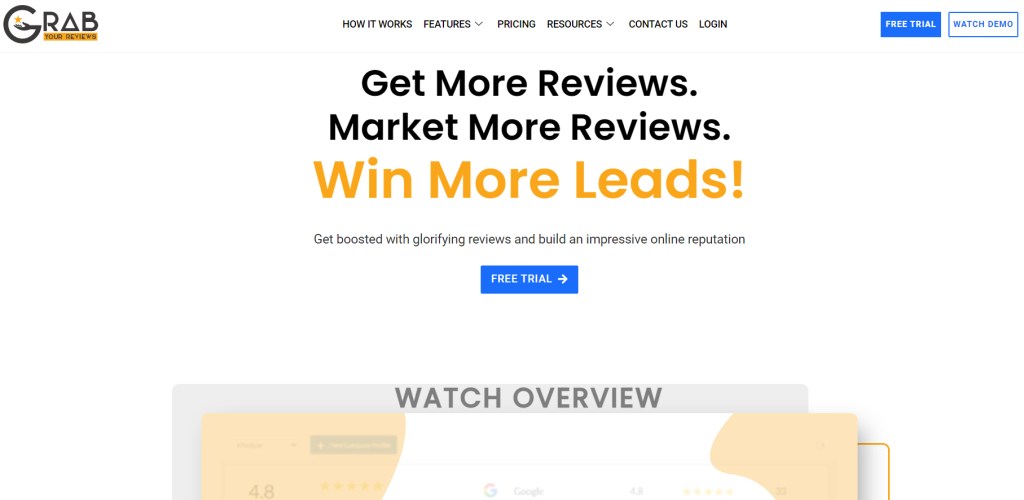 If there was a single all-in-one solution that lets you get all the reviews into one place and display those that speak the best of you it would have been named after an imperative. Grab Your Reviews is a tool that will enable its users to grab reviews from more than 50 different platforms. It takes care of the collection and displays it on your website or social media channels.
An interesting feature includes the ability to set up email and SMS funnels to motivate your customers to drop a review of your product or service. It is considered one of the direct ways of interacting with the audience and getting the feedback necessary for the further growth of the business.
Collecting reviews automatically is an art equal to the importance of having reviews today. The purpose is to show the audience what others think of the product or services you offer. With this tool, you will be able to connect to over 50 top review platforms, which include the most popular: Google, Facebook, Yelp, Airbnb, etc.
Additionally, what you can do is set to receive alerts that highlight new reviews and trends and will track your online performance of the brand. Keep in mind that tracking the brand's online performance will help you recognize critical segments upon which you can boost your sales.
Customization is another great aspect of this one. Users highly appreciate when the sellers of digital products allow them to customize the tool and use it as their brand. The white-label feature allows users to modify the tool by adding their brand and logo, which can serve as a great promotional asset to any business regardless of size.
Best Features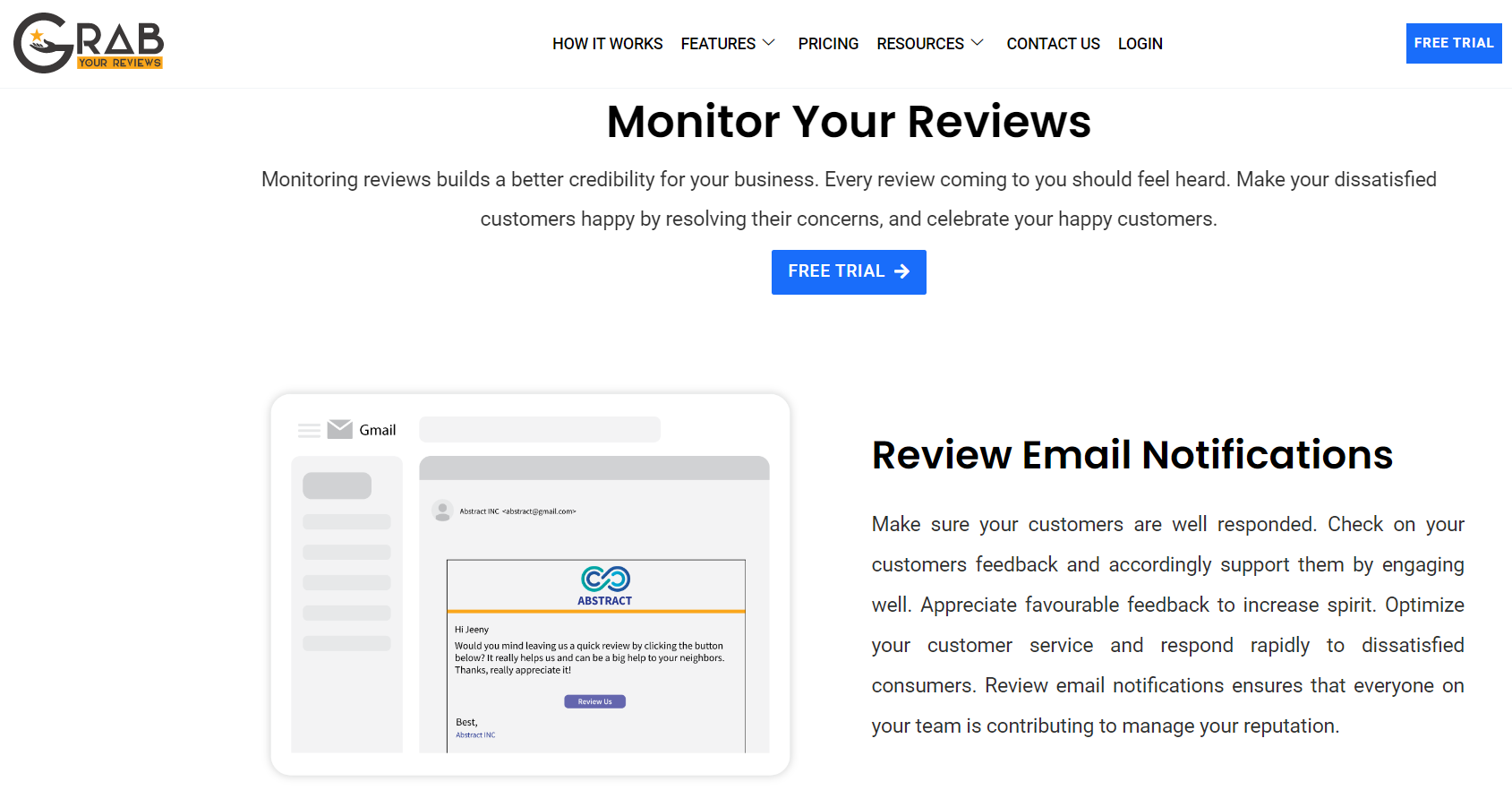 To make it more authentic, Grab Your Reviews allows setting up a lot of things in a custom way. It allows the customization of a subdomain, URL, or email sender domain to grow credibility in the eyes of your customers. On the other hand, teamwork is no longer an issue.
Simply invite the other members to work jointly on the dashboards you are setting up and modify them in a way that will bring more likes and impressions. Moreover, there is an option to respond directly to your customers straight from the platform, which will build your credibility even more.
Even if customers give out some negative reviews about your brand, service, or product, Grab Your Reviews will make it easy to reach them as well. There is nothing sweeter than turning a dislike into a like, right? Besides the white-label label feature, there are other features that charm users daily.
When it comes to the way you might want to display your clients' reviews, Grab Your Reviews allows seven different fully customizable widgets. The beautiful part is that the widgets can easily integrate with the website, and that is what you need. You want your customers to be able to give you feedback with minimum effort, anytime and anywhere.
That is why custom SMS and email funnels are available, to make it easier for a client to drop the review anytime they feel like it. By invitation, you can get multiple reviews at once. To modify the SMS or email templates, simply set the date, time, and frequency of the messages you send out.
However, you don't want to display all of them, especially if they are negative or incomplete. By incomplete, we mean reviews that lack a star rating or text. That is why Grab Your Reviews allows its users to choose which ones they want to show, and it lets them hide the undesired or negative ones
. Several consequent good reviews help build trust among the customers; let's all be clear on that. Just remember reading about different products and thinking about how rare you see brutally negative feedback.
Final Thoughts
Say goodbye to the painful process of getting feedback on your product or service. All you need to do nowadays is demand it with Grab Your Reviews. Easily connect to the most popular platforms in the world, such as Google, Yelp, Facebook, and many others.
To make interactions easier, it allows the creation of SMS and email funnels, so you get reviews from the places you least expected. Some extra good news is that recently three new platforms integrated into the tool, which are WebMD, App Store, and Deliveroo for the UK-based food deliverables.
At the end of the day, it perfectly suits small businesses, solopreneurs, and web design agencies since their work heavily depends on the impressions of a digital audience. Not only that feedback is crucially important for anything you do, a true professional will make sure their prospective clients and current customers can give feedback anytime and anywhere.
The platform is not a problem for Grow Your Reviews to build your reputation since it supports the most popular and widely used ones. Even the widgets are supported, so the way you display reviews on your website does not get any easier.