Nothing beats word-of-mouth marketing, no matter how much money you invest in various marketing campaigns. It's pretty simple: people prefer reviews left by real people to advertisements. This, of course, can work in your favor. One approach you should consider is to collect customer reviews and push them to the top of Google SERPs.
Given that 93% of consumers read online reviews before making a purchase, giving people the opportunity to see genuine opinions about your business before they even visit your website increases the likelihood of gaining more potential buyers of your products and/or services.
As a result, today we will introduce you to AddStars, a review aggregation tool that collects your online reviews and displays them on Google SERPs. Without further ado, let's take a look!
Gather Reviews in One Place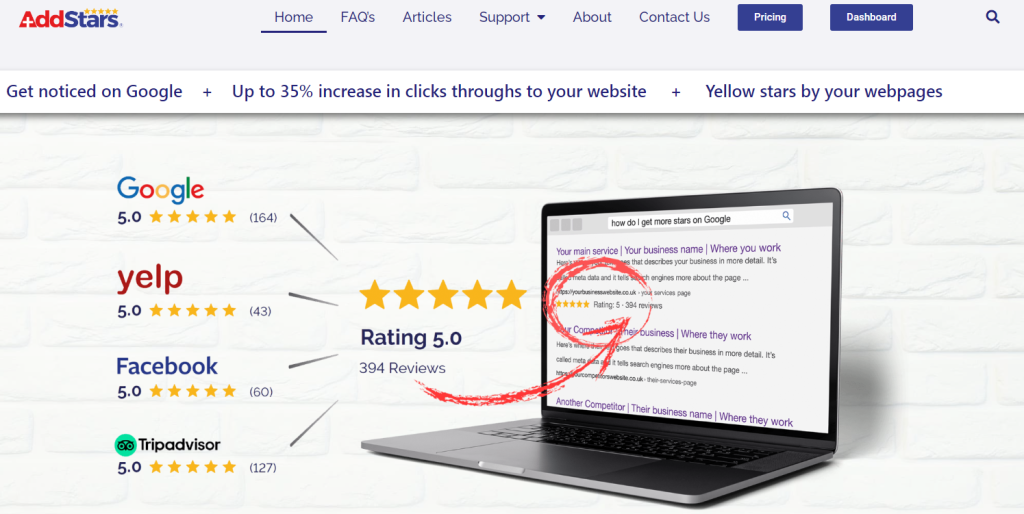 Before we get into all of AddStars features, it's worth noting that it's not a review platform like Yelp or Trustpilot. Instead, it is a tool that collects reviews from various platforms and displays them in Google search results. It basically acts as a bridge between review platforms and client websites.
Use it on your own website or charge your clients for the services using AddStars white label option, and watch it pay off in no time! Having all of those five-star ratings in one spot for everyone to see when they search for your business will increase conversion rates, making this one-of-a-kind solution great for small businesses and marketing firms.
White Label and Resell
Connecting your website to your review platforms takes only a few minutes. Don't bother with re-indexing your pages; AddStars takes care of that for you. When it comes to the tool's biggest selling point, it has to be its white-label feature.
AddStars allows you to freely customize and rebrand your dashboard, which you can then resell to your clients at any price you choose. All you have to do is purchase a lifetime license package at a fixed price and then resell it to your clients on a monthly or annual basis. You may also add your unique ID to any WordPress site by using the AddStars WordPress plugin.
Plans and Pricing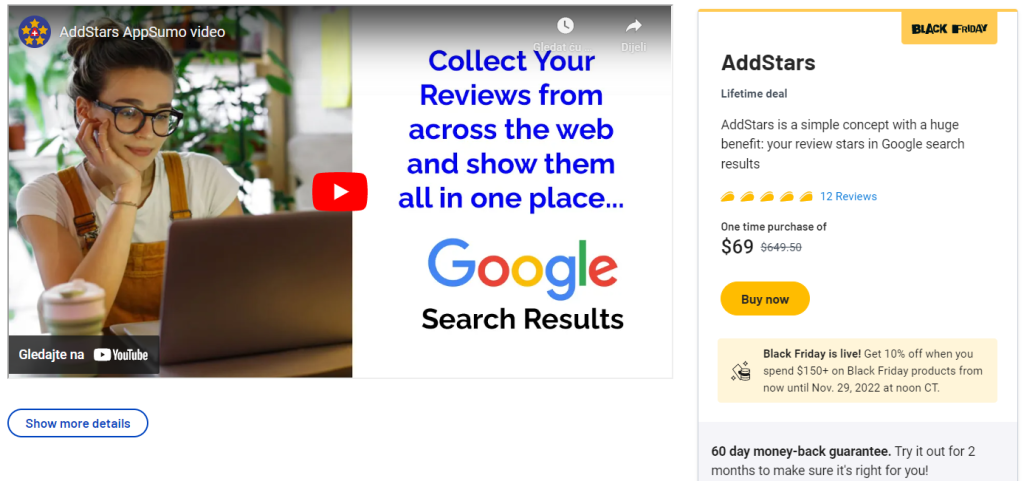 Among the many perks, this tool has to offer, buying a code grants you automatic access to all future updates and upgrades as they become available. You may access virtually any review platform online and select which of them you wish to show in Google SERPs. When you buy one license for $69 through Appsumo, you get one more for free.
This way, you can explore the reseller option with one of your clients while also reaping the benefits on your own website. And consider this: If you charge your clients $15 a month for a license, it will pay for itself in less than a year. Win-win!
Conclusion
As discreet as the five gold stars at the top of Google search results may appear, the results are anything but. Use this easy yet effective strategy to boost your conversion rates or to create an ongoing stream of passive income by reselling licenses. Run, don't walk, over to AddStars and watch your business grow in no time!