We all spend money differently. Thus, some will spend money only on pleasure and others solely on necessity. So, to be as successful as possible in your online business, you should design a webshop to suit the consumer habits of your target audience.
For this reason, it is essential to understand customers and understand the psychology of consumers, which is becoming an increasingly integral part of successful marketing strategies. The very development of neuromarketing, as a separate branch of marketing, proves how much the influence of psychology is growing on the development of marketing strategies and running an online business.
In addition to neuromarketing, data is an indispensable part of good shopping campaigns. The approach is relatively simple for much of your e-commerce data analysis: track revenue, conversion rate, and average order value.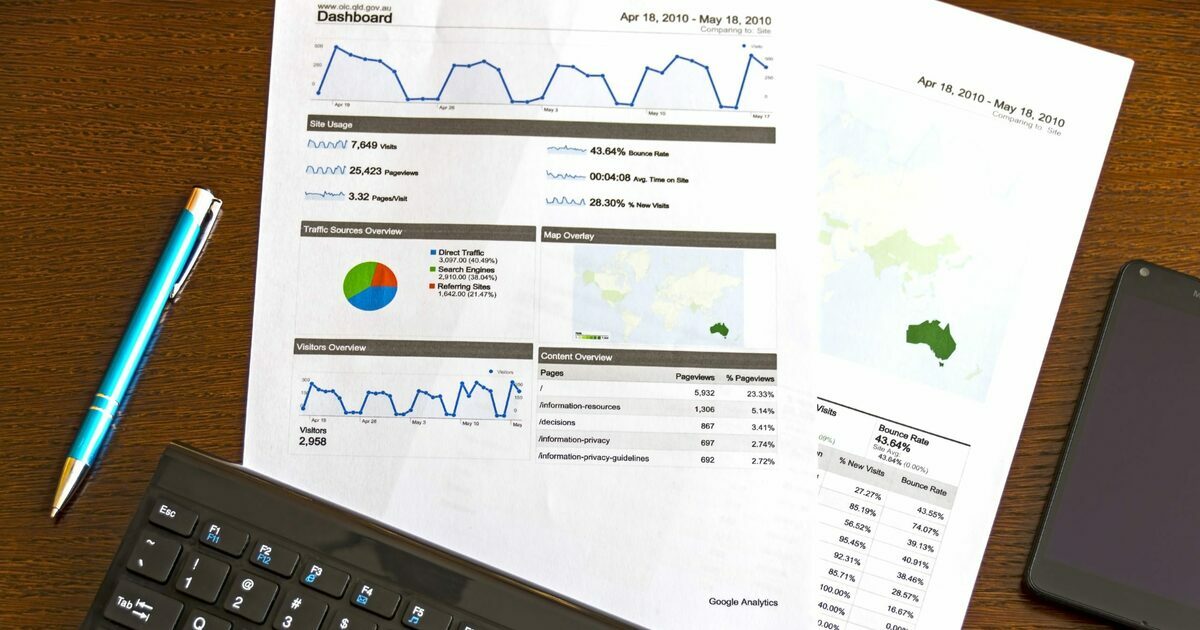 The purpose of web analytics is not just to get statistics but to get meaningful data that will help understand the behavior of visitors and users and help in the future decision-making process. Making better decisions allows companies to improve and enhance their websites which is the most important goal of data analytics.
Analyzing data from the web aims to increase the number of visitors, increase their retention time on the site and increase sales of its products and services. Google is one of the better-known corporations offering many online services and products.
Google Analytics is a free tool that monitors Web activity and further facilitates the collection of data and information needed to analyze the website on the one hand and user behavior on the other. The purpose of this tool is to collect data that will help make more objective decisions, and this data can be divided into three most important groups: acquisition, behavior, and conversion.
Conversios.io is a plugin that combines all of the above into one whole. With this plugin, you can track customer behavior, link it to Google Analytics and finally use the benefits offered by Google Ads. You will be able to properly optimize each of your shopping campaigns and reach precisely those people who will become your longtime loyal customers.
Why is Conversios.io a good solution for all your eCommerce campaigns?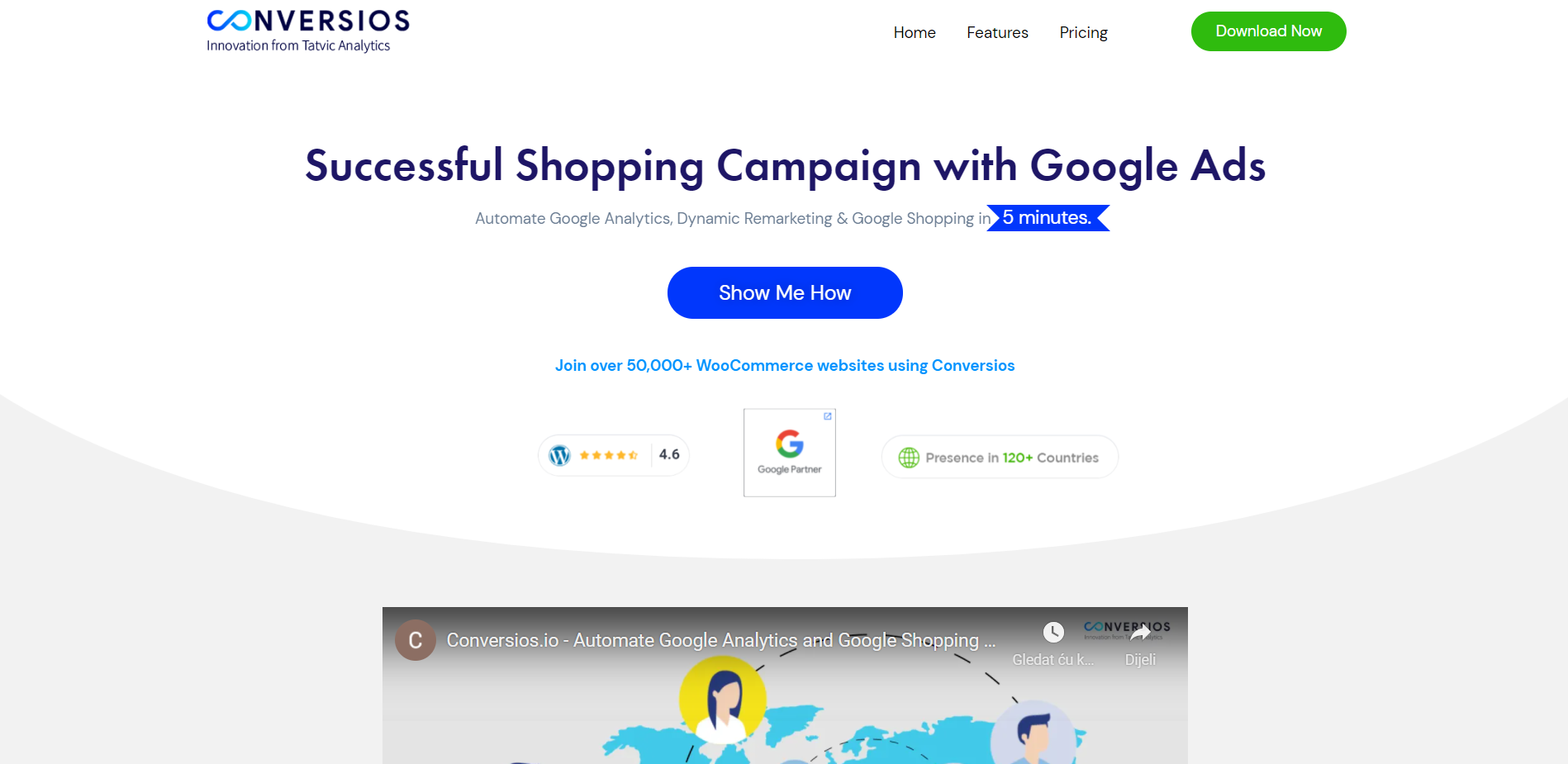 Conversios.io is an innovation from Tatvic Analytics that can help your business grow rapidly. The concept is based on data-backed decisions that help you understand customer behavior and create a good shopping funnel. With the help of the data available to you, Coversios.io offers you the opportunity to improve your conversions and ad spends.
Conversios.io is a powerful WooCommerce plugin that you can set up quickly, so it is entirely user-friendly. It relies entirely on available Google data collection tools, so its features can be divided into Google Analytics features and Google Shopping features.
Conversios.io and Google Analytics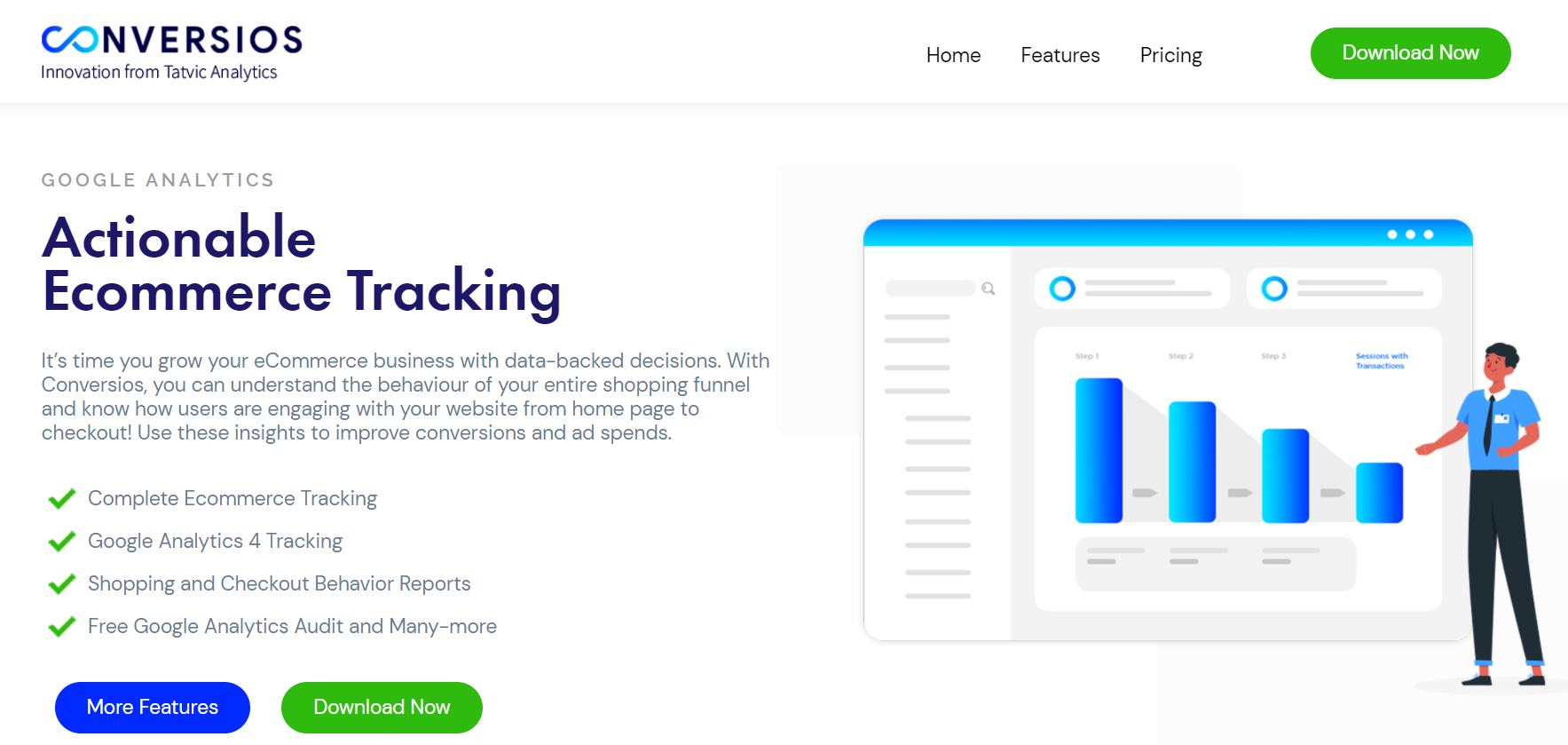 The combination of Google Analytics tools and the Conversios.io plugin allows you to track your customers better. This not only means that you will have control over customer behavior during your stay on your e-commerce website, but you will also have the ability to visualize customer behavior at any point during their purchase.
This way, you will have complete control over the data that comes in during the purchase process, from the data of completed purchases, to purchases that have led to possible increases in abandoned carts. Based on the information gathered, you will make important decisions to increase conversions and return on investment.
A great advantage is that you are not limited to the version of Google Analytics you are currently using, so it is effortless to migrate from Google Analytics 3 to Google Analytics 4, which will allow you to double-track the e-commerce website.
Once you understand all the benefits that come with connecting Conversios.io with Google Analytics, it's time to join this plugin with another Google tool – Google Ads. It will allow you to track customer behavior, adjust the campaign based on the data received, and focus the campaign exclusively on the niche that will bring you money.
Conversios.io and Google Merchant Center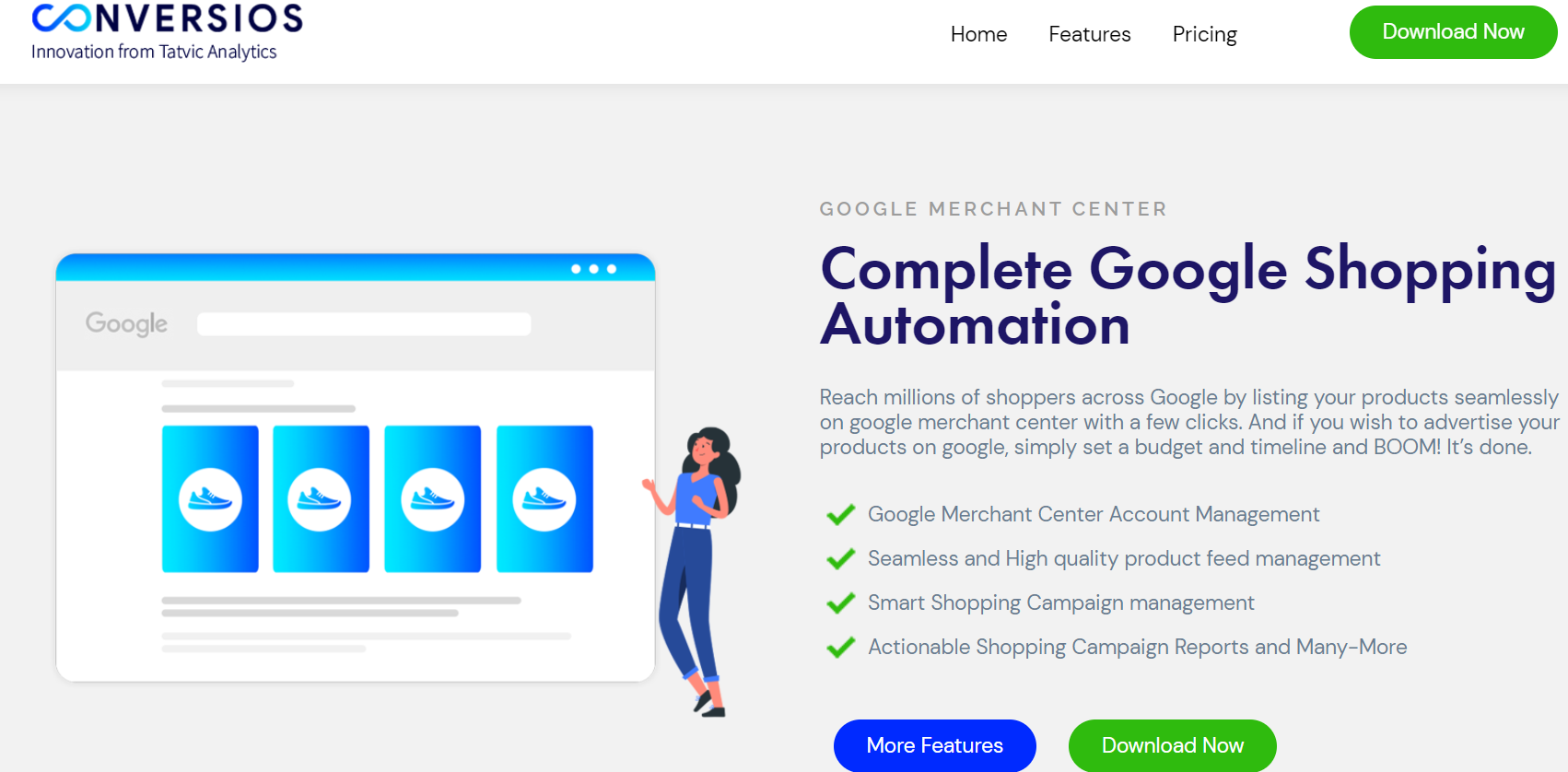 It is an exciting time for web marketers. There are various online channels and new ways to reach and target potential customers every day. The competition is fierce, and customer expectations for new and exciting shopping experiences are growing.
Google Merchant ads are displayed when users search for products on Google search. Ads appear at the top or top right corner of search results. You can also find shopping ads by clicking on the "Shopping" tab.
Users can very quickly and easily compare products and prices between multiple different web retailers. Downloading a dozen catalogs and several hours of manual comparison on various webshops is a thing of the past. An item that is also important to point out is the reliability and trust that the average customer has towards Google compared to the webshops they access for the first time.
Conversios.io offers you to reach millions of customers across Google by placing your products on the Google Merchant Center with just a few clicks. You can also promote your products on Google. It is simple, and you just need to set a budget and timeline for your campaign.
You can link your existing account or create a new one to become a Google partner and have your shop on Google Merchant Center. Conversios.io will inform you of any policy-related changes and will keep your account up to date.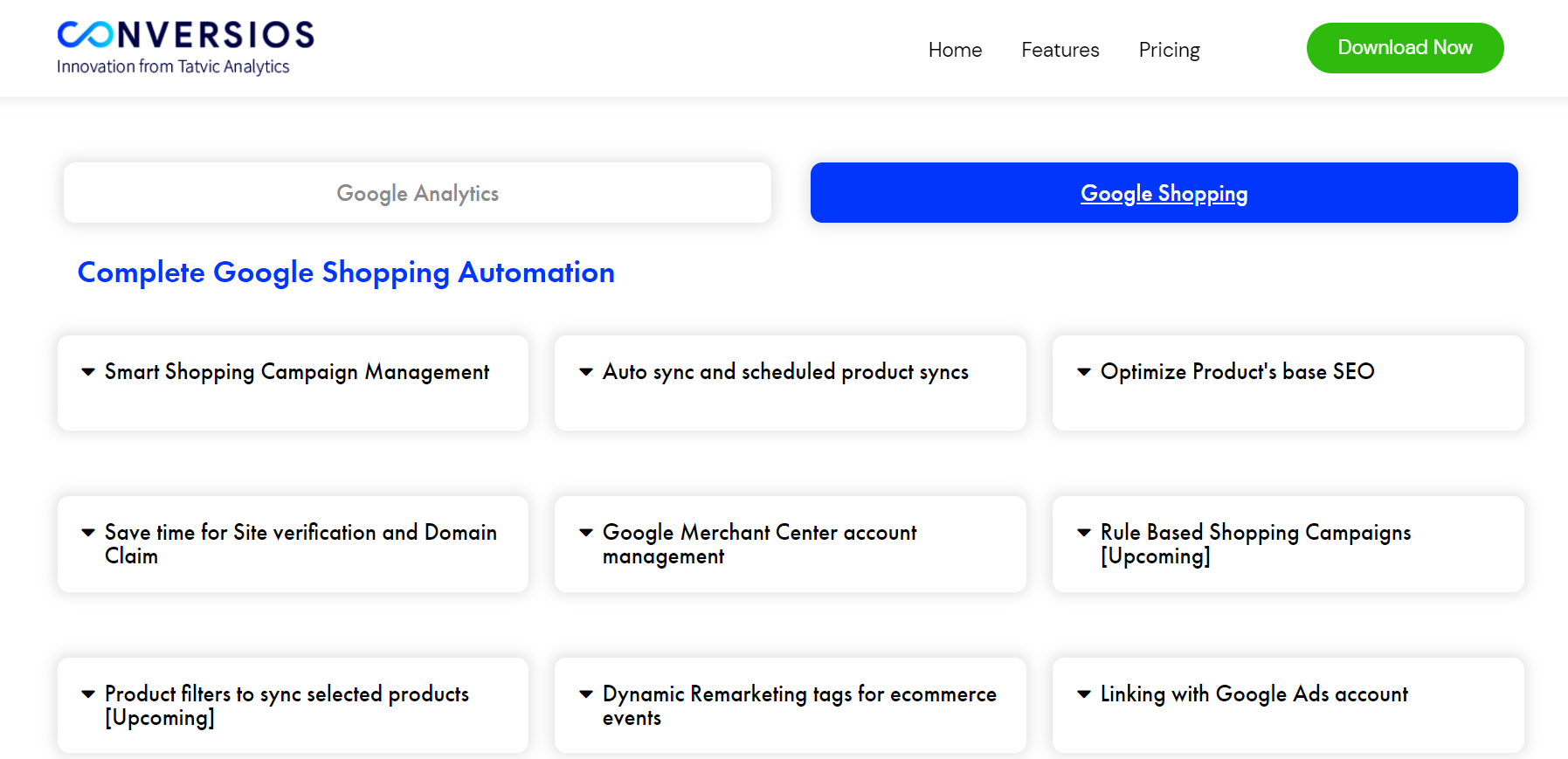 When you connect to the Google Merchant Center, the plugin will automatically launch your campaigns and be fully smart optimized. Your only task is to set a daily budget and select a niche so that your products can start showing up to visitors based on the given specifications. Conversios.io will serve you as a great management platform.
With the help of Conversios.io, you will be able to manage your campaigns on Google, which will ultimately produce a multitude of satisfied customers and increase your return on investment.
This plugin also offers the option to sync products you put in the Google Merchant Center automatically. Automatic synchronization is performed every 25 days. Your product feed will be up to date and not expire with this feature. You can also optimize the product's base SEO, and you will do it in a few clicks.
You need to sync products from your WooCommerce website to your Google Merchant Center account. Conversios.io will manage all the regular updates. In the end, Conversios.io will help you generate quality traffic without extra costs.
Before showcasing your products to customers across Google, you need to verify and claim your website with Google. Conversios.io manages the site verification and domain claim in the backend, and you do not need to know any coding for this step.
Dynamic Remarketing with Conversios.io is easy-peasy
Dynamic remarketing is an advertising tool available within the Google Ads product range. This highly accurate method of online advertising allows advertisers to interact with users again, showing them the content they have previously seen on their website. If a user has viewed a particular product or content on a specific website, we can freely conclude that he has shown interest in it.
After he leaves the website and, at some point, continues to view content on Google or Google's network of partner sites, we can show him extremely relevant ads through dynamic remarketing with precisely the content he previously viewed on the advertiser's website. With Conversios.io, you can target high-impact customers with your best-performing products, and the entire process is straightforward.
Conversios.io offers you many great tags for e-commerce events with which you can display dynamic ads to users. With the help of predefined tags, you can run campaigns for users who want to view products from a specific category or for those who have recently started their purchase and left the cart before payment.
When we are talking about dynamic remarketing, Conversios.io also offers Google Ads conversion tracking, and you will be able to get Google Ads performance reports in Google Analytics. If you need any help, a consultation with Google Shopping Expert is always free for you.
Plans for growing fast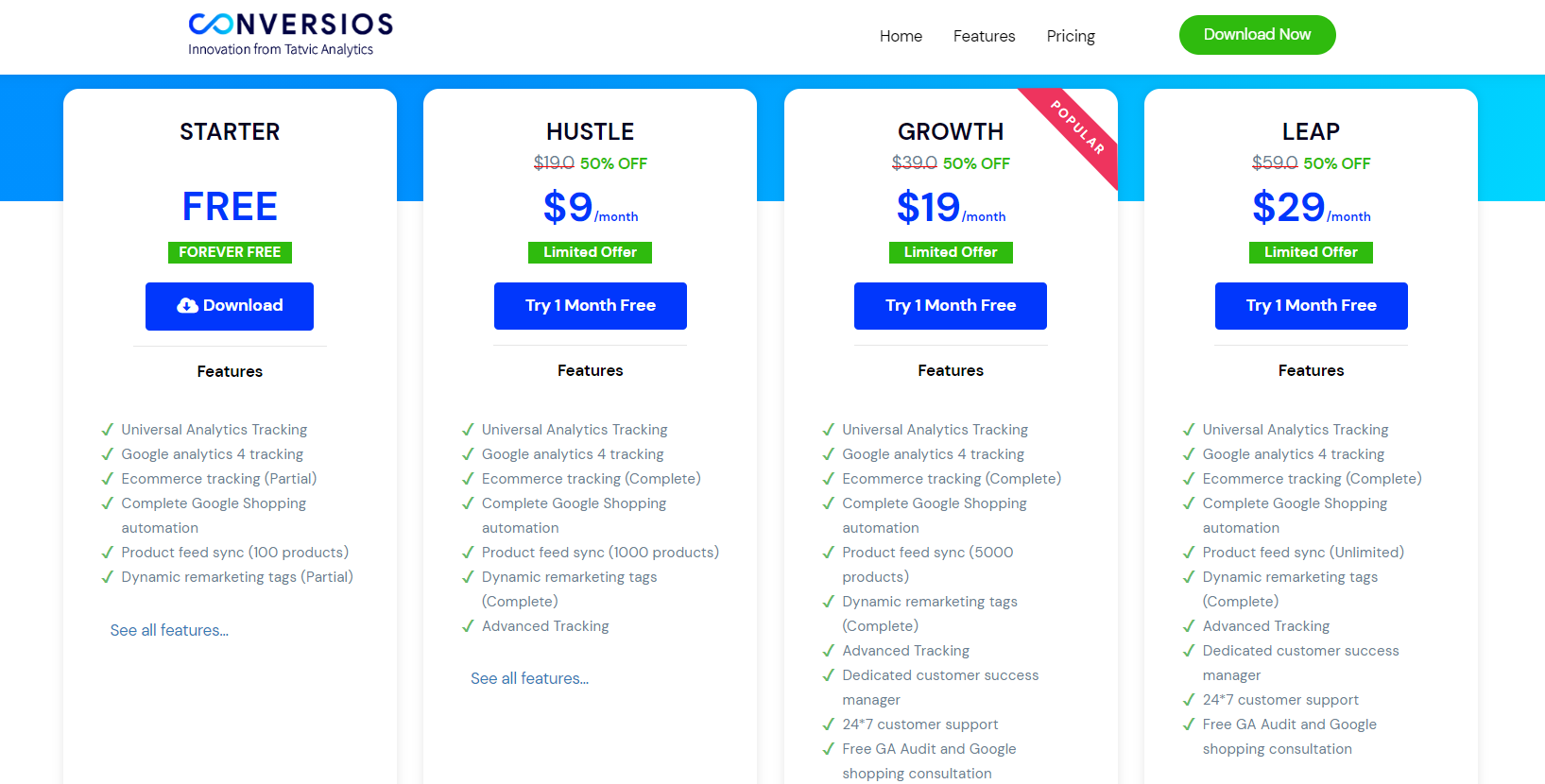 If you want to try this WooCommerce plugin, you can choose a few different plans. Pick the one that best suits your business. The plans are divided into monthly and annual, and the most popular is the Growth plan, which costs $19 per month or $199 per year.
Conversios.io offers you the option to try each package for free for a month, and there is also the option of a refund after 15 days of paid use without additional questions and giving reasons for your dissatisfaction. For those just starting out, there is also the option of a completely free download plugin with limited options.
The Starter plan is free and offers the following features:
Universal Analytics Tracking
Google analytics four trackings
Dual Set up (UA + GA4)
Ecommerce tracking (Partial),
Shopping behavior analysis (Partial)
Checkout behavior analysis (Partial)
Channel performance analysis (Partial)
All pages are tracking
Google Analytics and Google Ads linking
Google Merchant Center account management
Site verification and domain claim
Complete Google Shopping automation
Product feed sync (100 products)
Dynamic remarketing tags (Partial)
Smart shopping campaign management and smart shopping reports
What to do if I get stuck somewhere?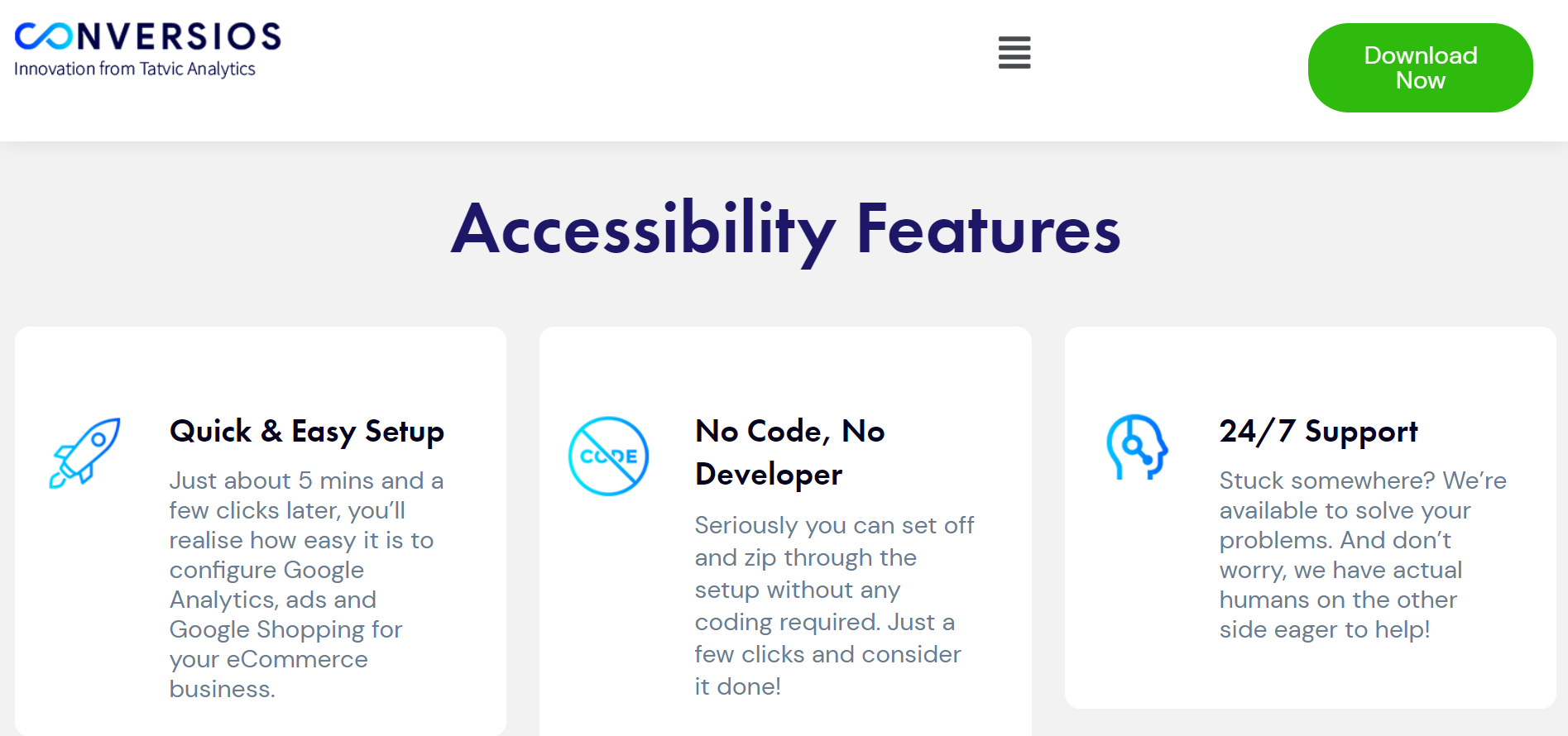 Conversios.io has a team of developers that are available to solve all your problems. There are real humans on the other side willing to help, not bots! You only need to install the WooCommerce plugin on your WordPress admin panel. Conversios.io also requires PHP 7.2 or later to run smoothly.
For all other activities related to installing and maintaining the plugin, you do not need technical knowledge or help from the developer. Conversios.io offers 24/7 support, and their staff is always there to eliminate any issue you may encounter while working with this plugin.
Conclusion
Conversios.io is a WordPress plugin that uses open-source WordPress and WooCommerce libraries to automate e-commerce tracking in Google Analytics. Also, with Conversios.io, you can manage dynamic remarketing tags and provide complete google shopping automation. They are certified Google partners that can guarantee efficient quality setup and consulting to all their premium users.
By opening an e-commerce webshop, you are only half done. There is still a lot to do, and the first thing to do is to increase conversions and monitor your customers' behavior. You need to know what they want from you and how to afford it!
Install the Conversios.io plugin on your WooCommerce shop and start by understanding their wishes, measuring and tracking their movements through what your shop offers them. Get to know the wishes and preferences of customers, offer them a better experience, simplify their stay at your shop and finally remove all obstacles they may encounter.
With the Conversios.io plugin, you get significant benefits. Your eCommerce business will start making data-driven decisions. You will be able to re-targeting the customers based on their past site behavior. Also, you will become suitable for free listing across Google to reach millions of interested customers.
And all this is supported through a connection with Google Analytics, Google Ads, and Google Merchant Center accounts.
If we try to summarize all the above, we can highlight a few important conclusions:
Understanding consumers are like a secret weapon that turns webshop visitors into customers.
The habits and behavior of consumers affect the creation of the webshop.
Understanding consumers are the only natural way to find out and understand why and how customers buy.
Without good data analytics, there is no well-targeted shopping campaign.
Conversios.io is a tool that will make it much easier for you to plan and develop your shopping campaigns.
Knowing your customers will make it easier to sweep the competition ahead of you.