Choosing a hosting service and a domain is one of the most important parts of creating a website. Having said that, the process doesn't get the attention it deserves. Most people either choose the service that is recommended by friends or look for the cheapest service available. Because of this, many of the best web hosting services tend to slip under people's radars. HostArmada is one of them.
Make sure to stick around as this review will cover all of the features that HostArmada has to offer and look at all of their plans and services. Without further ado, here is an in-depth review of HostArmada.
Hosting Packages
Since HostArmada offers a sizeable variety of hosting services, all with their own set of features, we are going to break this section up into smaller chunks so that you can easily find what you are looking for. Feel free to skip to the part irrelevant to you as we are going to cover them all.
But first, a quick disclaimer concerning prices.
In general, there is a total of 12 payment plans per service, and it would be redundant to mention all of them. To simplify things, we will be looking at the annual price as our baseline, so make sure to check out the plan that suits you the most.
Cloud WordPress Hosting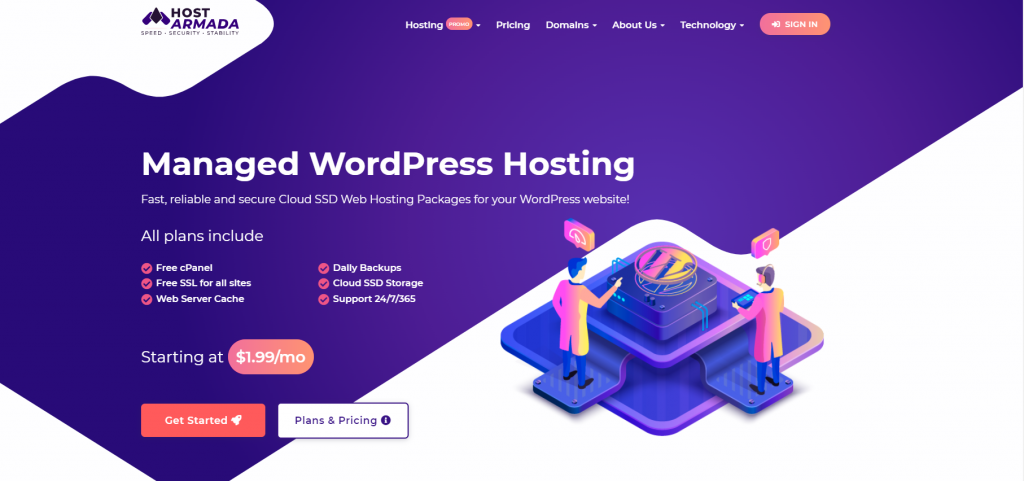 If you are looking to set up a WordPress-based website, then by far the best option is the Cloud Web hosting option. There are three plans to choose from, but all of them come equipped with a free cPanel, SSL certificate for all sites, web server cache, daily backups, cloud SSD storage, and 24-hour support.
They also offer a free one-click WordPress install service, ensuring setup is a breeze. HostArmada also offers built-in security options such as a malware scanner and remover as well as a WAF and IP firewall. Like we mentioned, all of this comes with the standard package, which will cost you $ 2.79 per month.
The upgraded plans offer additional storage space, more CPU cores, and more RAM with an unlimited number of licenses.
Cloud Shared Hosting
If you don't intend on running WordPress or are just looking for more flexibility, this will be your go-to option. The only difference between the Cloud Web Hosting package and the one mentioned before is the ability to freely customize it and install any type of CMC or web building software, and that is easy to do with 15 GB of SSD storage, 2 GB of RAM, and a 2 core CPU running on the server.
Opensource Hosting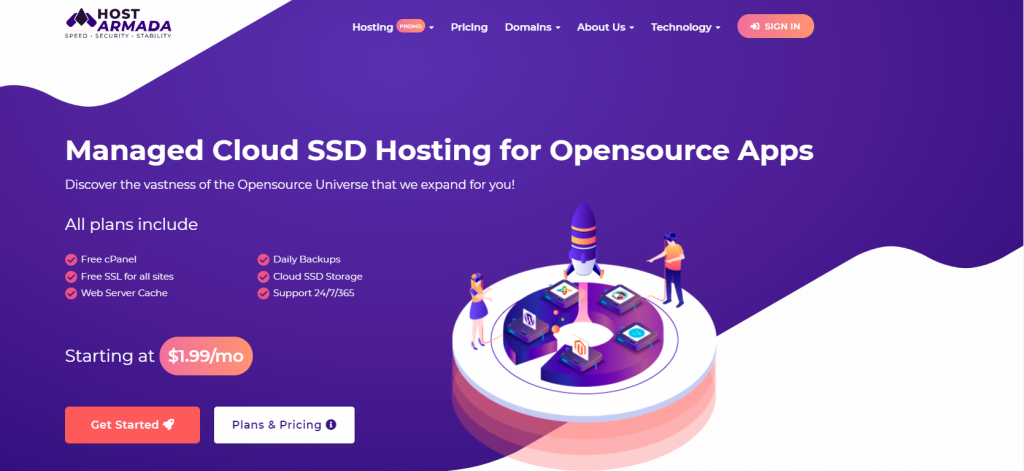 Designed with open-source projects in mind, this hosting option lets you easily install a wide variety of them from their open-source library. With all of the previously mentioned features included, this option is perfect for those of you that wish to make using open source programs a bit easier.
Cloud Reseller Hosting
The Cloud Reseller hosting option is the newest addition, and it allows you to easily redistribute and resell hosting. With professional white-label options, daily backups, SSL licenses, and malware protection. Depending on your needs, you have the option to choose between four plans, with the cheapest one being $7.49 a month.
Cloud VPS Hosting
Host armada also offers Cloud-based VPS hosting services. With their most basic option costing $41.21 a month. This will get you 50 GB of storage, a one-core CPU, 2GB RAM, 2TB bandwidth, 40GB speed in, and 2000Mbps speed out. This plan comes with advanced caching features as well as additional preparation to launch features.
Dedicated CPU Server Hosting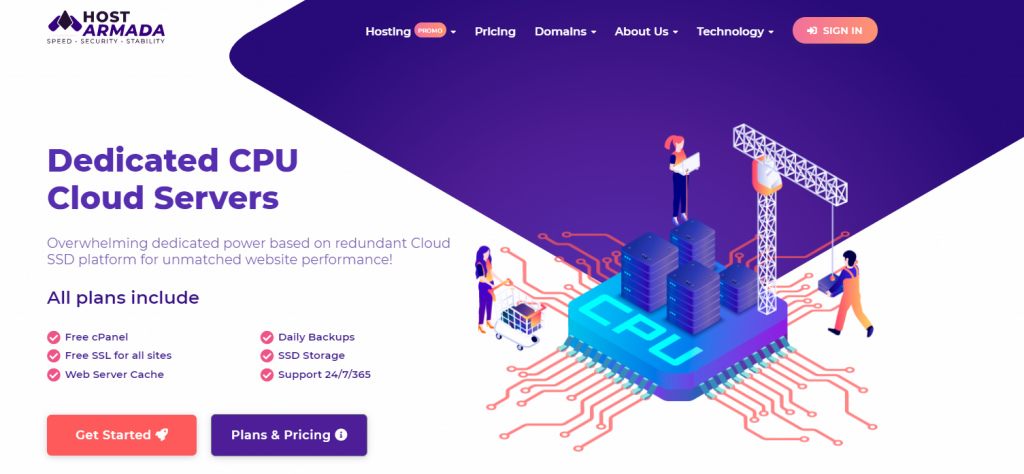 This option will grant you server ROOT access, letting you easily customize your hosting experience just the way you want. In the most basic plan, you will get 160 GB of SSD storage on a server that has a 4 core CPU with 8GB of RAM. This option also includes advanced caching as well as all of the security and quality of life features previously mentioned. To get this, you will have to fork out $111.75 a month.
Development hosting
And last but not least, we have development hosting. Designed to appeal to every tech-savvy user out there, this plan comes equipped with a variety of additional programming features at a fraction of the cost. With the standard plan going for $2.79 a month, you can make sure that you have everything you need without breaking the bank.
Domain management
HostArmada makes things just a bit easier by letting you also choose a web domain. With a wast selection of names to choose from and an even bigger number of extensions at your disposal, HostArmada makes choosing an easy process.
With no markups or hidden fees, once you pick a domain name, you can be sure that there won't be any hidden costs. With 24 hour support, easy domain, sub-domain, and DNS management, and domain forwarding HostArmada provide a service that you will love.
Datacentres
With datacentres all over the world, you can be sure that you will find a server location that will suit your needs. If you are in the USA, you can rest easy as there are four options to choose from, they also have two centers in Europe, one in Germany and one in great Brittan, and when it comes to Asia, they have servers located in Mumbai, Singapore, and Sydney.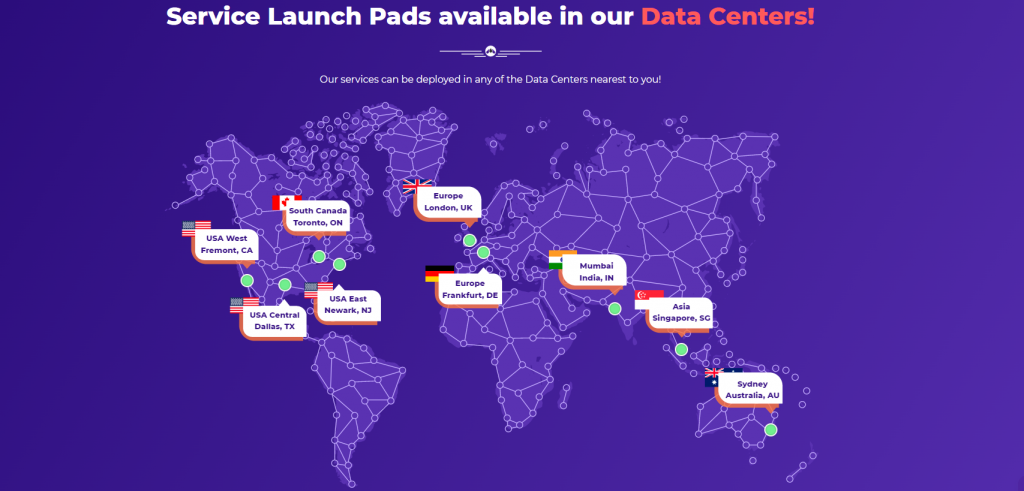 If you are still unsure which one is the best for you, it's easy to download and run tests from their websites, created to make your life easier.
Loading Speed
To be plain and simple, HostArmada offers lightning-fast webpage loading speeds. This is achieved by using a cloud-based SSD platform, LiteSpeed and Memcached cash, Brotil compression, and a Cloudflare CND. Ensuring you get the speed that you deserve.
Security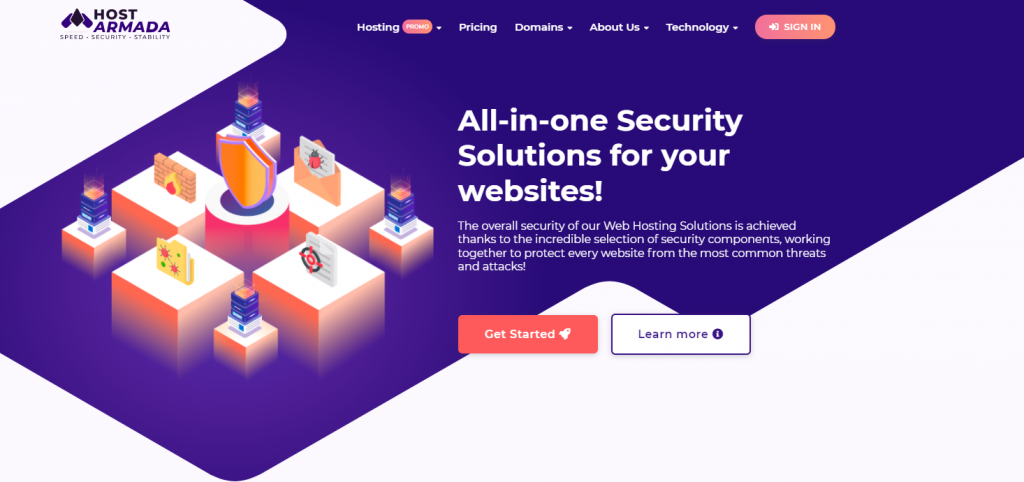 We mentioned that all plans come with a malware scanner and a remover, but that is just the tip of the iceberg when it comes to security. Fast patching, regular backups, and isolated user account ensure there are no breaches of security. Connection level limits, as well as DDOS protection services and regular file checking, are just a few features that should show you how serious the security options are.
HostArmada is aware of how crucial server security is and is actively taking part in finding and combating potential exploits.
In conclusion
HostArmada is without a doubt one of the best web hosting services out there. By prioritizing both user experience as well as the sheer performance, they allow the user to get a truly great service for a steal of a price.