In the current state of business, more and more things are moving to the digital space. This not only saves time with the administration but also saves the planet by going paperless. Previously, when filling out PDF documents, you would print it out, fill out the document, sign it, scan it, and send it back.
As you can assume, this is a very time-consuming and outdated approach. So, to fill out PDF documents digitally without wasting time on any of the above-mentioned steps, you will need some kind of tool that will allow you to do that.
Forms are a very effective source of obtaining information from a user. However, filling out PDF forms and documents is not always as easy as it seems. Some kind of PDF tool is needed to make this process simple. When using these tools, form fields will be clickable and fillable which helps you easily fill out your PDF document. Keep in mind there are different types of forms, interactive and non-interactive.
If a form is interactive, the file then has fillable fields, and you can fill in the fields without needing other features. However, a non-interactive form cannot be filled directly, and in this case, it is good to have a tool with additional functionality such as adding text fields or check boxes that will help you fill in the PDF document.
The second kind of form appears usually when physical forms are scanned to PDF, the form was created on a platform without interactive elements, or you just simply do not use the right tool for the job.
Adobe PDF Filler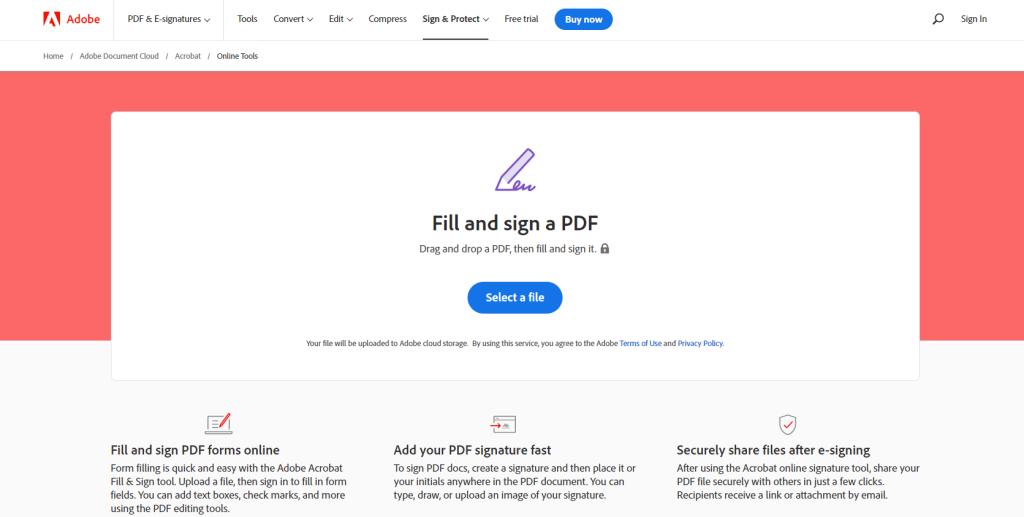 If you want a fast and reliable tool with powerful functionality, then you should not look further than Adobe and its pdf filler online. This is one of the easiest ways to fill and sign a PDF document. After opening the website, you just have to drag and drop a PDF to the marked area and then fill and sign it.
Additionally, this tool can add text boxes, check marks, cross marks, circles, lines, dots, and other elements. After you finish editing and filling the PDF document, you can use the e-signing tools to create e-signatures and place your signature or initials anywhere in the file. Depending on your account status with Adobe Acrobat, you can also request signatures by sending files to other signers to e-sign fast.
They will receive a user-friendly link via email that will allow them to sign the document online in minutes for free, without downloading Acrobat. This also gives you the possibility to track the signing process, while receiving real-time workflow notifications with an audit trail.
How To Add a Signature Using a Free PDF Filler
A picture can be used as a signature, also. After clicking on the "Sign yourself" button, click the "Add Signature" button. After the signature panel is opened, click "Image" and "Select image" to browse for an image of your signature. If you do not want to use an image for your signature, you can type your name or draw your signature using a mouse or a trackpad.
Finally, click "Apply" to place your electronic signature in the signature field or anywhere within the PDF. After you have successfully filled and signed your PDF document, you can share your PDF file securely with others in just a few clicks. Recipients will receive a link or attachment via email.
Do not forget that an account is required to use this tool, so feel free to log in with your Google account or create a new Adobe account. You can create forms by scanning a document or converting it from other documents such as Word, Excel, etc., and you can also submit forms that are created with fillable form fields.
On top of this data can be securely saved in a personal autofill collection for time-saving purposes. Another great feature is the possibility to automatically recognize static form fields. With the Adobe cross-platform integration, you have all of your documents available on any device you are connected to. This way, you can fill and sign any PDF document quickly.
The previously saved data makes it easy to add information when filling out forms. So, no matter if you have to fill out PDF documents or just sign them, they are available to be edited wherever you are. As we all know, Adobe is one of the most popular software's available today and has many tools for document manipulation. Aside from the form filler tool we discussed here, there are much more tools. For example,
you can convert PDF documents to Word, JPG, Excel, or PPT, you can convert Word, JP, Excel, PPT, and other formats to PDF, edit, merge, split, delete pages, rotate pages, reorder pages, extract pages, or insert pages on PDF documents, etc. All these tools are available online.
Why do you need to convert pdf to word
At times, you will need a word document for your work. In this case, you will have to convert pdf document(s) to word. There can be various reasons why you would want to convert pdf to word:
You want to change the formatting of the document.
You have to add a note or a clause before signing an important document.
You prefer a MS Word document more than a pdf on Acrobat as you are more used to working on word documents.
Your computer or mobile phone does not have an Adobe Reader installed in it.
You have to merge the information taken from a PDF file into an already existing word document.
For any such reason mentioned above, you need to make use of a PDF to word converter. Simply upload or drop your PDF files to this website and it will convert your document(s) within seconds. Although you will be able to edit the converted word document easily, signing the document will be much easier using Adobe Reader.
Final Thoughts
As we mentioned, there are many different tools online that help you fill and sign PDF documents. Some have more features than others. However, Adobe Acrobat Fill & Sign online option is one of the most comprehensive tools that offer the full experience and all functionalities one could need when filling and signing PDF documents.
So, keep this pdf filler online tool in mind and consider it when you need to fill and sign PDFs. To summarize, Adobe Acrobat Fill & Sign is a form-filling and e-signature solution for simple and secure e-signatures with Adobe Acrobat with the option to create, sign, send for signature, manage, and track documents from a single Adobe platform.
All of this is available with no printing required, ever. Saving the world one paper at a time.