Are you looking for the right WordPress host that is both reliable and affordable? Surely, finding the perfect host among the numerous hosts on the market that meets your requirements and fits your budget is a challenging task.
Keeping that in mind, I have researched a lot and come up with the best WordPress hosting provider in the hosting space, and that is MilesWeb. In a nutshell, managed WordPress hosting is where your web host takes care of your server management tasks so that you focus on growing your business.
So, should you host with MilesWeb? You will find out from the review below. Let's get started!
Essential Information About MilesWeb
Established in the year 2012, MilesWeb is one of the leading companies that has set the bar of excellence in the web hosting space. It's based in India, with its data centers located at different locations globally.

They aim to deliver industry-leading web hosting solutions for businesses of all sizes. Their focus is on offering powerful web hosting services at budget-friendly prices to all their customers. From large enterprises to small business hosting – they've got you covered.
MilesWeb has an excellent team that continually strives to deliver exceptional customer support 24/7 and help their users win on all fronts.
Pricing
There are web hosts in the market who offer a perfect weigh-up between the price and features. MilesWeb is noted in the web hosting space for its astonishingly cheap and reliable web hosting. MilesWeb offers managed WordPress hosting and also provides several tiered plans to choose from.
MilesWeb has 3 managed WordPress hosting plans.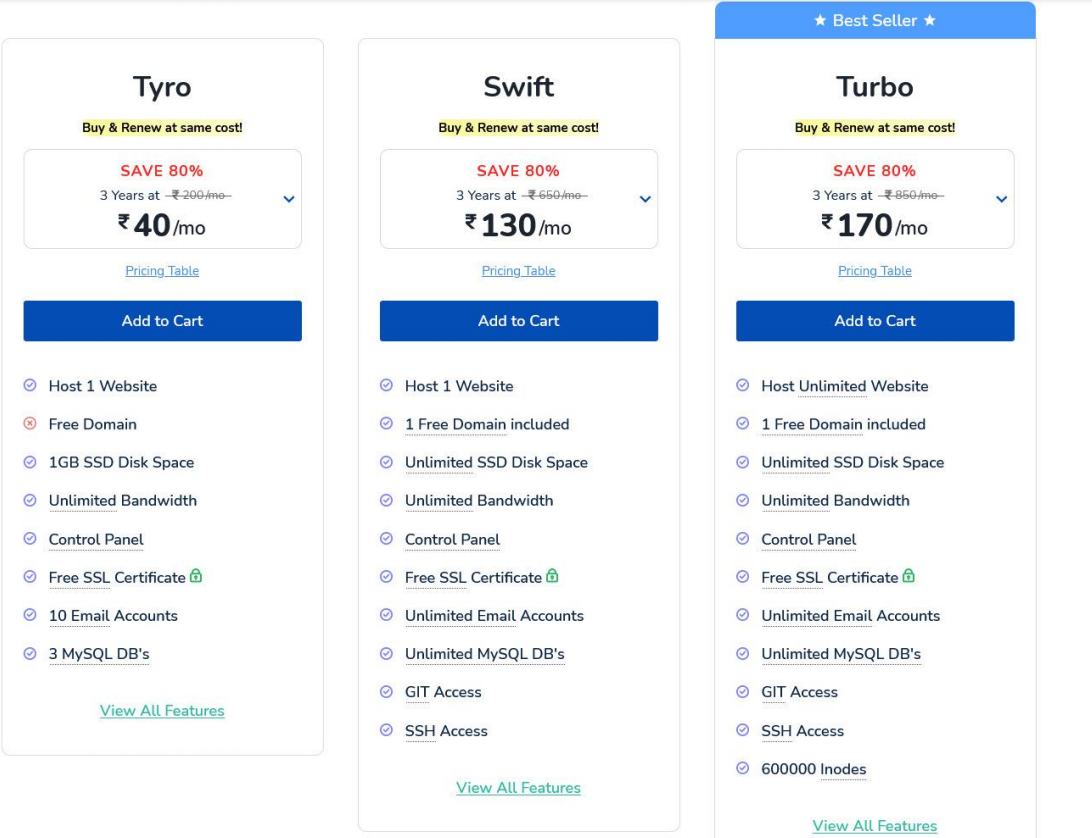 Here's a look at the plans and features of each.
Tyro
Starts at Rs.40 per month
1 Website
10 Email accounts
1GB SSD disk space
Unlimited Bandwidth
Free SSL Certificate
WordPress Optimized
Control Panel +1 Click Installer
3 MySQL DBs
The mid-range plan includes the following resources.
Swift
Starts at Rs.130 per month
1 Website
Unlimited Email Accounts
Unlimited SSD Disk Space
1 Free Domain
Unlimited Bandwidth
Unlimited MYSQL DBs
Free SSL Certificate
WordPress optimized
The high-tier plan includes the following resources.
Turbo
Starts at Rs.170 per month
Unlimited websites
1 Free Domain
Unlimited Email Accounts
Unlimited Bandwidth
Unlimited SSD Disk Space
Unlimited MYSQL DBs
Free SSL Certificate
Website builder
WordPress optimized
Control Panel+1-click installers
As you can see, if you are looking to host more than one website, you need to opt for the high-tier plan. All the plans include a 30-day money-back guarantee, along with an amazing 80% discount. After all, you can choose the plan that best suits your business needs.
What are the Payment Options?
MilesWeb offers a wide variety of payment options for all its customers. You can make your payment using PayPal, Paytm, RuPay, G Pay, credit cards (Visa, Maestro).

MilesWeb Review: Is It a Go-To Option for Managed WordPress Hosting?
Having hosted my site with MilesWeb, I can undoubtedly say that MilesWeb never failed to disappoint me. Be it their services, technical assistance, or cost. Their WordPress hosting platform is optimized to deliver the best performance and security too.
Check out the full features you get with their managed WordPress hosting below.
WordPress Preconfigured
MilesWeb offers a preconfigured WordPress, which can help to make site management much easier.
Fast & Scalable Hosting
Among the top leading hosts in the market, MilesWeb is well-known for its fast and reliable hosting. With MilesWeb, you get blazing fast and scalable hosting for your WordPress site.
Plus, you also get additional features with their managed WordPress hosting plan like inbuilt server caching, PHP 7, SSD Hardware, and HTTP/2.
Automatic WordPress Updates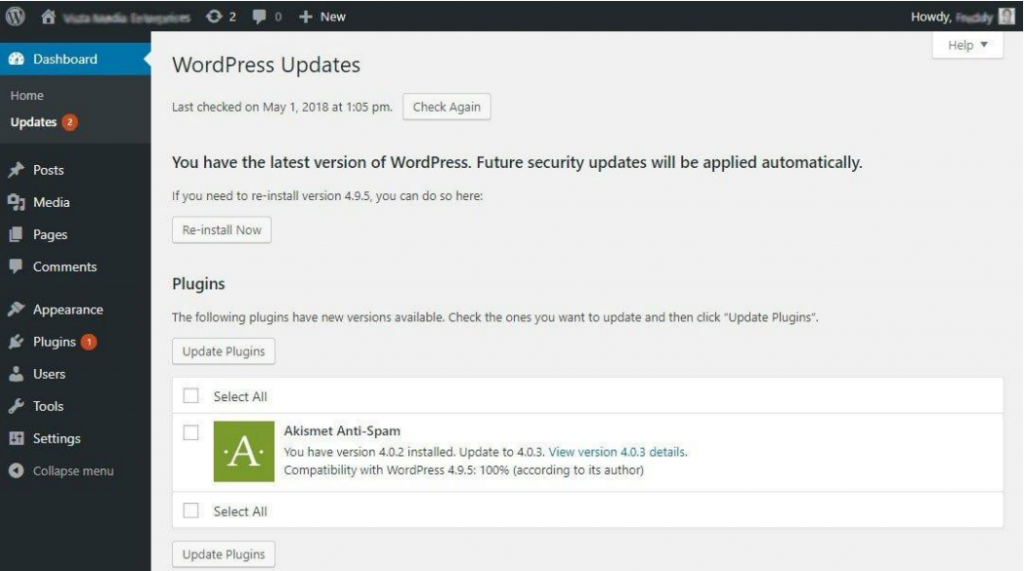 One of the elements for maintaining a safe and secure WordPress website is to keep the WordPress software updated. With MilesWeb's managed server hosting, you don't need to worry about the updates that pop up on your screen frequently.
The technical team of MilesWeb will keep track of the new releases and security updates for WordPress or any of its plugins to keep it up to date. Also, you are saving time by updating WordPress automatically.
Free Domain
MilesWeb offers you a free .com domain for one year with their managed WordPress hosting plan, for which you need to purchase the Swift/Turbo plan for one or three years.
Unlike other web hosts out there that charge extra for the purchase of a domain. The domain name you get will be free for the first year, and the renewal charges will be applied starting from the second.
Email Accounts
Another reason why MilesWeb can be a go-to option for your WordPress site is, with their Swift and Turbo managed WordPress hosting plan, you can create unlimited email addresses with IMAP/POP/SMTP accounts.
SSD Storage for Fast Performance
Performance is an essential factor to consider while picking the right web hosting plan. With MilesWeb, you get solid-state SSD storage drives for your WordPress website. It gives 200% better performance compared to traditional hard drives.
Choices of Data Centers

MilesWeb is growing its presence on the international market. The same goes for their data centers. As of yet, MilesWeb has 6 data centers spread across different locations globally. They have data centers in the USA, UK, Canada, India, Singapore, and Australia that deliver the highest performance and stability.
If you want to get the perfect data center to get the best loading speed for your website, you need to figure out the region of your target audience. MilesWeb enables you to choose the nearest data center according to your target audience.
MilesWeb's Technology Overview
With the fully managed WordPress hosting, you get the best performance due to the high-end technology used by MilesWeb.
Caching – Caching refers to the data that is saved and stored temporarily. MilesWeb offers powerful caching tools that help in enhancing the speed and performance of your site.
HTTPS – When you host your website with MilesWeb, you don't have to worry about the security of your WordPress site. All the sites hosted at MilesWeb are automatically configured with HTTPS.
Cloning – With cloning, you can create a complete copy of your WordPress site with all the databases and settings.
SFTP Access – MilesWeb offers SFTP instead of FTP, which is a new pace on the classic old transfer. SFTP enables the transfer of files in a completely secure way between the networked hosts.
Cloudflare Railgun – Railgun ensures that the connection is fast between your web hosting server and the Cloudflare CDN.
CDN – They offer an integrated CDN service with WordPress hosting. It helps to expand the reach and performance of your site to boost the experience of your visitors worldwide.
Dedicated Customer Support for WordPress
That said, you need to ensure the support of every web host out there before picking the right one for you. However, MilesWeb's support is appreciated. They offer 24/7 support via email or live chat.
Here, you can check out what their customers have to say!

Their team is knowledgeable and ready to assist with all your issues and queries. Sharing my experience, when I had got an issue with my WordPress site, I received a good response from their team, and the issue was resolved within no time. While overall, even their support availability is good.
Uptime
MilesWeb is relentless when it comes to the reliability and uptime of the website. Their uptime guarantee is not the highest in the market but is standard at 99.95%.
If you are just getting started, this is more than enough, not to worry. I have experienced a few seconds of downtime, but that did not affect the performance as such. You get the best uptime even with their entry-level plans.
Free WordPress Migrations

There are web hosting providers that offer free migrations. They help to move your WordPress site from the old hosting provider to a new web host. Alike, it is an easy and stress-free transfer with MilesWeb.
Their in-house support team helps to carefully migrate your website data from the current web host to their incredibly fast MilesWeb server without charging any cost for the same.
Final Verdict
Overall, I recommend MilesWeb for those looking for quality managed WordPress hosting with good customer support at an affordable price. Additionally, they offer numerous WordPress-specific features to power your site.
With a good performance overall, MilesWeb can be your go-to option. But in the end, the choice is yours.