When it comes to making decisions, we always tend to make a comparison between two options to decide what is the best option for you. The same thing applies when choosing an online course platform because you have the desire to transfer your skill and knowledge to someone else and try to make a living from it.
Today, we will present you two options that will provide an answer to your question, Kajabi, and Gurucan, two online course platforms that will allow you to create online courses and sell them to other people. Below, there will be five features listed and explained what are the similarities and differences between them.
Mobile apps
One of the most important features any platform can have is the mobile app.
Gurucan, for example, has a mobile app both for iOS and Android, which allows your students to take your courses anywhere. Another good thing about the Gurucan mobile app is the option to customize your app by branding the design and uploading a logo for your online courses.
And, the Gurucan mobile app can work offline too for maximum satisfaction and zero frustration.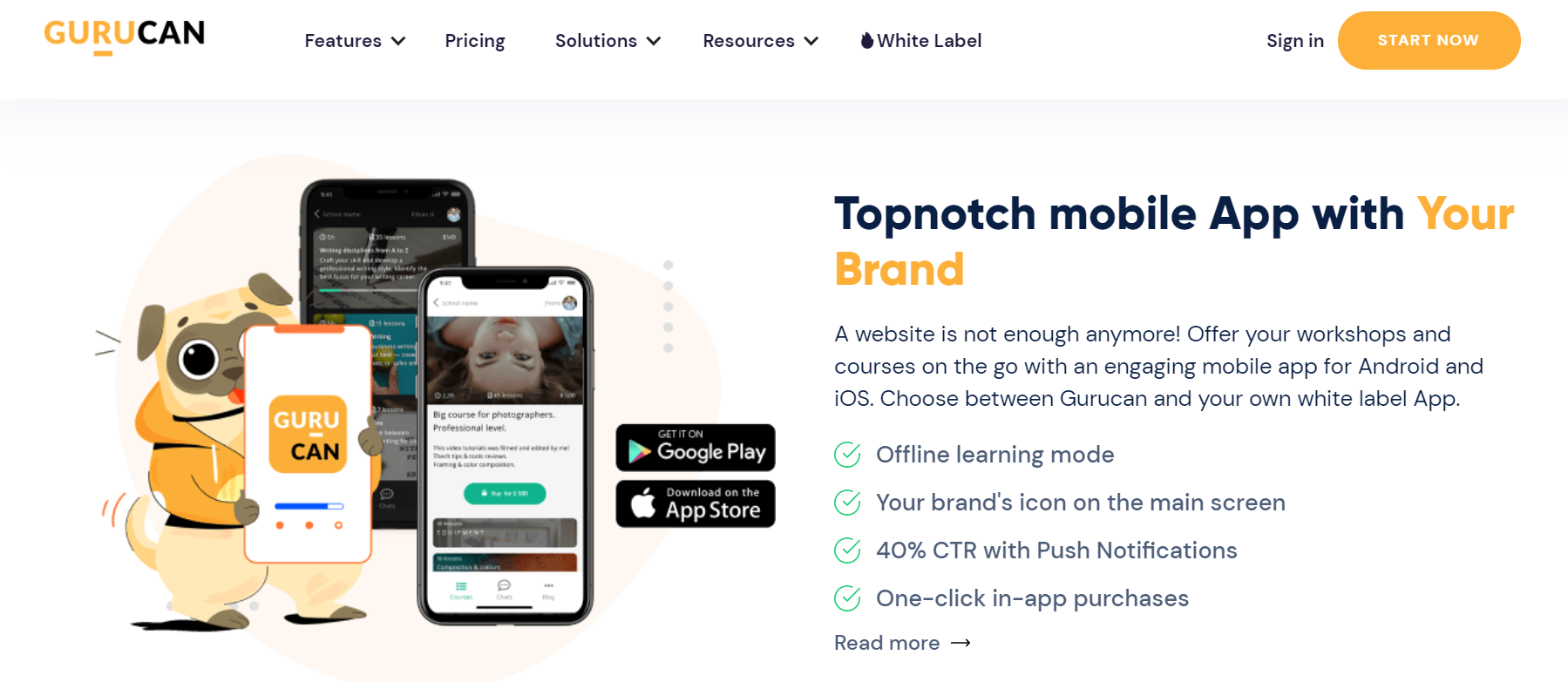 Kajabi, on the other hand, offers a mobile app that has no development and update costs whatsoever. It also will help you students finish their courses by removing the wall between you. For example, they can look up their progress and log in without a password if they forgot it. Each of these platforms has its unique perks when comparing their mobile apps.
Building courses
When building a course on your platform, the first thing you need to look at is the simplicity and the functionality.
Gurucan has a responsive design that will allow your students to navigate through the courses quite easily, mobile or computer makes no difference.
Another good thing about Gurucan is the ability to create video lessons, training, drip courses, etc. for any medium, like let's say, podcasts, digital downloads, vlogs and so much more.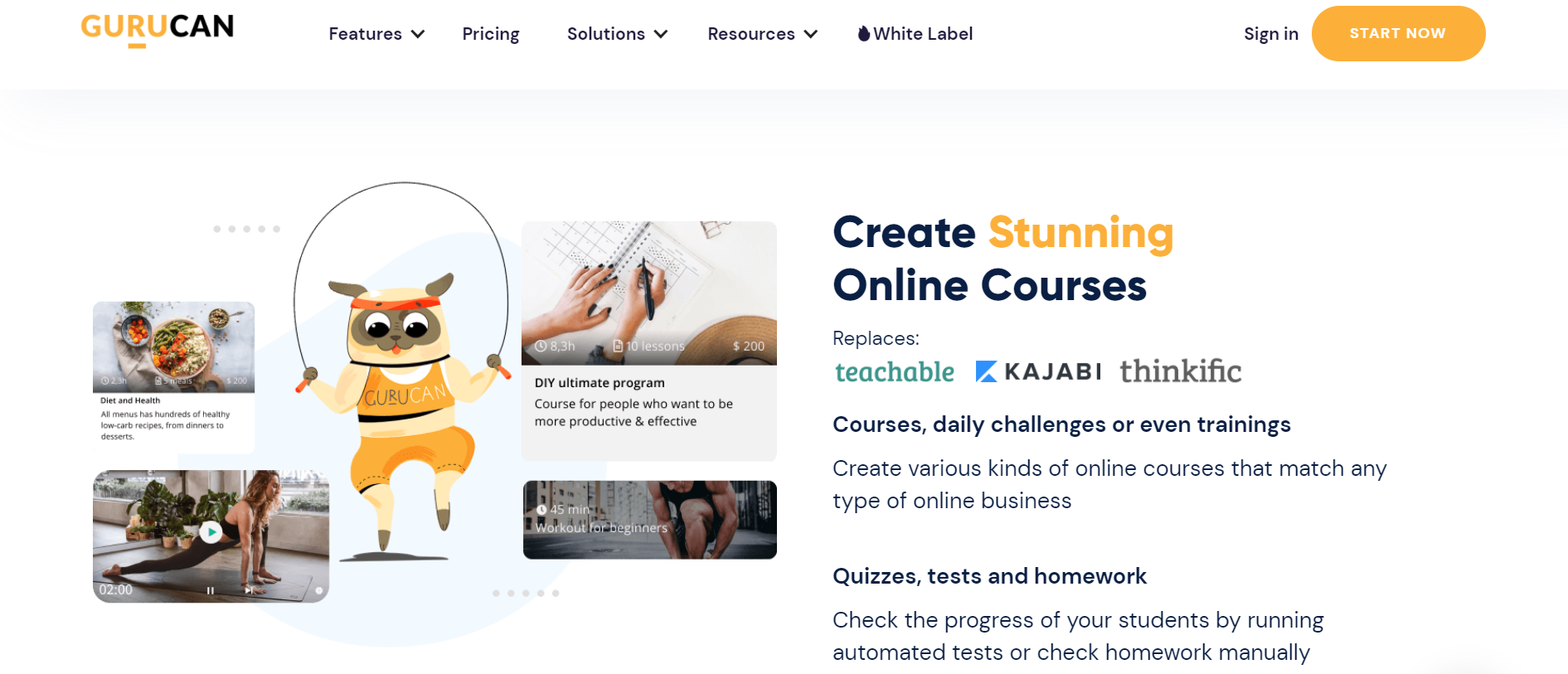 Kajabi has an integrated product generator that will help you to create stunning and valuable digital products that you can sell. There is the option to start from scratch and make your online course any way you want.
We have to mention that no coding is required with both online course platforms, so you can start building courses anytime.
Pipelines
Online marketing campaigns and pipelines are very important for online course platforms because it is a good way to promote your courses.
Gurucan, for example, has marketing automation tools integrated into the platform, so you can create advertising campaigns directly from the platform. It also offers the option to send out emails and push notifications automatically, so your campaign will be marketed on its own.
Kajabi, on the other hand, has Blueprints, so to speak, that will allow you to choose one of them, customize to your needs, fill out the necessary data and you are good to go.
Analytics
Analytics is a must-have when talking about online courses. It helps you figure out what you can do better for your courses and what the people already love. You can also see things such as the reach for your marketing campaigns, how many people signed up, how many courses you sold, etc.
Gurucan has both an analytics and a CRM dashboard that will help you track the success of your business, giving out permissions to users from other platforms to join your courses and you will get reports on your data.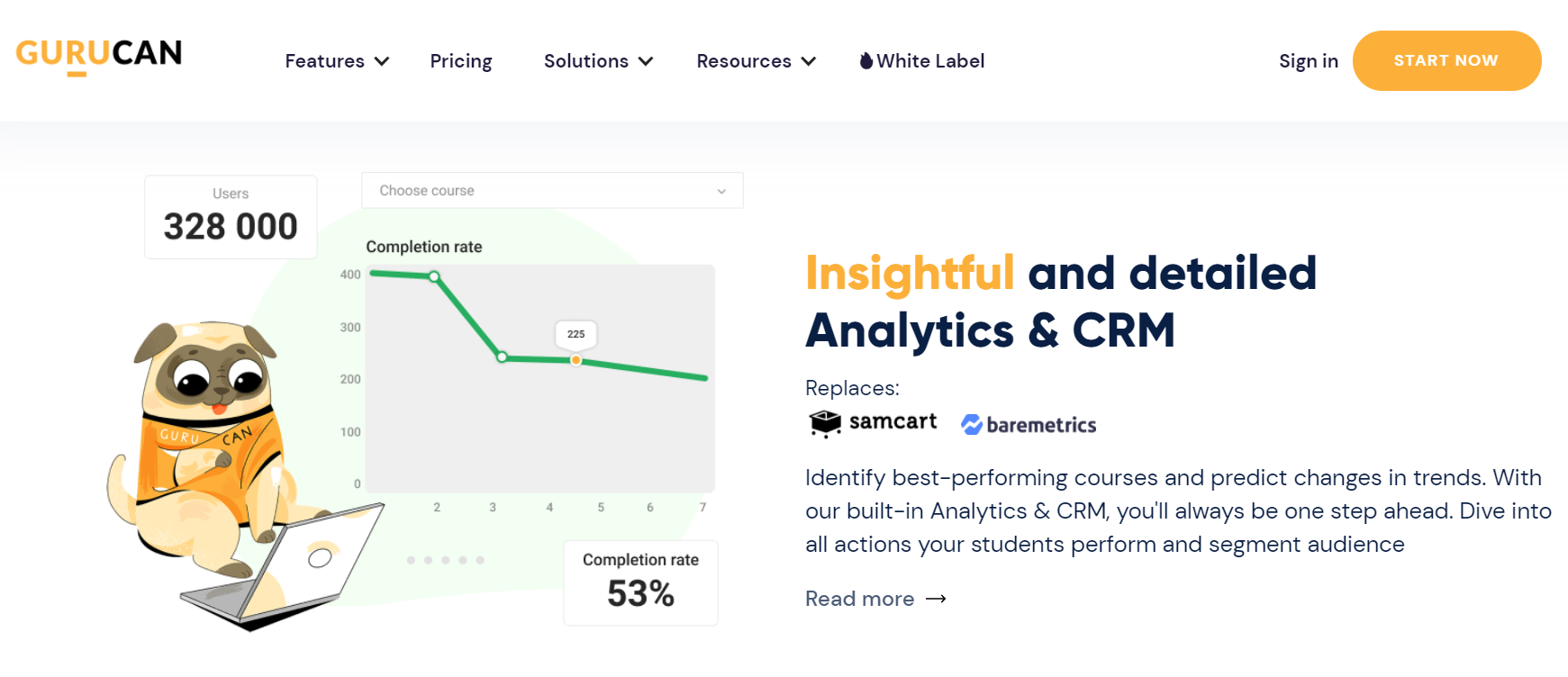 Kajabi has fast insights on their all-in-one analytics dashboard that will help you monitor your revenue, offers sold, subscriptions, and more without needing to compare from one analytics tab to the other. It all comes in one place.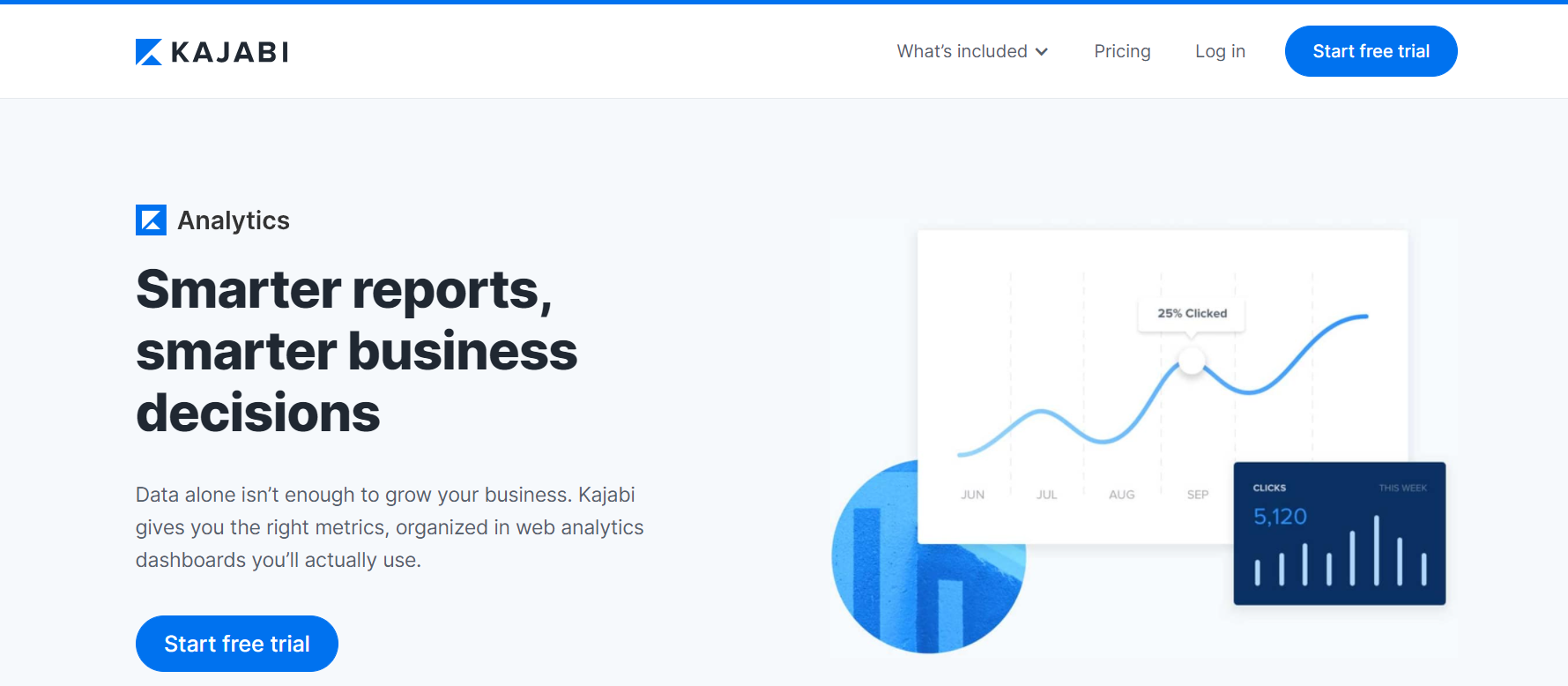 Payment
Payment method is something that every course builder platform needs to have, so you can collect your revenue from one place and keep track of everyone who paid and what did they pay for.
For example, with Gurucan, you can offer multiple pricing plans, including a free trial and premium and premium plus memberships.
With Kajabi, you can accept payments different in methods and they will let you keep one hundred percent of your revenue. There is no commission whatsoever.
Pricing
When talking about the prices for these two online course platforms, they differ in the payment method.
For Gurucan, there is a special offer right now on Appsumo, with lifetime access, all features, and a money-back guarantee, no questions asked in the first 60 days of purchase. And the price is only 79$as a one-time payment.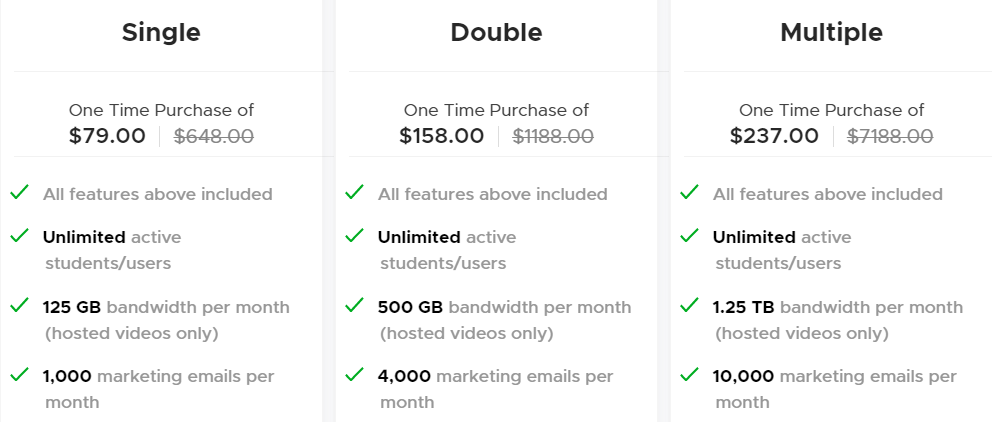 For Kajabi, the payment is monthly and there are three payment plans, Basic, Growth, and Pro. Basic offers you three pipelines, three products, 10,000 contacts, and 1000 members for 149& per month, Growth costs 199$ per month and it offers 15 products, 15 pipelines, 25,000 contacts, and 10,000 members.
The Pro plan is 399$ per month and it offers 100 pipelines, 100 products, 100,000 contacts, and 20,000 members. There is a free trial included in all of the offers, as well.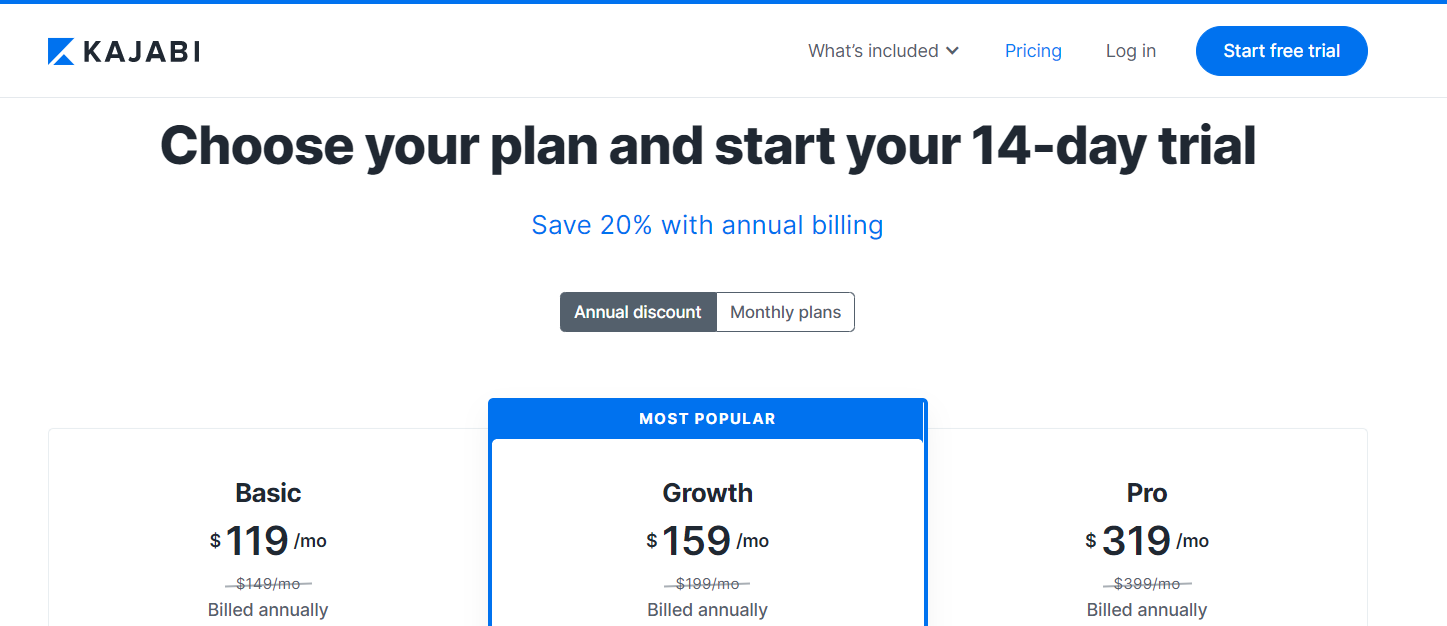 Which one takes the win?
We have seen two online course platforms, Kajabi and Gurucan. Each of them has different variations of the same features and they will help you as best as they can to transfer the knowledge onto other people.
They both offer course templates, marketing campaign templates, different types of analytics and accept different types of payment from people that are attending your courses.
It all comes down to you. They are both great platforms, it is just a matter of what is it that you prefer? The sleek and professional design of Kajabi or the simplicity and effectiveness of Gurucan?
The choice is yours to make, and no matter what you pick, Kajabi or Gurucan, you will end up with an amazing product that will turn your online courses into a profitable job with a full overview of your revenue and a community of people that chose you to transfer your knowledge onto them.