Search engine optimization (SEO) is an extremely important strategy for schools and colleges to gain visibility on search engines and to rank higher against their competition. Within SEO, there is a subcategory called 'local SEO,' which focuses on increasing the visibility of brick and mortar businesses with physical locations like shops, schools, dentists.
Local search management is crucial for businesses looking to improve their online presence and reach local customers. From managing online listings to optimizing website content for local searches, effective local search management can help businesses attract more customers and increase revenue. Discover how local search management can benefit your business today.
It could also be businesses that serve a variety of locations like plumbers, mobile hairdressers, or personal tutors to those who are searching in the local area. This blog is on hand to show you why local SEO is a must-have strategy for your school or college. Let's start from the top.
What is local SEO?
By definition, local SEO is a strategy that helps your business be more visible in local search results on Google.
This can benefit any business that has a physical location or serves in the surrounding area. When a user searches for a term relevant to your business, Google will show the top three businesses that are related to that user search and show them underneath the paid ads, with Google maps showing where they are. This is called the 'local pack.'
Here's an example of 'secondary schools near me:'
Google chooses the local pack based on three main factors:
Relevance: How relevant your school or college is to the user's search secondary school or sixth form college, for example.
Proximity: How close your school or college is to the user. This changes every 4 miles.
Prominence: How well established your school or college is. This is usually determined through reviews, links to your website, and citations.
Local SEO is a great technique for student recruitment for your school or college in your catchment area and to increase visibility on search engines.
You can improve your rankings through Google My Business, adding your school or college details to directories (there are niche-specific directories like schoolswebdirectory.co.uk), and obtaining reviews from parents or students at your institute.
Now you know what local SEO is, let's dive into how you can utilize it.
Details at a click of a button
Having an optimized Google My Business will make you visible on Google Maps with a pin showing your exact location. This will allow students or parents to request directions to your location, as well as give them options to visit your website or give you a call.
This is important because it allows students and parents to decipher the fastest route, what public transport is available and a direct link to contact you. It is good to make sure you input your school or college's name, address, phone number, and website (also known as 'NAPW') into your Google My Business account and your website so that the local pack displays this correctly.
According to finalsite.com, approximately 50-60% of website visitors come from Google and local searches which means local SEO is a great way to make your site accessible and visible.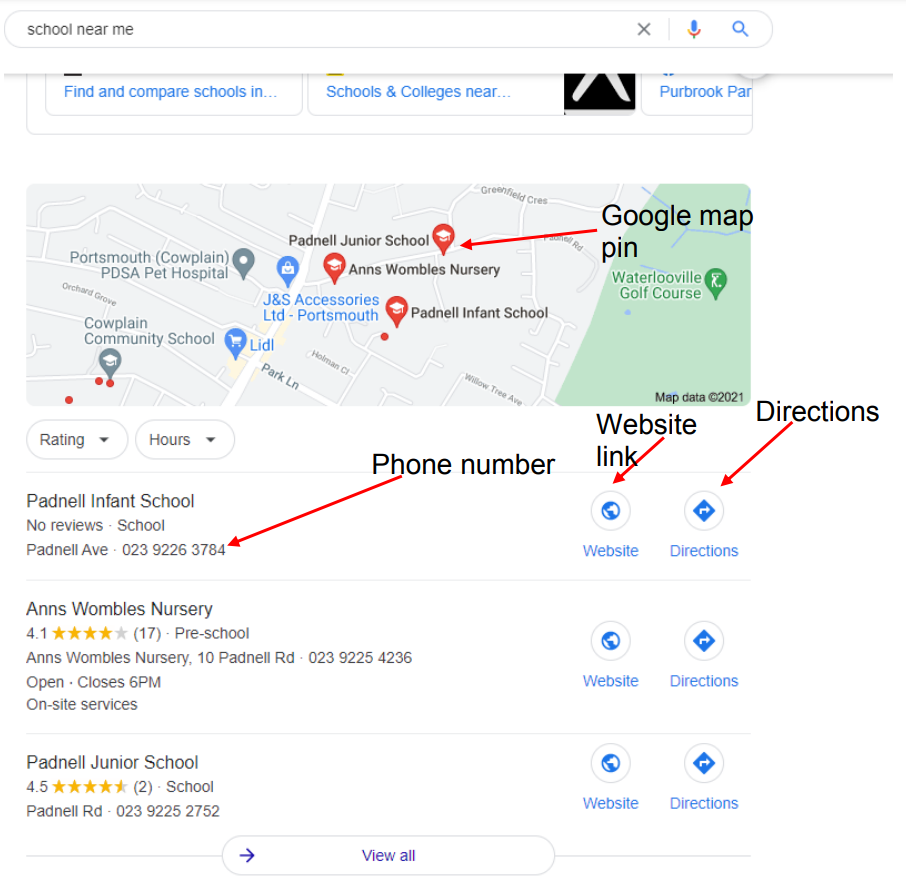 Student recruitment made easy
Local SEO is a great way to make your student recruitment efforts easy and efficient. The majority of your searches will be from branded terms, where your school or college is searched for by its name. Local SEO, however, also ranks you for search terms that are relevant to you, this means it broadens your horizons when finding new students in the local area.
As previously mentioned, it's a great technique for visibility in your school or college's catchment area. You can add the locations to your Google My Business profile, and it's best practice to add them to your website too. Google will then pick these up when it crawls your website and will rank you for search queries near these locations.
There are also catchment area sites designed specifically for users to search for schools they are eligible to attend. By joining these, they will send ranking signals to Google and will help you rank for these location proximities. This means you are getting eligible and relevant visitors to your site who are more likely to contact you or apply than those who are out of your catchment area.
Adds credibility
A common local SEO practice is collecting reviews for your Google My Business and social media. Reviews are a great way to build credibility, not just with Google but also with your potential new students or their parents.
87% of customers read reviews of local businesses before they make a decision – that includes school and colleges too! Encouraging reviews about how great your facilities, staff, and curriculum from parents or alumni will show what a great institution you are and will also tell Google you are genuine, helping you rank you in the local pack.
Reviews are also great for that little bit of extra keyword research strategy. For example, if a user searched for 'colleges with wheelchair access near me.' Google will show reviews that mention wheelchair access or discuss their facilities.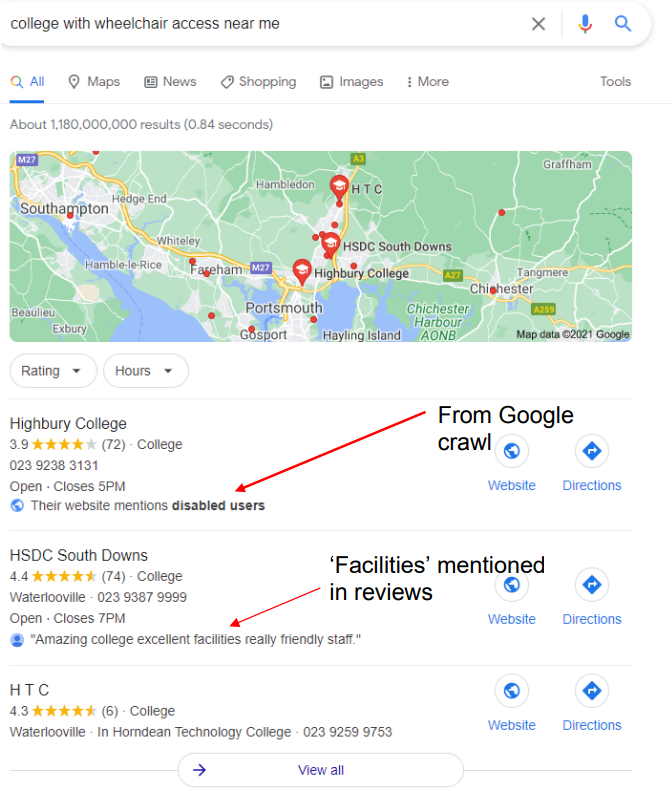 Reviews also demonstrate you are compassionate about your students and facilities, and responding to reviews, negative or positive, will help you engage and develop good relationships. This will emphasize your importance for pastoral care, which is a sought-after quality when searching for an educational institution.
Getting your name out there
Citation building is very important for educational institutions and their local SEO strategy. By getting your campus details on directories, it will help Google anchor your school or college to its location. The more citations that are built, the more ranking signals will be sent to Google and will help you rank higher on the local pack.
Another great benefit of having your school or college on directories is that it will amplify your visibility to users who use the directories when looking for somewhere. This means you are more likely to reach a wider audience from the trusted sites, which will also boost your credibility. Make sure your name, address, and phone number are all correct and uniformed across the different sites.
Another great benefit is that most directories let you link your website and social media accounts which adds backlinks to your site, which is another important ranking factor for Google!
Summary
Local SEO is a great way to add visibility to your school or college. Having an optimized Google My Business will help people contact you or visit your website, which is great for easy student recruitment within your catchment area.
Getting reviews will demonstrate that you are an authentic and compassionate institution and allows you to show off how great you are from third parties. Finally, building citations increase your reach to new audiences, builds links to your site that will help Google rank you higher, and anchors you to your location so Google can verify your campus location.
Author: Emily Johnson has a passion for music and film. She can be found at Tillison Consulting as a Digital Campaign Manager working with clients from different sectors and campaigns to help with all their Digital Marketing needs.