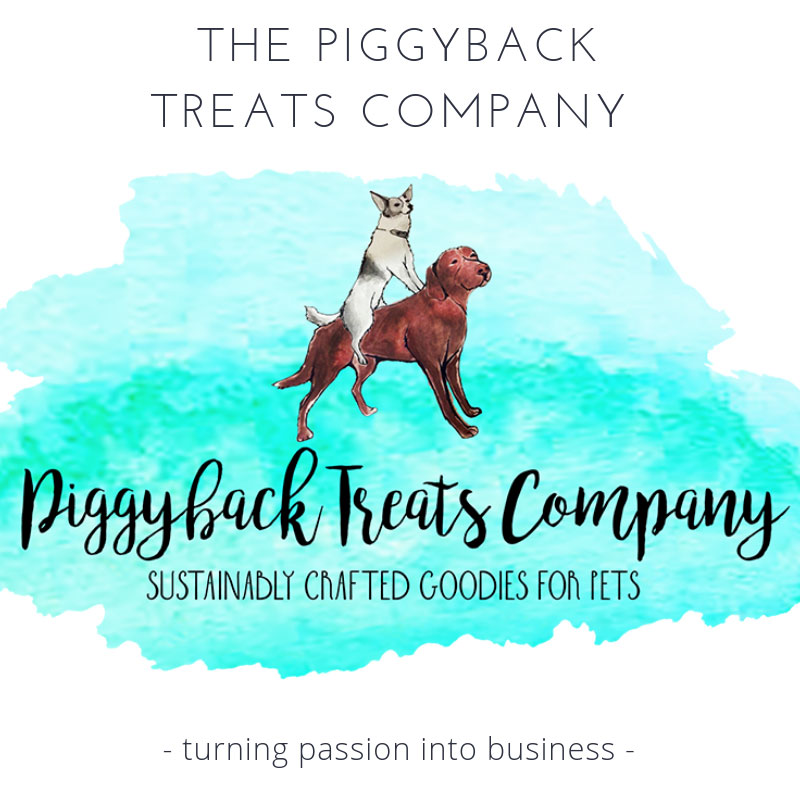 If you're an entrepreneur, you've probably received advice or heard advice from experts telling you the key to happiness in your life or career is to do something you love and something you are passionate about. It's always a lovely thought, but definitely not always an easy thing to make a reality!
So when I had the opportunity to talk with Jennifer Kirby recently, I was inspired by her story and how she turned passion into business.
She created Piggyback Treats – Sustainable crafted treats for pets to help eliminate waste – helping your pets and the planet at the same time. So brilliant and inspirational!
Interview with Jennifer Kirby – Chef & Owner of Piggyback Treats
Jennifer, please tell us about yourself and your journey leading up to starting your business.
Jennifer: I trained in pastry arts back in 2001 and spent several years working in hotels, restaurants, and bakeries, but became tired of long days, manager salary, and little recognition for my efforts. I left the corporate world and began working as a chef onboard private yachts in 2007 and have stayed working privately since then! The food industry is overrun with food waste, and this issue has always weighed heavily on my mind.
I also grew up on a small farm. I know how much hard work it takes to grow good, healthy food, both produce and livestock… literally. My sister and I were the only children, and we learned from a young age the value of hard work, how to do things right the first time, and how to make the most of our time and resources.
What was your inspiration for creating PiggyBackTreats.com?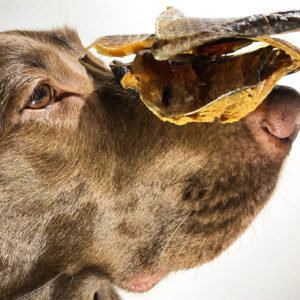 Jennifer: Many things came together at the right time to make PiggybackTreats.com a reality! My longing to do something good in this world, the predicament of food waste that only ever seems to worsen in our country, my love for my dog, Candy, and my desire to spend more time with her, combined with the baking I started doing for her birthday party puppy guests' gift bags, it all made sense!
I started dreaming up a business with a mission to reduce food waste, while creating healthful treats for pets back in 2012, and after 3 years of tailoring the idea, Piggyback Treats Company had its own name… (the name is a whole other story!) a couple years of creating recipes and sourcing ingredients and I created a line of treats which features main ingredients that were rescued from going to waste, and another year later and I launched the business in Fall of 2017. I started by vending in and around Philadelphia at festivals and markets, and I still enjoy doing this regularly! The online store became active in the Spring of 2018! It's been a loooong haul, but worth every second!
Did you have any experience with having an online business before you started?
Jennifer: Not much. I started my first business, Kitchens Lane in 2012 and had help from a friend setting up the online store, which sold seasonally available gift baskets (for humans) during major holidays, and eventually I started doing dog gift baskets through this company! Piggyback Treats originally acted as a DBA until I decided it needed to be its own thing!
Did you seek any help or training before starting your business?
Jennifer: No specifically sourced help, but lots of here and there questions and answers with other business owners, family and friends! Lots of YouTube videos to learn how to do things like social media, website building, and generally all of the technological start up stuff that I had no experience with. I'm lucky to have a diverse history of experience in the food industry, which has helped me immensely! I wouldn't be doing this without the skill and knowledge I gained through the years!
What have been your main marketing focuses since you started?
Jennifer: Well, coming from someone without proper business training, I find that social media is wonderful (and also awful!), specifically I love instagram. It seems that when we NEED to connect and spread the word quickly, social media buries our posts beneath more popular ones! And then, out of the blue people see our pics, hear our message and follow, order or tag us! It really fluctuates regularly.
What tools do you use to help you with your site, your marketing efforts, and overall success?
Jennifer: I used wix.com to build my site! It's easy, even for someone technologically challenged, like me! I use MailChimp.com for our emailing and for advertising through social media! It took a bit to figure out, and I'm still learning, but I love it! I have only just started posting live videos on Facebook, but I believe it'll help us connect with our customer base more directly. I mostly love meeting people and talking to them in person, to tell them what we're doing and why. It feels good to speak directly to potential customers. I believe they too enjoy the connection from meeting us (my boyfriend Chris helps me with this business) in person at events.
You mentioned using Instagram and Facebook, how has social media impacted your business?
Jennifer: Oh yes. The main effort online stems from social media. Who doesn't love following a page that features cute dogs and the occasional cat?! The first retail shop to carry our treats found out about us on Instagram! If it weren't for social media I wouldn't have had the opportunity to sell in their store! I've also found small farms through Facebook, and recently I started a closed group on Facebook where I can connect directly with my farms in one place. (Farmers For Reducing Food Waste)
What three things are you focused on now to grow your brand & business?
Jennifer:
Increasing online sales through marketing/social media interaction with customers.
Increasing production (out of my home right now) by upgrading equipment to commercial quality.
Upscaling our products to be sold in bulk form instead of only in singles or three packs. We're also in the process of creating a monthly subscription box!
What advice would you give to other aspiring entrepreneurs who are wanting to get involved in e-commerce, selling something they've created, and/or turning their passion into a business?
Jennifer: Take your time, fine tune and get things in order. You can do this alongside your full time job. When the time is right, you will know! Quit your day job and work your butt off. Don't give up. Find a way to overcome each issue that pops up. Have a great support system in friends and family. Most importantly, BELIEVE in your product! This is what will gain you support, sales and growth!
You recently started a KickStarter! Tell us more about that and how we can support you.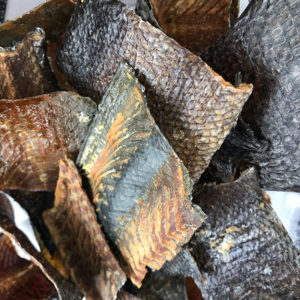 Jennifer: Yes! And we're already more than halfway in! Time flies by when doing this sort of thing, I've learned! Our goal is to raise $10,000. This money will go toward purchasing and setting up a kitchen to dehydrate our most popular treat, Wild Caught Salmon Skins, right at the source where we collect them! It will enable us to rescue this byproduct by the barrel instead of by the bucket, as we've done since I first started making this item several years back! This is the treat that shaped Piggyback Treats into what it is and why! Our goal is to reduce food waste and this facility will enable us to really amp up the production of all of our dehydrated items! We need help sharing the link to our kickstarter, sharing the video from our kickstarter, maybe doing a tv interview or a radio interview! It always helps to have people speak passionately about us, our treats (and how much their pets love them) and our mission!
If you want to helps support Jennifer & Piggyback Treats, click here for their KickStarter project!
What's next for Piggyback Treats? What do you have planned or aspire to in the near and/or distant future?
Jennifer: Definitely top on our list for near future is building this second space, the dehydration kitchen. I'd like to see us into a space outside of my home by early into the new year! Distant future plans include setting up kitchens like this one regionally around the country, run by actual chefs, creating unique recipes using these regionally rescued ingredients!
Do you have any promotions going on now or in the near future?
Jennifer: Yes, right now if you buy from our online store we give every sale a special gift for free in their package! It's a treat of our choosing, based on what they order from us! We also give a gift to people who review us on Facebook and visit us in person around the city! (Plus the great perks offered during our kickstarter!!!)
How do you manage your time between work and life? Tell me more about the struggles you've faced and/or are facing and how you are overcoming them.
Jennifer: That's the hardest part! I am a workaholic. I have a difficult time saying "stop" when it comes to work, especially since work pays the bills! I usually need inspiration from my friends and family to put things down and go have fun. I realize, though, how important it is to be mindful of how I'm feeling and how I'm reacting to things. I cannot make a good business happen if I am overworked and rundown! I make time for church, prayer, snuggles with my dog and visiting with friends during the week and at events while we sell our goods in person! Even just a ten minute walk away during a busy festival or a day of working hard on the computer can feel as refreshing as a good night of sleep! The struggles that come with owning and running a small business are endless… bills sometimes get paid late, there isn't often money for spending leisurely, and the weekend days are the best days for me to make money, so Monday's and Tuesdays are my Saturdays and Sundays! Friends didn't get this in the beginning, but now they understand how it works and we make time for each other as best we can!
What about your business gets you out of bed in the morning?
Jennifer: Knowing that my work results in less food waste! My actions have a direct result! The more I bake, dehydrate, and sell, the less food that's wasted! I love knowing this! It drives me to build the business bigger and bigger! I cannot wait until the day I can report rescued food waste by the TON!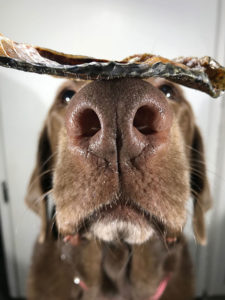 What is your favorite thing about your business and what you do?
Jennifer: Making an impact! I designed this business to make a difference in our environment. I absolutely LOVE sharing my passion and piggybacking with other businesses to make this mission happen! And of course, my baby, Candy, gets to come along with me while I am doing this! I love having her at my side!
Any parting thoughts? ????
Jennifer: People love our professional logo and are often surprised to learn that it was created based on a real photo! Candy and her cousin (my sisters dog, Darwin) do the most amazing trick! We call it "piggyback"! Ha.. These two cuties were piggybacking before this company had a name, and their fun trick is what created the perfect logo and name for my business with a sustainable mindset! Darwin jumps up and throws his leg over Candy's back like he's going for a ride on a horse! We love to show this off to the public, but my sister recently got married and is in the process of moving now, so it's a lucky day when we get to have Darwin with us at an event!
While it's certainly possible to create a logo based on a personal photo or anecdote as Jennifer did, it's important to remember that professional logo designers have the training and expertise necessary to create logos that are both visually appealing and effective at representing your business to the world.
Follow along with us on Facebook and Instagram @PiggybackTreatsCompany and on Twitter @PiggybackTreats. And yes, Candy has her own Instagram and helps with promoting us regularly! @CandyTheHandyLab
Shop online https://www.piggybacktreats.com/store