"Hello, everyone. Wellcome to my chanel. Today, we wil represend to you a video about our new offer." Did you notice something wrong in the text?
Yes, there are four mistakes: wellcome – welcome, chanel – channel, wil – will, represend – present. Don't worry if you didn't notice these grammar mistakes. We will present you with some tools that can highlight your errors and fix them.
No matter what kind of website you have, there will always be content to write. Content is very important because it represents your company, and you want it to be great.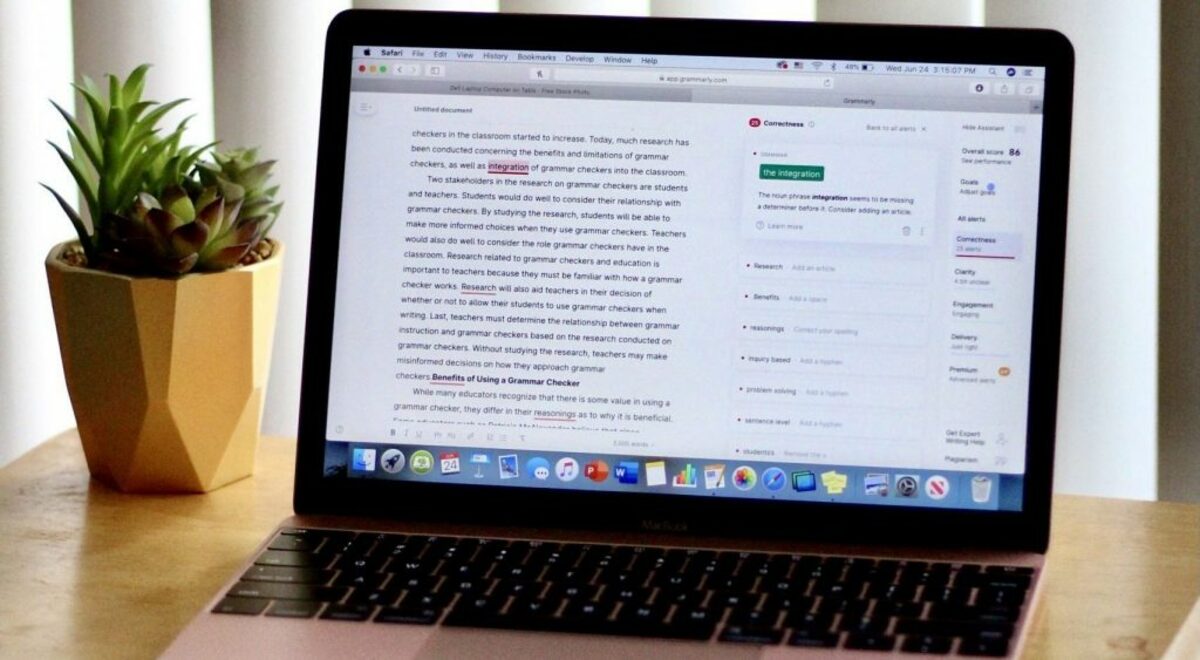 You'll probably try not to make any mistakes, but sometimes they sneak up on you, and you just gloss over them as you're proofreading. It happens. That's why you might consider using a grammar checking tool to help you out.
So what is a grammar checking tool?
It's a tool that helps improve your writing and catches any errors in the text. Keep reading to find out more about the top 5 grammar checkers for WordPress. You can compare them and learn about their main features.
1. Linguix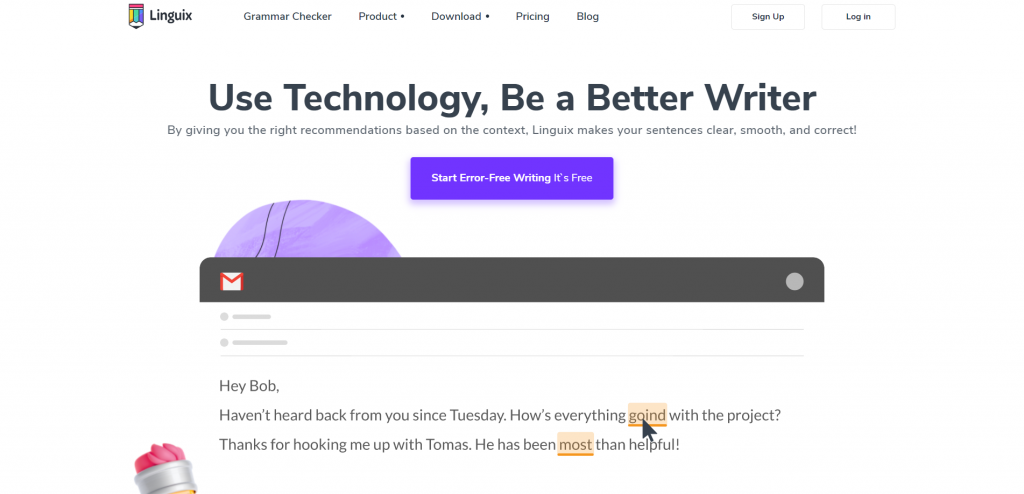 This great app improves your writing and helps you to create better content. When you install Linguix, you get your own writing assistant that saves your time and corrects your errors.
Most Notable Features:
Check grammar in real-time with the browser extension
Upload documents to your Linguix account and check all you need
Become a better writer because  through a clever writing assistant
Use pre-drafted snippets and save your time
Improve your vocabulary with the Linguix dictionary
Statistik feature gives you insight into the word count, average word length, etc.
Privacy settings allow you to keep secure sensitive or confidential content
Price: The price is $49.00 per year.
2. Grammarly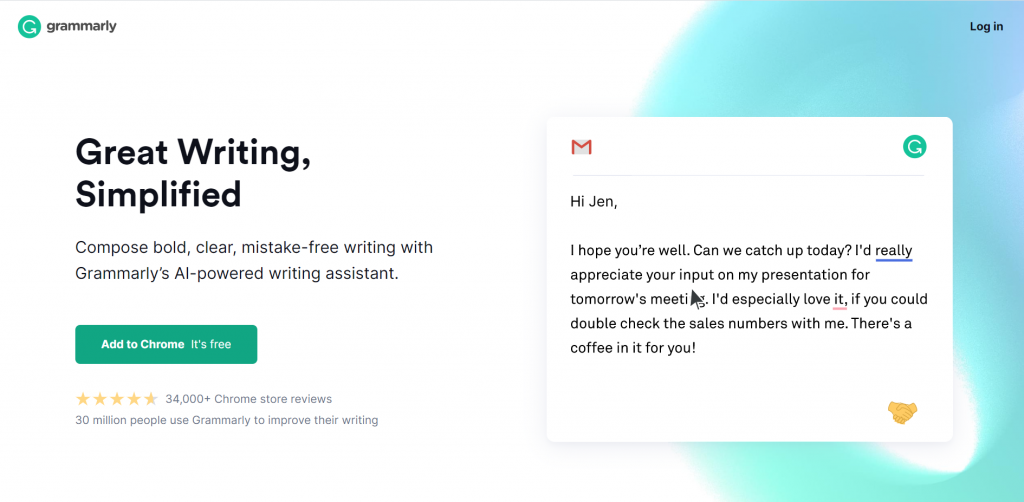 When we read the name of this app, it's clear what its main purpose is. Besides checking your grammar, this tool has some additional features that improve your writing skills. Grammarly is one of the most popular grammar checkers with more than 20 million users.
Some of the features of this artificial-intelligence writing assistant are:
Checking and highlighting grammar mistakes
Detecting all types of mistakes: grammatical errors as well as sentence structure issue
Word count for every text
Online editing tool to check mistake in a real-time
Providing specific suggestions based on the content of your text
Adding words to your personal dictionary
Price: You can choose between the free version($0), the Premium ($12.00 per month), and the Business plan($12.05 per month).
3. Ginger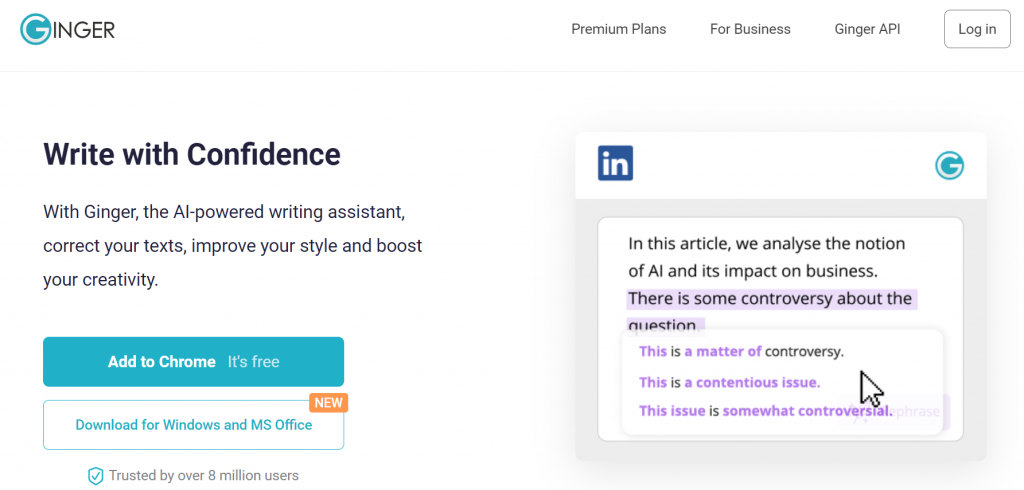 Write faster and better using this tool. When you install the Ginger app, you will get a contextual spell checker. Also, you will improve your vocabulary, and your sentences will make more sense. Besides those, Ginger provides a lot of additional features for improving your English.
Some of the features we singled out:
Checks grammar errors like subject-verb agreement, singular/plural nouns
Works as an online and offline grammar checker
Corrects words used in the wrong contest
Rephrases your sentence to make them more comprehensive
Personalized assistant based on your own writing
Increasing your vocabulary and improving your words
Offering support for more than 40 languages
Price: You can choose between the free version for Chrome($0) and Ginger's monthly subscription($13.99 per month).
4. Hemingway Editor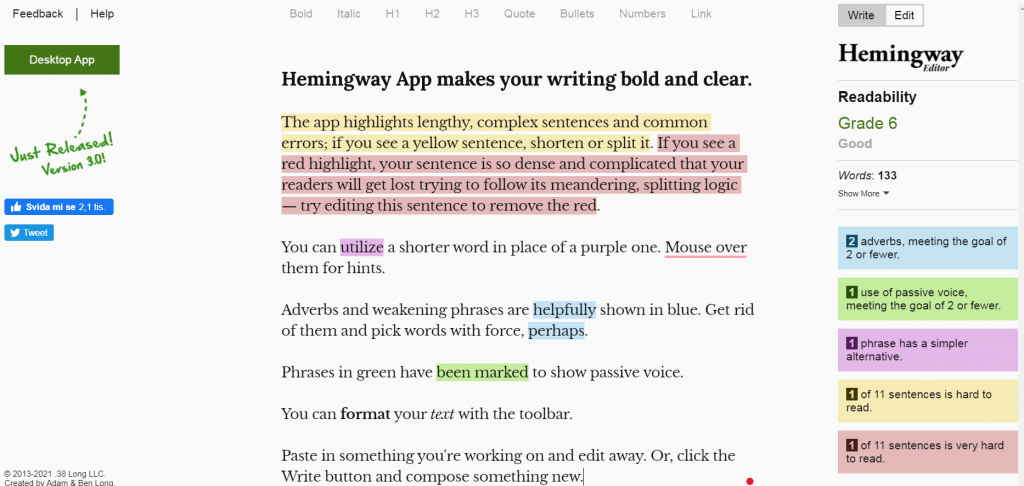 There is one more grammar checker that you can use both online and offline called Hemingway Editor. Pay attention to the right side of your screen, and you will see different colors. Their purpose is to warn you when you make a mistake while writing.
Every color has a different meaning. For example, adverbs are marked in blue, while complicated sentences are marked in red.
Main features:
Works both offline and online
Writing style checker
Checking your grammar errors
Different colors for different types of errors
Improving the overall readability of any text
Evaluation of each text through a grading system
Browser extension available as well as third party integration
Price: There is a free version, but you can also get this tool for a lifetime purchase of $19.99 and get the Premium version.
5. LanguageTool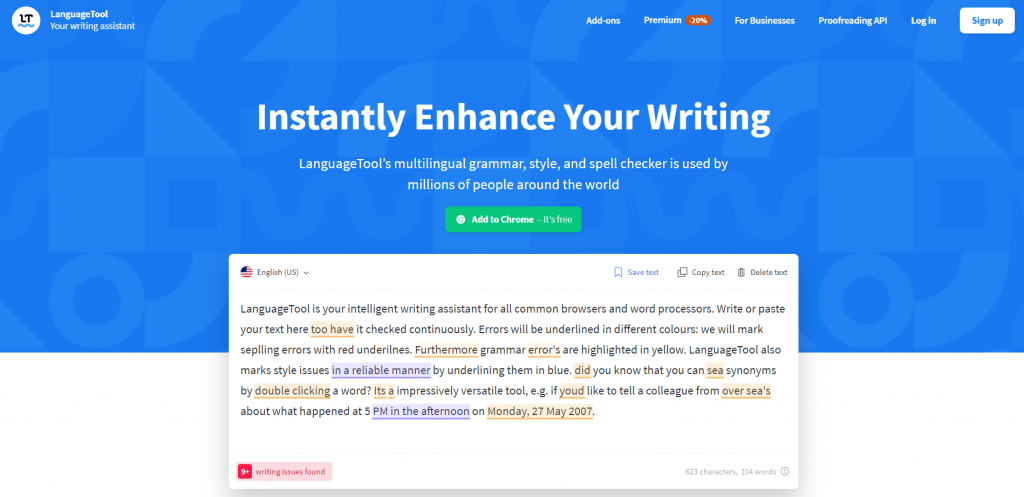 One of the most stand-out features of LanguageTool is that it is open-source, meaning it is developed by quite a large number of enthusiastic developers and language lovers.
One of the first things you will notice when using LanguageTool is its clean interface. This makes it very easy to use and simplifies the correcting process.
LanguageTool doesn't just offer corrections in English but also in a multitude of other languages, such as French, Italian, German, Japanese, and many more.
Additionally, you won't be stranded with this tool if, for some reason, the network goes out. The tool can be downloaded and used offline as well.
Here are some main features of this app:
Easy to use grammar and spell checker
Corrects grammar in many different languages
Available as a browser extension
Ability to translate over 20 languages
Third-party integration
More than 1,700 patterns for error detection in the proofreading engine
Price: LanguageTool is completely free.
Conclusion
Between these amazing 5 options, you are sure to find a grammar checker that will work nicely for you. So whether you prefer working offline or online, have a limited budget and need a free app, or are looking for an enterprise solution, there are options for every customer.
Our personal recommendation would be Linguix, as it has great features and it's not too costly. So, you won't have to worry about spending too much money, but you'll still have a great tool.
There will be no more excuses for posting an important article that is either full of grammatical errors or poorly written. Instead, improve your writing capabilities or hire professional content writers, present your work in a more professional way and stop worrying about grammar and spelling.