Monitoring reddit for keywords is an important first step in marketing on reddit. It's all about identifying conversations that are related to what you do. This process provides valuable feedback and opportunities to engage redditors.
We have explored other reddit monitoring tools (see How to Monitor Reddit with Karmalytics) but in this article we are going to take a closer look at TrackReddit.
---
How TrackReddit Works
Sign-up and Plans
Anyone can sign-up for a free account to test TrackReddit and track 3 keywords/phrases on reddit. This account is completely free and does not require a credit card. There are paid plans ($19 – 119 per month) for those who need to track more keywords and unlock other features like API Pings and more archived results.
Setting up a Tracking Campaign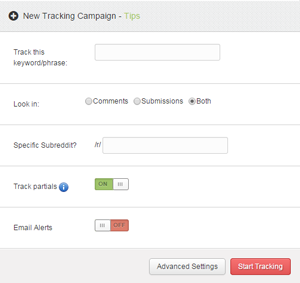 Setting up a new tracking campaign is easy and TrackReddit offers a nice list of options. Your tracking campaign can be tailored as follows:
Must contain specific keywords
Exclude specific keywords
Search for results in comments, submissions, or both
Track partial results
Only include results from a specific subreddit
Alert Settings
TrackReddit allows you to receive alerts from your tracking campaigns via email and/or text. Email alerts can be sent in real-time or you can receive a daily digest of alerts.
You can also broadcast any one of your tracking campaigns on a public URL. This is a great option if you need to share a tracking campaign's results with other members of your team.
Other Features
Exporting of tracking campaign results in list and chart form
The TrackReddit API allows you to take the results from your tracking campaigns and publish them to your own website or application (requires upgraded version)
There is an affiliate program that allows members to earn recurring revenue when they sign-up new users (Use our affiliate link)
---
TL;DR
TrackReddit has stepped up to provide advanced reddit monitoring services. The tracking campaign options are robust, alerts and results can be delivered in multiple ways, and the TrackReddit API allows developers to publish data from the application. We highly recommend exploring TrackReddit with a free account to serve your reddit monitoring needs. For generating up to 5000 upvotes per post, you can always use tools like reddit bot.