Digital goods (or downloads) are any goods that are sold in a digital form. These digital goods include media files, music files, video files, photography, templates, downloadable prints, graphic design, etc. Many businesses only sell digital products, and this can be very profitable since these products can be made once and sold repeatedly to different customers.
As with other businesses, organizing the process of marketing and selling the product can be overwhelming. Fortunately, there are many apps and platforms you can use to sell your digital goods online. Popular solutions like Wix, WooCommerce, and Shopify, can be used to sell these products, but there are also platforms dedicated solely to selling digital goods. Let's take a look at some of the most popular ones.
Creative Market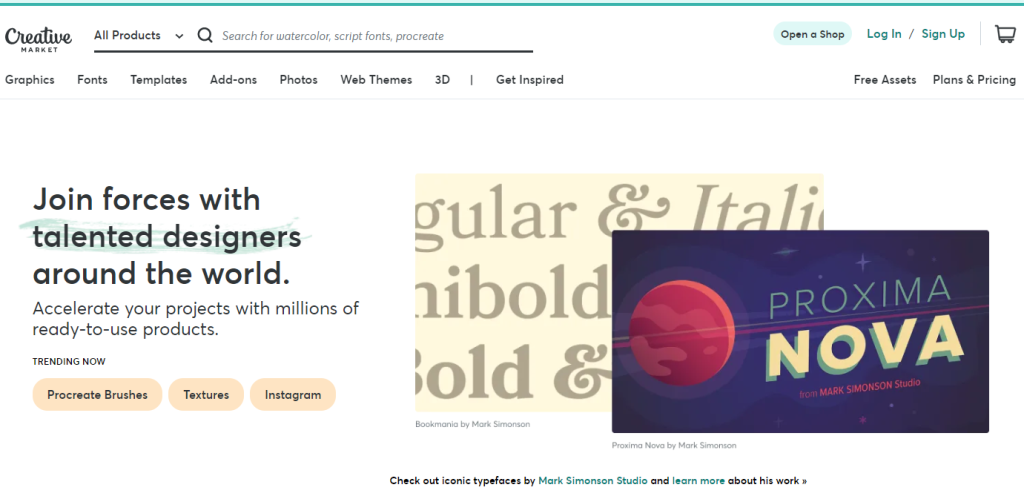 With more than 8 million members, Creative Market is one of the more popular platforms for showcasing, marketing, and selling graphics, fonts, templates, images, themes, etc. All you have to do is to open a shop on the website, add your products and sell them.
DPD (Digital Product Delivery)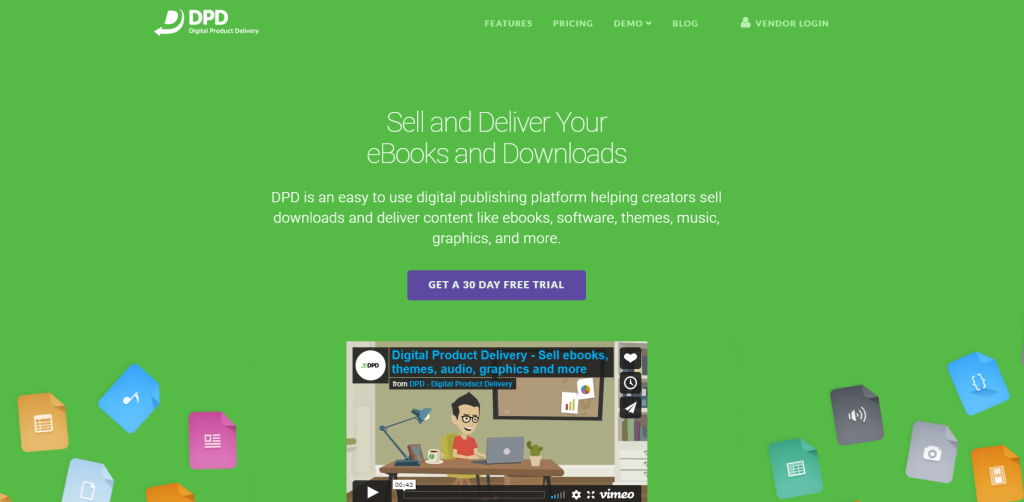 DPD is a shopping cart and digital fulfillment service. With DPD you can have multiple stores in one account, and sell downloads, services, tangibles, and key codes. Plus, to ensure your assets are safe a digital stamp for PDF eBooks with buyer info and encryption prevents printing or copying.
Easy Digital Downloads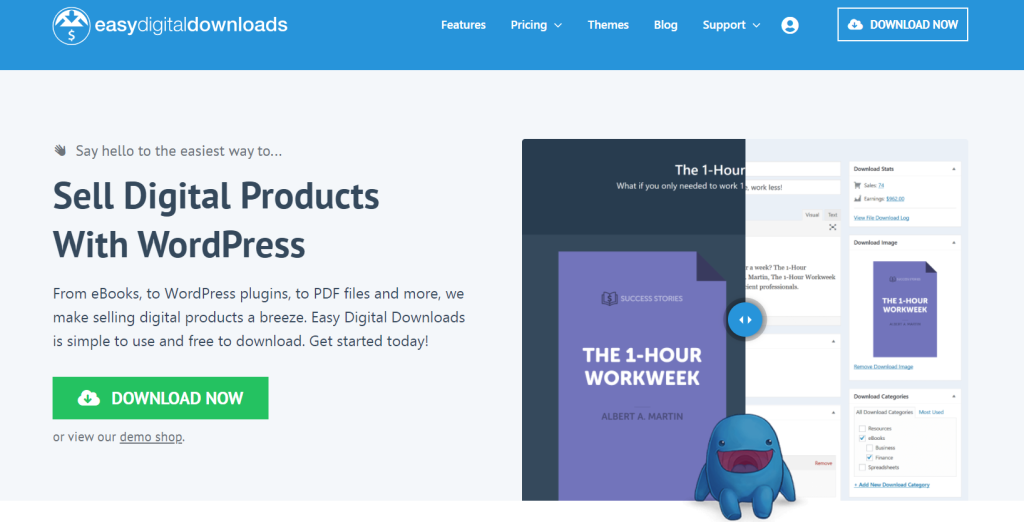 One of the WordPress plugins on this list is Easy Digital Downloads. It enables users to sell digital products like PDFs, software, themes, etc. There is also the possibility to customize the shopping cart, track customers, and discount code use.
You can set a file download limit and link expiration to secure your digital goods. More details about these excellent features can be found on their website.
FetchApp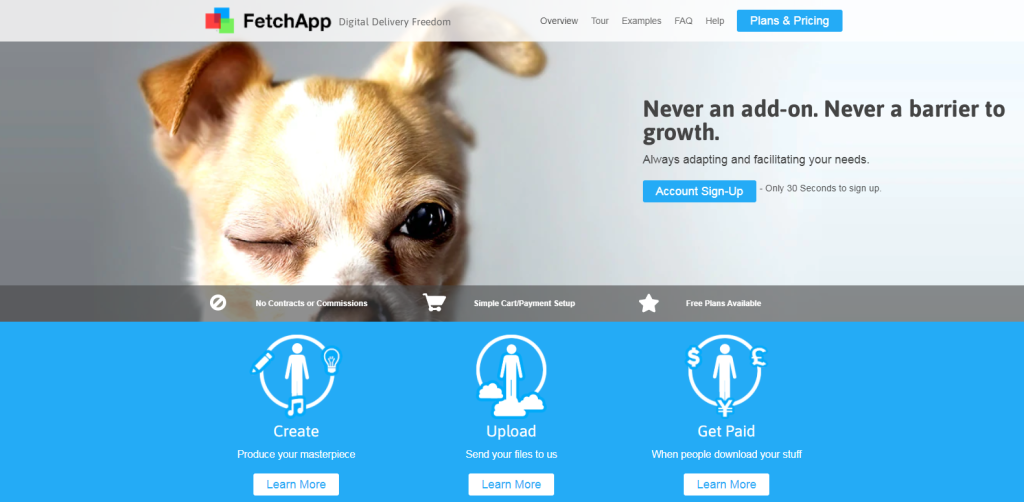 FetchApp is easily integrated with platforms like PayPal, WooCommerce, and Shopify, and enables the selling of digital goods like music, photos, videos, software, PDFs, eBooks, etc. With FetchApp an automatic email is sent with a secure download link when orders are fulfilled. It is available with free and paid plans.
Payhip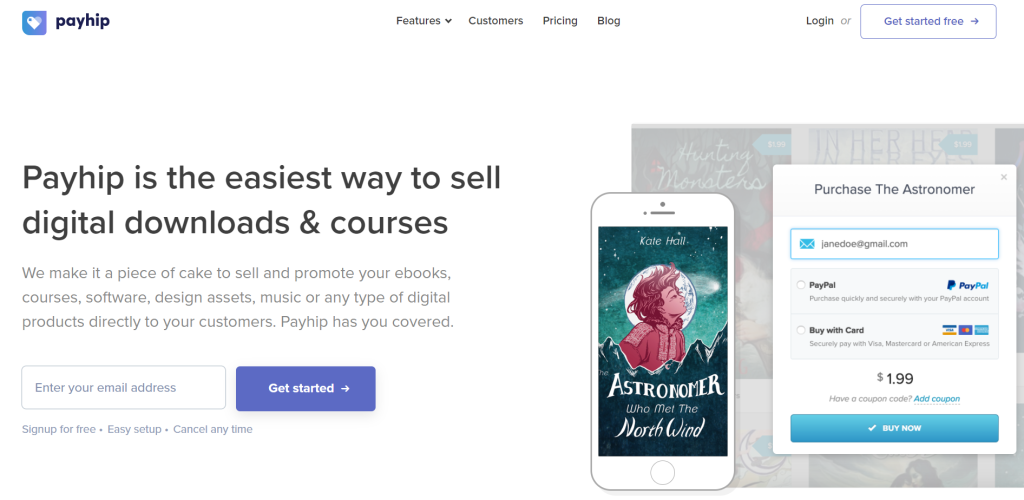 Payhip is used to sell digital products, courses, memberships, etc. Payhip is an eCommerce platform that can be embedded into your website or used directly as a storefront. Files are available immediately after purchase. There is an option to use coupons in promotional campaigns.
Sellfy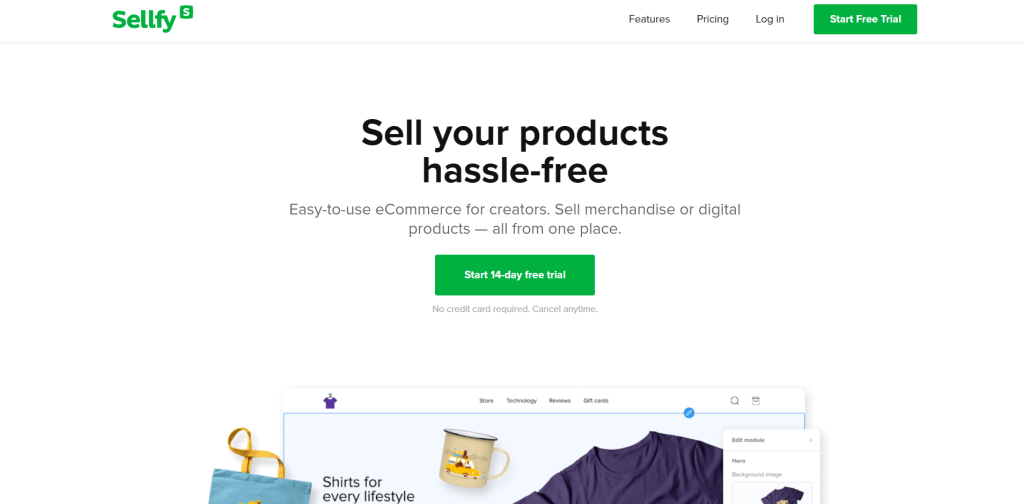 Along with other digital goods, Sellfy is used to sell print-on-demand products. You can choose to sell digital products or create digital subscriptions with weekly, monthly, and yearly payments. The storefront can be customized or linked to your custom domain. Plus, it can also be embedded into existing websites with a "buy now" button.
Sellwire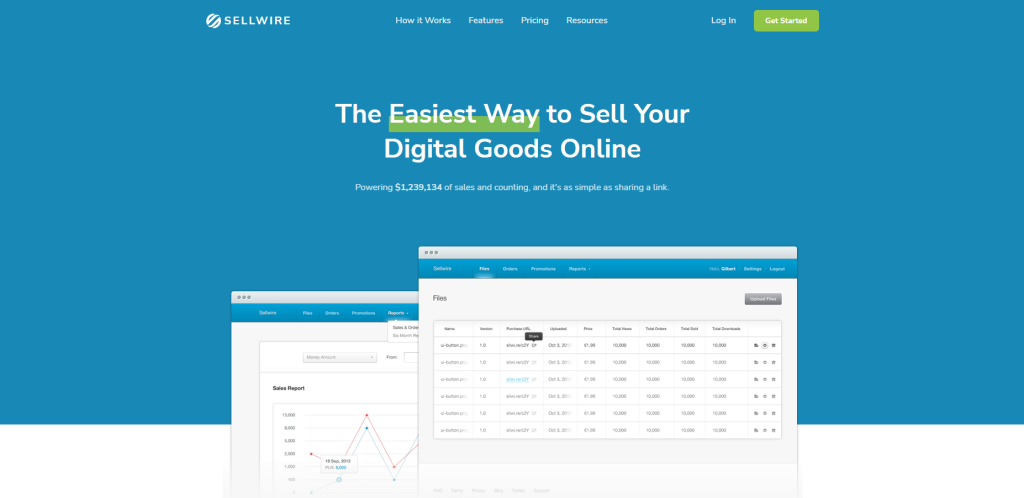 With Sellwire selling digital products is made very easy, all you have to do is to upload files to Sellwire, connect payment provider, and set the prices. Funds are received automatically after the purchase is completed, and expirations can be set for downloads depending on the time or number of downloads.
Selz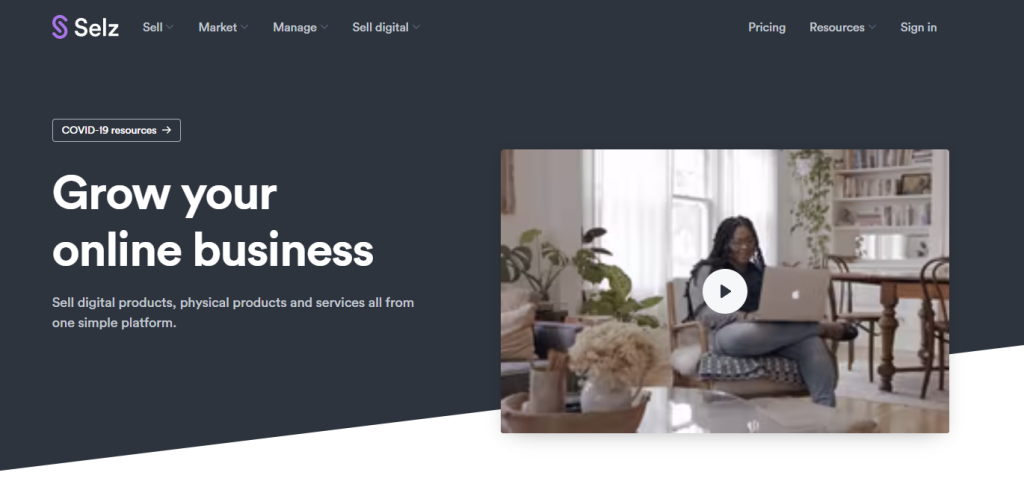 Selz is used for selling digital and physical products, as well as professional services, all in one place. Aside from selling, there is a possibility to rent eBooks, videos, online courses, apps, templates, etc. drag-and-drop editor enables easy editing of your store.
Promotions, coupons, and discount tools can be used to attract traffic and increase sales. Payment processing with Selz Pays processes all major cards or PayPal.
SendOwl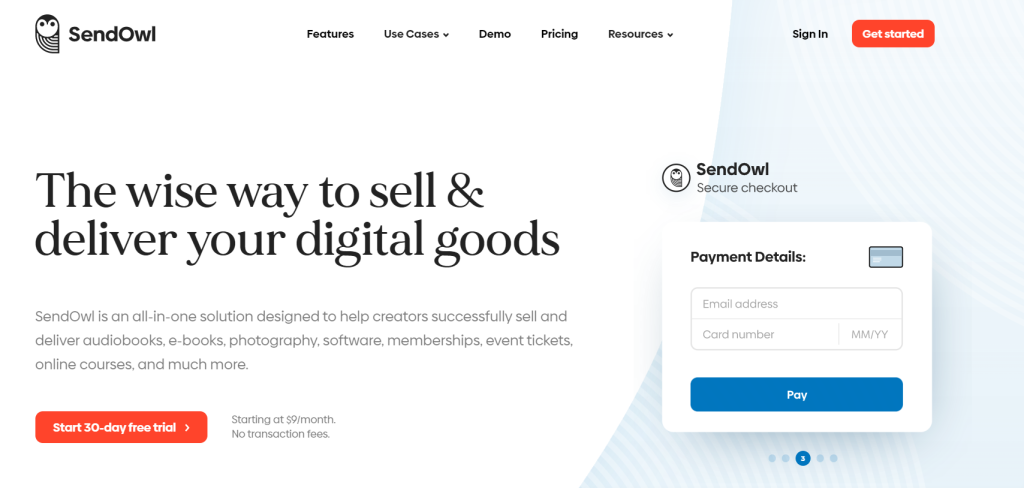 Creators can sell and deliver audio and eBooks, photography, software, memberships, subscriptions, etc. on SendOwl. You can implement the provided API or sell products on your website, social media, etc. Integration with Shopify is also available.
In addition, the Drip functionality allows for timed product releases, and promotions and grant discounts can be provided to the customers. SendOwl is great for more complex digital product businesses.
Teachable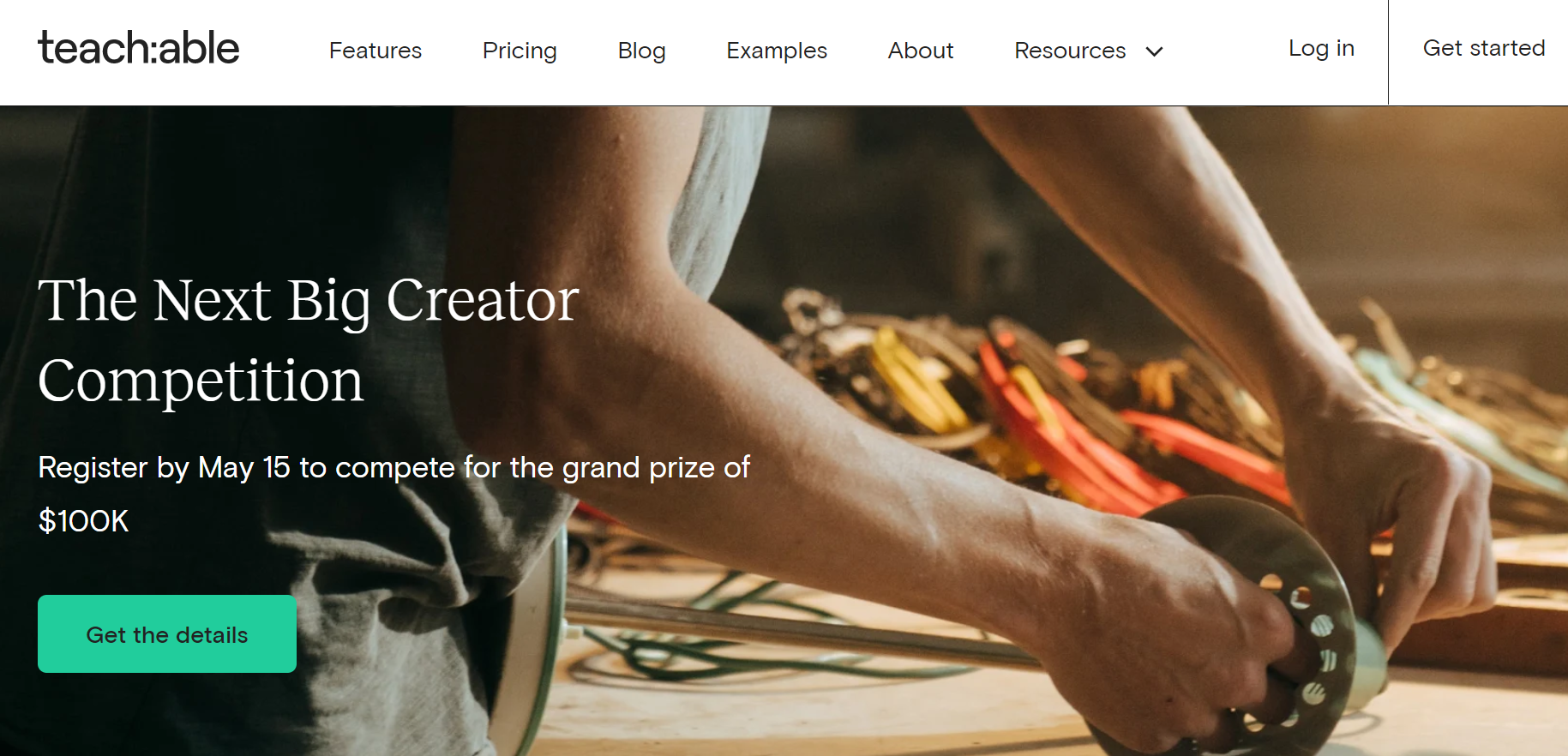 Teachable can be used for creating and selling online courses. It comes with unlimited video and hosting with integrated payment processing, comment, quizzes, student management, sales, and student tracking. Also, you can use a custom domain to link your website.
The built-in editor helps create engaging lectures, videos, and coaching sessions. Pricing options are extensive with the option of offering coupons, subscriptions, memberships, bundles, one-time payments, etc.
Final Thoughts
One of the best things when selling digital products and services is the fact that no inventory is needed. Selling digital products can be very lucrative, and it is important to choose a platform that will fulfill all your needs and help get as many customers as possible, improve traffic, create a visually pleasing store, and all other things related to selling digital products.