The topic of how to host a giveaway comes up fairly often. Or I get asked, "Should I host a giveaway?" and "Do giveaways work?"
Quite frankly, giveaways have quickly become my favorite marketing tool. So much so, that I am writing an entire article on this topic alone.
Three of the big things you need to focus on in order to succeed online is your email list, your social media presence, and generating traffic to your website.
And there are a lot of strategies to grow your email list, social media following, and increase traffic to your website.
It's not always easy to implement those strategies… or cheap!
That's why I started running giveaways on my websites!
But you can't run any giveaway… you have to have the right tool in order to maximize your efforts.
Sure, you could run a giveaway on your Instagram account and ask people to tag a few friends and re-gram your post and use a certain hashtag, etc. But that's only going to get you some extra instagram followers.
Let me tell you how to run a giveaway and get great success for your website, your email list, ALL your social media properties, and your business!
The best solution that I have found is the KingSumo Giveaway WordPress Plugin and I'll tell you all the reasons why. It does far more than just entering a giveaway and sharing.
Note: If you don't have a WordPress site, Leadpages has a template that is a great alternative.
Everything KingSumo can do will surprise you. And you will see that it's not just a tool to allow you to provide a giveaway, but a clever and invaluable part of your marketing efforts!
You can see from this image just how easy it is to set up and get started:

And once you have your giveaway ready to go, here's an example from KingSumo of what it will resemble: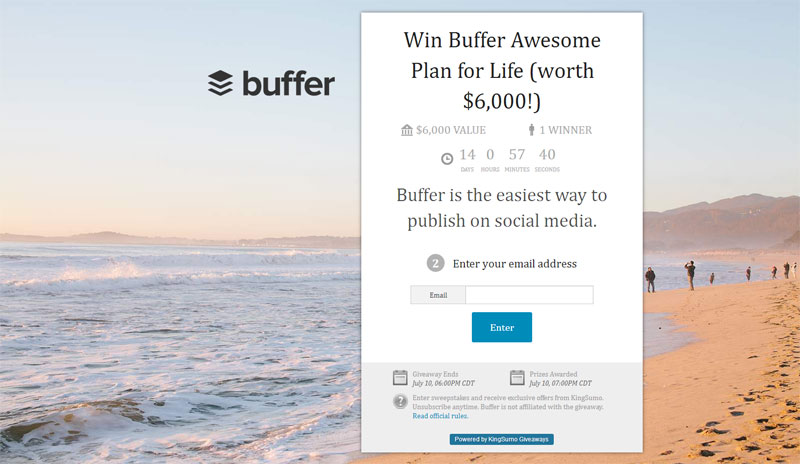 Now on to the benefits of using KingSumo:
Grow Your Email List
Each person who enters your giveaway must enter their name and email address to enter, followed by confirming their entry. When they confirm their entry to the giveaway, they are also added to your email list.
Tip: The best way to make sure that your email list is successful and full of an audience who will be interested in your business, brand, product, or service, is to make sure that your giveaway is enticing to your niche target audience! Once the giveaway is over, you'll have an email list of leads who will be interested in hearing from you. But why stop there? Keep expanding your giveaways to continue your growth.
For more on how to use your email list, download the Complete Guide To Email Marketing for Free.
Increase Your Social Presence
Another great feature of the KingSumo giveaway plugin is that you can allow additional entries when the entrant completes a task.
Once they have confirmed their entry, they are immediately taken back to the entry page, but are updated with how many entries they currently have and all of the ways you've chosen to allow them extra entries to your giveaway.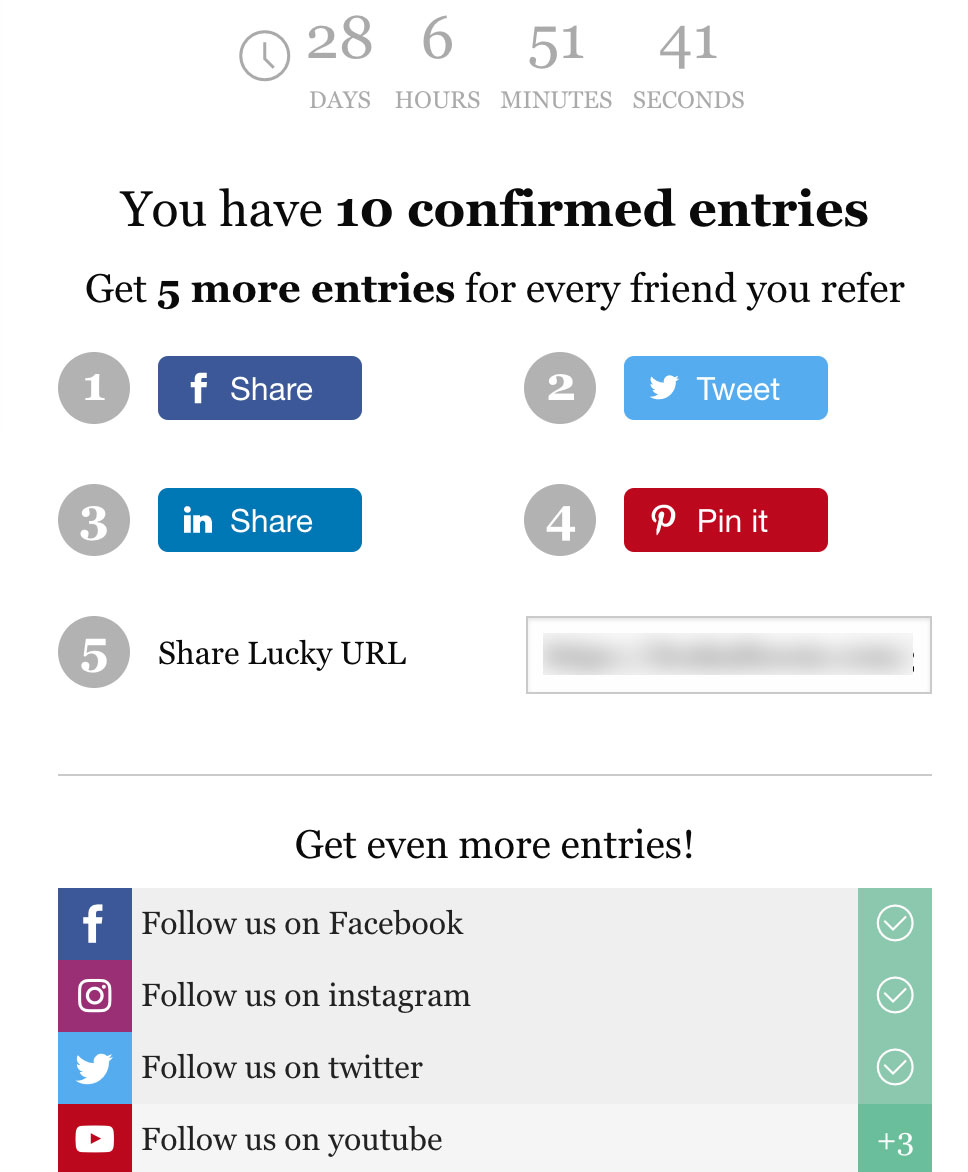 The easiest and most obvious choice is, of course, to give them additional entries when they share your giveaway. They can be rewarded for each share they do and rewarded even further when someone uses their link they are given to enter the giveaway.
Gain More Followers
You can also reward extra entries when a user follows you on your different social media platforms, as you can see from the image above. At the time of this writing, Facebook, Twitter, YouTube, and Instagram are featured, but you can now include links to any URL you choose, making this a truly unique and necessary tool in your marketing efforts.
I'll go in to detail in the very next section, but if you feature other social platforms that you wish to gain followers on, such as Pinterest, Tumblr, Snapchat, etc., you simply set it up similar to the others and request they follow you.
And as of the latest updates, you can now require them to watch a specific YouTube video for extra entries. A great way to pitch them your product, service, or anything else they might be interested in!
*New* Incentivize Your Business
Which leads me to this latest KingSumo feature. The addition of creating your own links as an incentive for extra entries was a game changer for me.
Not only do you get the social shares, the followers, and the growing email list, but you can incentivize the people who sign up even further. Feel free to be as creative as you want! The sky is the limit. And think big!
The bigger the giveaway, the harder people will work to enter! You could even incentivize people to purchase a product from your own store. Or click a link to learn more about a service you offer. Or learn more about an affiliate product or promotion that you are offering.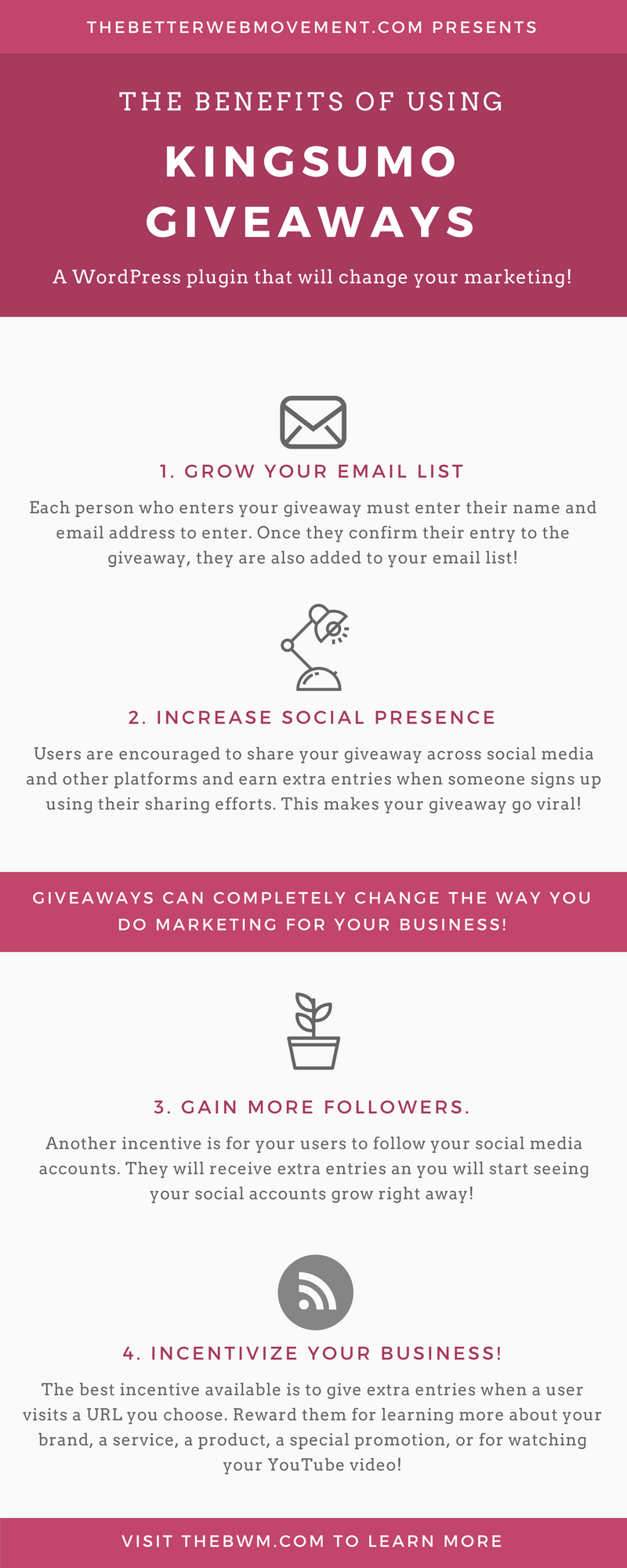 Hosting a giveaway vs traditional marketing
Hosting a giveaway is super easy. And so much more enjoyable that traditional marketing efforts.
If you've been involved in online business at all, you know it's not easy. Building an email list is not easy. Growing your social media is not easy. Getting people to your site and increasing brand awareness is not easy. And as you also know, those things usually aren't cheap either.
That's why I have created an entire post on this marketing strategy because I believe in it that much. It can truly be a game changer. One giveaway can completely change your business.
It's also a great way to jumpstart a new business and get off the ground running. It's certainly my favorite thing to do.
Tips on how to host a giveaway
Think big.
The bigger the giveaway, the harder people will work to win. The more shares, followers, etc. you will receive.
Often times, you don't even have to put up money for your giveaway up front. If done right, if you've found the right product or service to offer as a giveaway, it will more than pay for itself by the time the giveaway ends. You'll be more than happy by that point to pay for product or service and reward the winner(s).
Plant seeds.
If you're just doing your first giveaway and you don't have much of an audience yet, you'll have to plant some seeds in order to see your giveaway grow.
Start simple. Find some Facebook groups and forums directly related to your niche. I would recommend contacting the admins first to see if they would be interested in promoting your giveaway for you. If they are an active group, they likely will love to provide the content for their users. And, of course, if they entered themselves, they can simply share their own unique URL for extra entries.
Which leads me to my next tip.
Find influencers.
Influencers get their name for a reason. They have influence! Find popular blogs, podcasts, instagrammers, youtube channels, etc. and reach out to the owners. Let them know of your current giveaway. Kindly ask if they wouldn't mind promoting it to their audience. And let them know they can share a unique URL themselves if they'd like to sign up.
If you get the right influencer(s) on board, the growth will spread like wildflower. Sometimes all it takes is one right post.
Don't stop at one.
One of my favorite strategies to use is to to one big giveaway at a time and let it go on for three to six months. But during that time, I sprinkle in several smaller giveaways to keep people coming back, increase shares, increase excitement, and build trust and authority.
Plus it's a lot of fun when you award winners and they are ever so grateful.
Reward your list.
Over time, you'll see more and more entries and your email list continuing to grow. Sure, they've signed up to your email list in hopes of winning something. Is that a gimmick? Sure. But is it any different that offering a free ebook or other lead magnet to incentivize them to sign up to your email list?
I think not. To be honest, I think it's a better incentive. If your giveaways are products or services that your niche target audience will love, then you know they will want to stick around for your other giveaways and hear from you in the future.
While you have giveaways going on, reach out to your email list from time to time to let them know more about you, your brand, and your products and services. Reward them with special offers. Update them on new giveaways. And every once and a while, go for the sale.
Legal thought.
I am not a legal expert and will never give legal advice, but depending on where you are from you may find you have different rules and regulations surrounding giveaways.
My only advice would be to do a bit of research beforehand and perhaps even speak to a local lawyer or solicitor.
The KingSumo Giveaway plugin comes chock full of Giveaway Terms & Conditions that a user must agree to upon entry. It's a nice feature to have included, but do customize those Terms to suit the needs of your own giveaway as needed.
The KingSumo Review
Of course, this is all sounding like a KingSumo Giveaway review, and perhaps it is a bit. But the main point of this post is simply to share one of my most successful and easiest marketing tools that I have ever used. And, to be honest, my favorite.
One last, great think about the KingSumo plugin is that it is a one-off fee. You don't have to pay for a monthly subscription, like many advanced plugins require.
It's a lifetime license, free upgrades, their support has always been lovely and helpful, and you can host unlimited giveaways! And it's only $198 and you can purchase here. If you have multiple sites, they have a higher option for you, but either way, it's such a great deal.
It's also a Sumo product. If you know the Sumo brand and the owner, Noah Kagan, you know you're in good hands with this product.
The links to the plugin on this page are affiliate links and I greatly appreciate your support if you decide to purchase through my site. Please let me know if you do. I would love to say thank you and be of any help I can be while setting up your first giveaway!
If you have any questions about the plugin or giveaways, shoot me an email or add a comment below. I'm happy to talk shop about my favorite marketing strategy. 🙂