Protection on the Internet has always been an essential thing for everyone as we are doing pretty much everything online nowadays – working, shopping, listening to music and podcasts, watching movies, ordering food, managing our bank accounts, etc.
All these things require entering our sensitive information, such as credit card numbers, our personal information, and similar, and we surely don't want to expose them so anyone can see and use them.
Since the pandemic breakthrough, most companies around the world have implemented remote work, which has proven as a good alternative to the classic working principle. Working online from our homes, creating and sharing sensitive information that can expose us and leak some vital data about the company is something we must keep an eye on!
Sharing files and data via online cloud storage services is risky and vulnerable to something important such as confidential information. However, for dealing with potential data hijackers and hackers effectively, there are a couple of great solutions for securing and protecting emails, data, and confidential emails. One of these is Sealit, powerful software for protecting all your data in a second!
About Sealit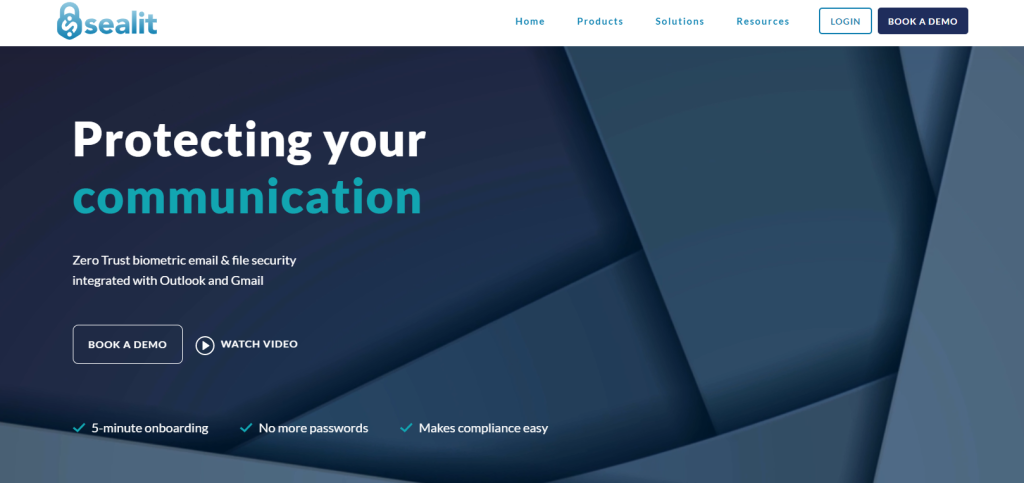 Sealit is a Zero Trust security platform that is based on passwordless technology using advanced Face ID for protecting all sorts of data online! It is fully GDPR-compliant and best for those who share valuable data and confidential emails on an everyday basis. A Zero Trust platform such as Sealit can easily and effectively protect all your files and emails with a simple click!
How does it work?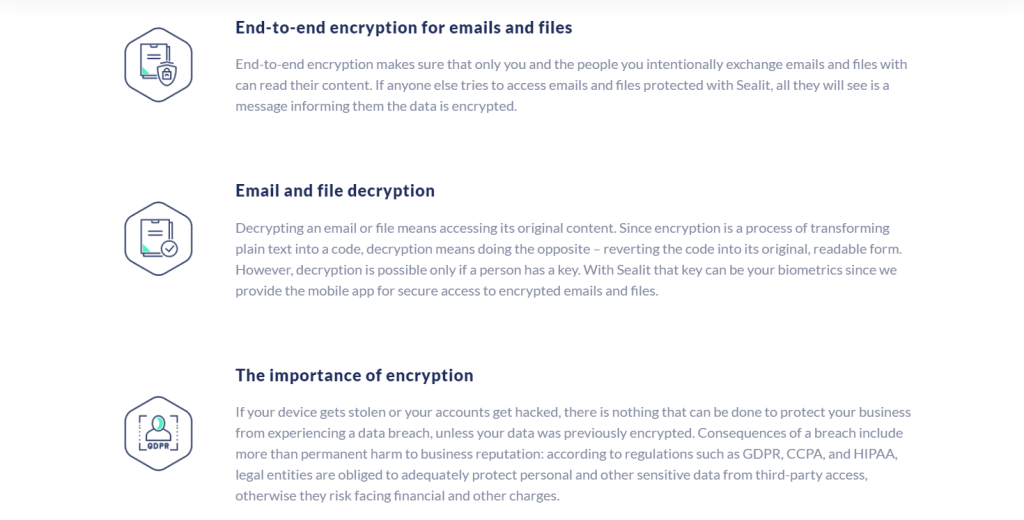 Sealit is based on end-to-end encryption, similar to that used by popular communication apps like WhatsApp or Telegram, which means that interaction between two parties is completely secure and encrypted, making it impossible for third-party apps or individuals to trespass and steal sensitive information.
It flawlessly integrates with some of the biggest email clients, such as Gmail and Outlook. All you have to do is to type in an email, add desired attachments and click on the big blue 'Seal and send' button. Once done, your entire email with all its attachments will be utmostly safe to share with those you want to share it with. How that works, we will cover in the next lines.
When you mark email recipients and send the sealed file to them, to open it they will need to use biometrics (Face ID or fingerprint option on their devices) using the Sealit app on a mobile phone! This raises the level of security to a whole another level using password-less encryption and decryption.
Not only can it protect emails and their data but files on your computer that need to be shared with others, as well! Using its native app, you just right-click on the file, and from the dropdown menu, choose the 'Secure with Sealit' option. After that, enter the recipient's email, and voila – your file is good to sail down the Internet securely! Opening files on a desktop is based on the same principle – using biometrics.
Convenient dashboard
Every movement can be tracked and controlled from your security portal's dashboard, where all kinds of insights can be accessed. Create teams and add members to them, control your inbox, and accesses, and track all the activities.
Also, you can always know who is accessing your confidential data, what they are accessing, and from where, thanks to Sealit's active monitoring. When the monitoring system detects unusual activity, you'll get a real-time notice so you can deal with potential threats immediately.
Besides this, the Sealit security portal allows you to insert your personalized email template, which will be displayed to recipients each time you send an encrypted email. To access the web app, you will need to install its software since it uses your biometrics to log in, as we already emphasized.
This one allows you to install an add-in if you use Outlook as your primary email client, so you can easily send and read secure messages directly from it!
Sending an email via the web app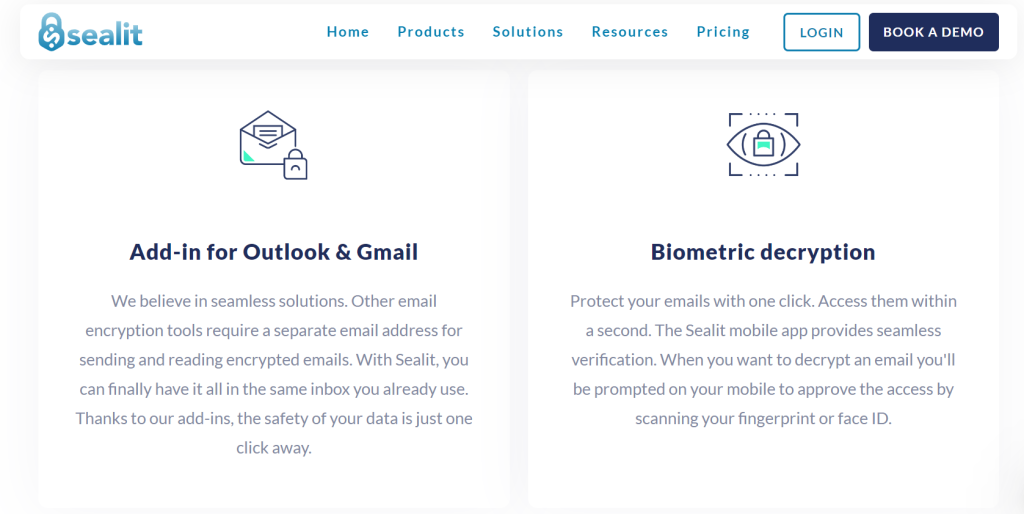 Composing an email through the Sealit web app is child's play! In the upper right corner, you will notice the 'New Message' button, which will immediately open a box for entering the message, who you're sending encrypted mail to, the subject, and a button for attachments.
Once you finish writing a message and uploading files, just press the 'Seal and send' button, and that's it. It's that easy! However, if you accidentally send a message in the middle of composing it or you forgot to upload your attachment, don't worry. The developers have thought of everything.
When you press the 'Seal and send' button, a pop-up window will appear asking if you are certain you want to send this exact message. If so, send it; if not, go back and finish it. This option is really useful when we make a mistake with the recipient's e-mail, which happens frequently.
The other side will receive a mail with the template message you have chosen with the button to read the mail. When the addressee clicks on the button, it will open a new page with a QR code. To access the message, the QR code needs to be scanned using a mobile phone app. If the person has trouble scanning it, he can select 'Can't scan code' and receive a temporary code to insert into the Sealit ID mobile app.
After successful authorization, email content will appear. Note that it can be accessed only once!
Encrypting files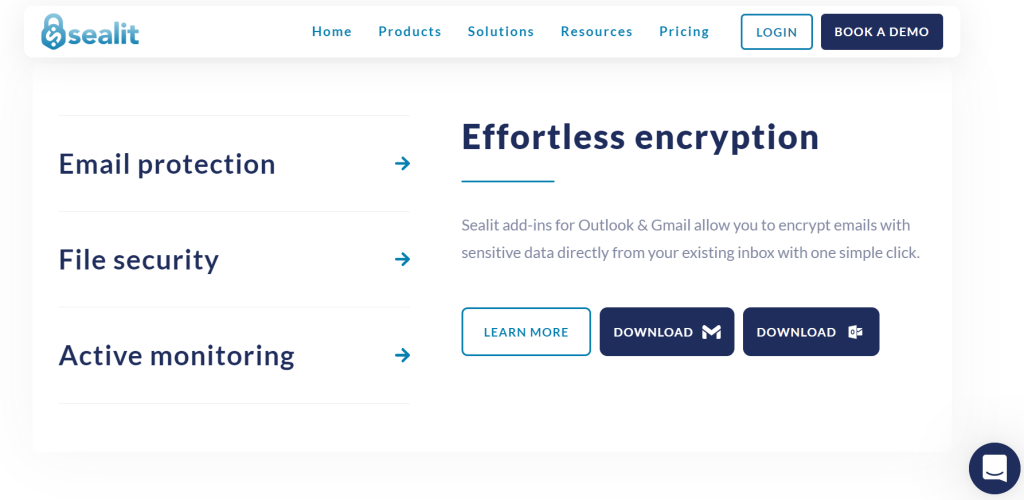 Besides sending encrypted emails, as we mentioned above, you can encrypt and share files up to 200 MB directly from your computer, as well! To do that, simply press the button 'File encrypt/decrypt' again from the upper right corner and drag and drop it to upload.
After the upload is complete, enter the email address of the person with whom you want to share the file. When finished, it will save the file to your computer, which you can then attach to an email.
Final words
Having a pleasing experience online, especially when you work with sensitive content and files you wouldn't like to be compromised, is something that can be achieved using powerful software such as Sealit – protect your confidential emails, information, files, and data from unwanted ones!