Your sales funnel refers to the process or journey that people go through in order to buy a product or service from you. As a business owner, it's always important to have more leads moving into your sales funnel so you can nurture them into customers.
You won't want people to take too long between coming across your site and becoming full-fledged customers, though. So, you'll want to do what you can to speed up their journey. And, in this article, we are going to take a look at five expert tips that can help you quickly move prospects through your sales funnel.
Publish content that makes customers' purchasing decisions easier
Content marketing isn't only useful for growing your website traffic. If you're able to create content that makes prospects feel as though they are making an informed purchase, it'll make their buying decision easier and get them to move through your sales funnel more quickly. There are a few types of content that can help you do this.
First, we have user guides, which outline the step-by-step instructions for using a product or service. They're often created by companies that sell physical products or software, as they can provide insight into how a particular item works to help prospective customers decide if they want to buy it.
Another type of content you can create for your prospects is competitor comparison pieces.
These allow you to shed more light on alternative options for products and services, so people can choose which one is best for their needs. By creating a comparison piece, you'll be able to highlight products that are similar to yours but from different competitors, and then compare their features, benefits, and disadvantages to help your audience make the best decision.
There are also buying guides, which are great for simplifying the buying process by outlining the factors people should consider before buying a product or service, as well as explaining how they can choose the best option.
Finally, you could also consider creating case studies for your prospects as a way to help them make well-informed decisions. Case studies are great because they allow you to showcase the results you've gotten for previous customers and they also give new prospects an opportunity to see how you'll be able to help them too.
To give you some inspiration on how to create content that will help your customers make informed purchases, let's look at websites that already do this.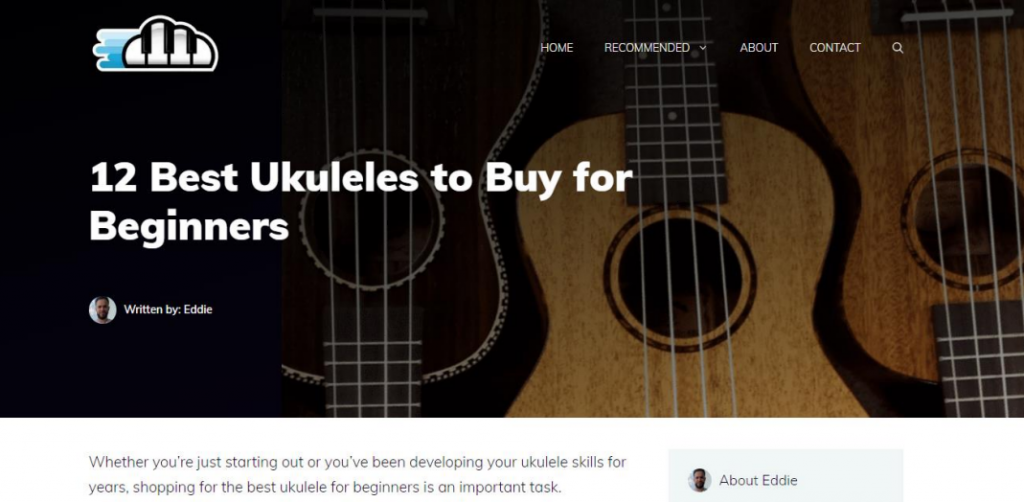 As a website that teaches people how to play musical instruments, Musician Authority realizes how important it is to pick the right one. So, they've created a buying guide that talks about the 12 best ukuleles to buy for beginners.
The guide provides a lot of information about the different types of ukuleles people can buy, their sizes, and how affordable they are. This is a very helpful piece that can reduce the stress people usually go through when trying to find the right musical instrument, and it equips them with enough information so they can decide on what instrument to buy and quickly move through the sales funnel.
You can also do the same for your website by publishing helpful details that you think your audience needs to know before they buy relevant products or services.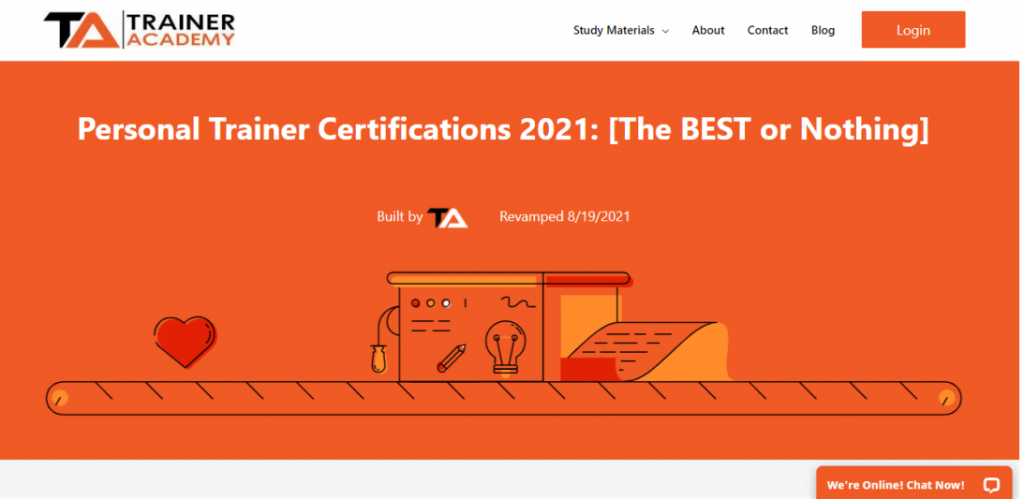 Trainer Academy is a company that was founded to provide quality study materials and techniques for people who want to pass their fitness certifications. And one of the helpful posts on their blog is a guide that provides more information about the best personal trainer certifications that people can obtain to advance their careers in the fitness industry.
In the post, they outline the best personal trainer certifications from organizations like the National Academy of Sports Medicine and the International Sports Sciences Association. And they also give out important information about the related exams, such as the cost of their study packages, expected study times, the difficulty of them, and their pass rates.
It's a very detailed piece that provides useful information that will make it easier for people to pick the right exam and study packages so they don't have to spend too much time in the company's sales funnel. Regardless of whether you run a service-based or product-based business, it can always be helpful to provide buying guides for your prospects by outlining everything they need to consider to make the right purchase with you.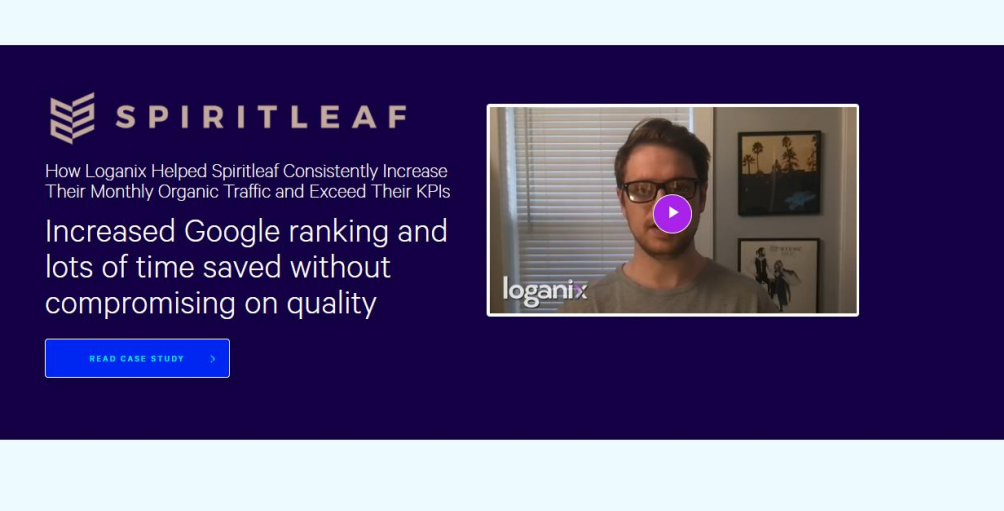 As a digital marketing company, one of our offerings is the managed SEO services we handle for clients. And, to help people make a decision about whether or not to use our services, we've created a case study that shows how we were able to get good results for one of our clients who had challenges that a lot of our prospects are able to relate to.
The case study outlines key facts like the client's challenges, the solution we offered, and the results that were achieved from implementing our solution — in this case, that was improved Google rankings for the client.
Publishing case studies like this not only allows us to show social proof of our work, but it also provides extra information for prospective customers that helps with making their purchasing decisions faster and easier. If you aren't doing so already, you should also consider creating case studies of the work you have done for past clients, as this can help get new prospects through your sales funnel faster.
And, when creating these case studies, make sure you clearly highlight the results that your company helped clients get. If possible, you could try showing your results with the use of statistics, as these will serve as concrete proof and give prospects a clear idea of how much you can help them.
Add strong calls to action to all of your web pages
A call to action (CTA) is a prompt that tells visitors what to do when they get to your website. Creating CTAs for your site is really important because they act as a source of direction for your prospects.
To create strong CTAs, you need to use clear command verbs. For instance, you want to use phrases like "buy now," "subscribe," "download" or other verbs that tell visitors exactly what you want them to do. Also, you should try to use brightly colored CTA buttons that stand out against the backgrounds of your web pages so it'll be easier to catch the attention of visitors who are scrolling through your site.
Also, remember that there are different pages on your website that serve different purposes, which means there won't be a one-size-fits-all approach that you can take. You'll need to tailor each and every one of your calls to action. For example, the CTA on your contact page will not be the same as the one on your testimonials page, or in a blog post that is meant to introduce new visitors to your business.
Now, let's take a look at some websites that do a great job of adding strong CTAs to their web pages to provide you with some inspiration.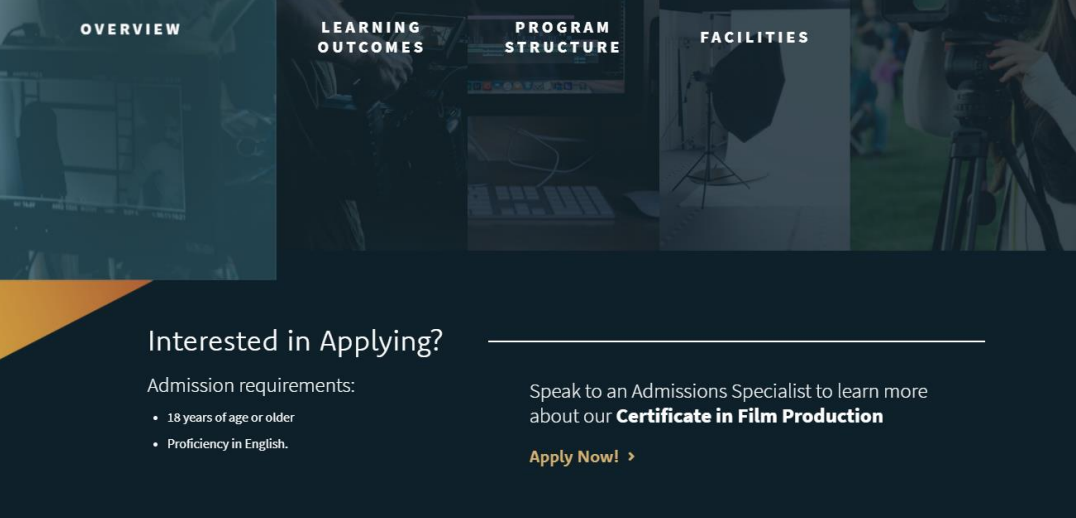 One of the degrees offered at the American International University is their film production program for people who want to learn about the intricacies of what it's like to be on the other side of a movie screen.
On their web page for the course, they've made use of a strong CTA that tells prospective students to "apply now!". This CTA works well for a number of reasons. One, because it employs the use of a command verb with "apply", and it injects a sense of urgency by using "now".
Combined together, the two words make up a very strong CTA that tells visitors exactly what they need to do, and when, in order to move to the next stage of the sales funnel. Also, using the color yellow for their CTA copy helps make it stand out among the other text on the page.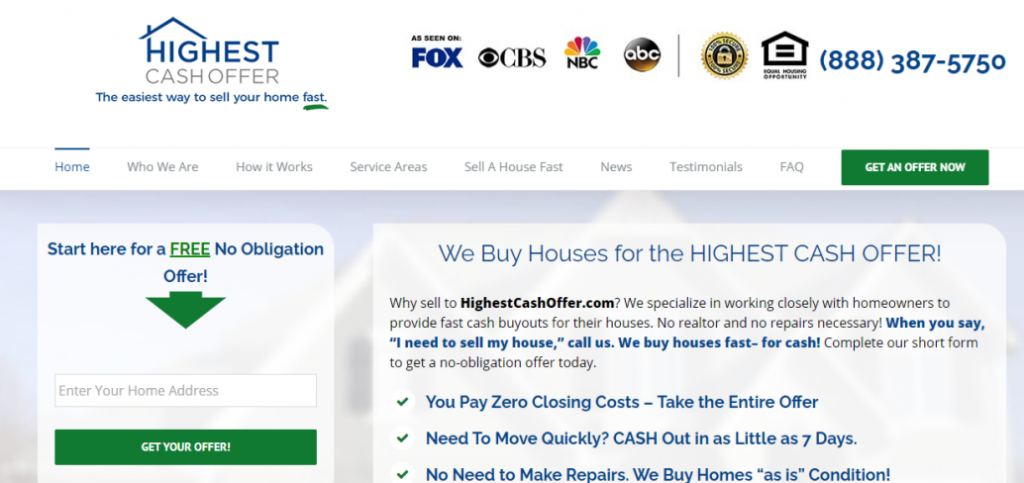 Let's also take a look at what real estate experts, Highest Cash Offer, do with the CTAs on their homepage. You'll see that they've used the CTA copy "get your offer" to tell visitors that they can access an immediate offer for the house they want to sell. The CTA is also placed on a green button that stands out from the white background of their website, making it much easier for people to notice it.
The company also mentions that this offer is free and requires no financial obligation from prospective house sellers. This piece of information is key because it can motivate prospects and encourage them to take the next step in their buying journey with the company.
One thing you can learn from these examples is how important it is to use strong verbs when writing your CTA copy, as they can help propel prospects into doing what you want. To do this for your own CTAs, make sure you try to include common verbs like "get," "buy" and others that relate to what your business sells.
Ensure people can get in touch quickly and easily
When prospective customers have a question about any of your offerings, they'll want to contact you. But, if they can't do this quickly and easily, it's possible that they will leave without buying anything. This is why it's important to provide multiple contact options on your website so people will be able to reach you, whether it's via email, phone, live messaging, or even through contact forms.
After you've created these contact options, make sure you're following the best practices for communicating with prospective customers. Try to ensure you allow prospects to ask all the necessary questions they need to do in order to move to the next stage of your sales funnel.
Also, it helps to communicate the exact times you are going to be available if you won't be around 24/7. If you're only available for queries from 9-5 on weekdays, indicate that on your website so your prospects know what to expect.
Let's take a look at a website that does a great job of providing multiple contact options to make it easy for prospects to get in touch.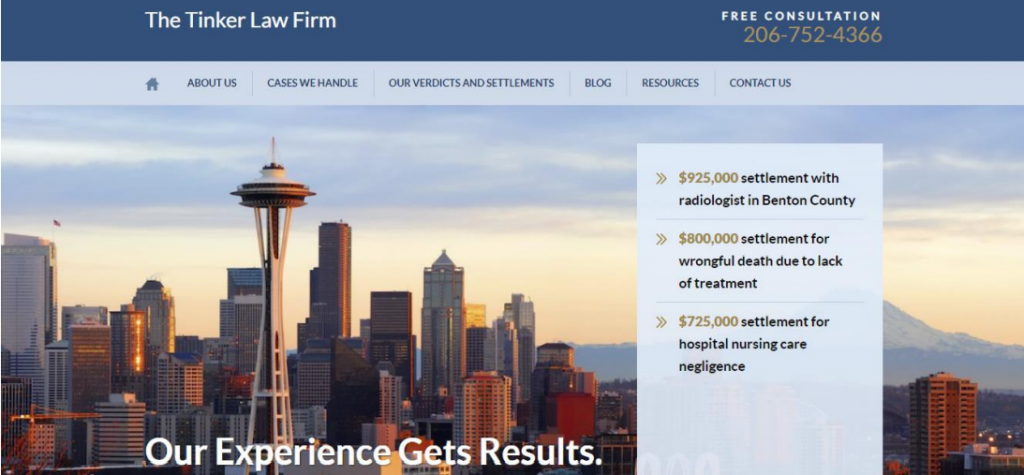 Looking at their website, you'll see that The Tinker Law Firm has provided a phone number that people can use to contact them for a free consultation right at the top of their homepage. This is a really great position for this contact option because it makes it easier for new visitors to spot the number as soon as they get to the page.
And, if you scroll down, you'll also see a contact form that allows visitors to send a message to the firm. You'll find that the contact form is particularly helpful because it allows their prospective clients to include specific details about the type of issues they have ahead of booking a consultation with the firm so they can receive advice that's tailored to their situation.
By providing these contact options, the firm has made it easier for prospects to enter their sales funnel so it can begin to nurture them until they become paying clients. It will also do you well to use this technique for your website if you want to make it easier for prospective customers to take the next step in their buying journey with you.
Make an effort to stay on your audience's social media feeds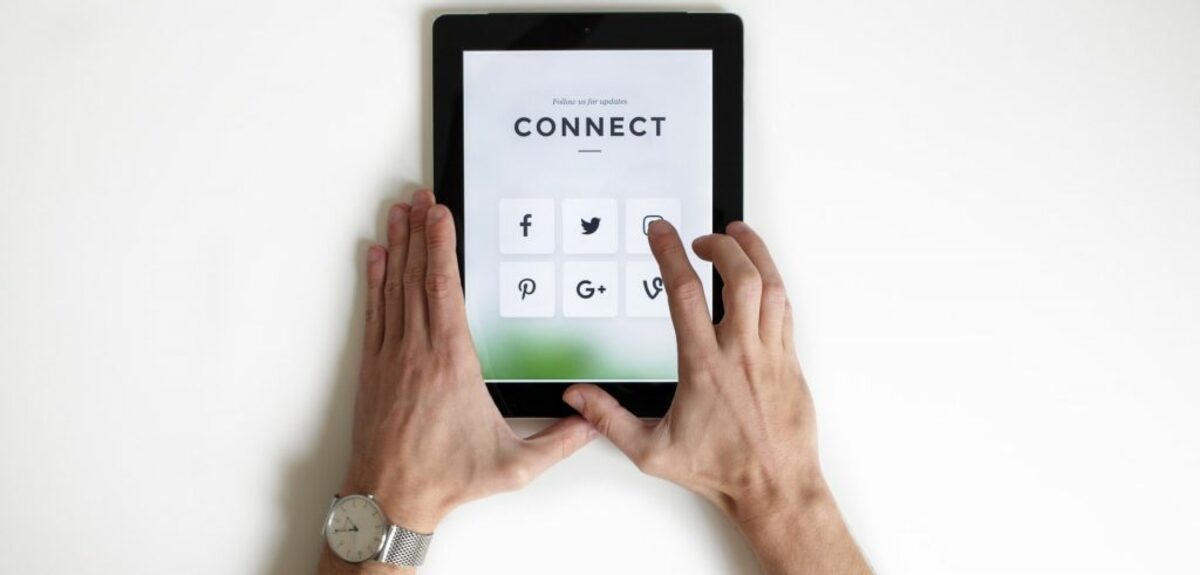 If you're able to stay active on social media, you'll be able to keep your company's products or services in the minds of prospective customers, which will increase the chances of them converting in the long run.
This means you'll need to consistently engage with your target audience on social media. One way to do this is by replying to comments and questions that your followers leave for you. This will show prospects that you care about them and will also allow you to provide more information that might convince them to become customers.
You should also make sure you're posting consistently so you keep appearing on people's feeds. If you're able to regularly educate your audience with relevant and engaging content about your brand and how it can help solve their pain points, you'll be able to catch their attention and then move them into and through your sales funnel.
And, if you think you need some help, The Better Web Movement offers social media marketing services that will allow you to get your business in front of ideal customers.
Contact customers that were close to making a purchase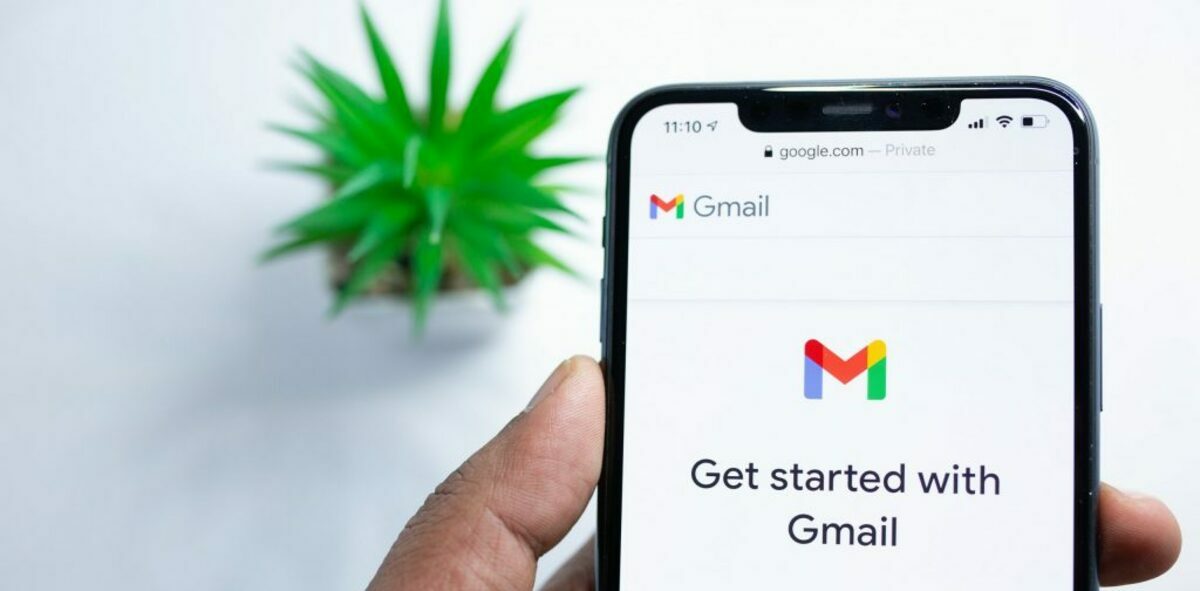 There will be some people who might have come close but then ended up not making a purchase with you for one reason or another. And it's incredibly important to follow up with these people.
For example, you can send a reminder email to the people who abandoned their shopping carts and include a discount code so they have an incentive to come back and finish their purchase. Or you could call back a prospective customer to remind them about your product or service.
You could also simply send a follow-up email to ask if they are still interested in your product or service. But, when you do this, try not to seem too pushy, as that might scare prospects away.
Woodpecker recommends sending a maximum of two to three emails when following up with prospects while allowing at least three to seven days between each follow-up email. You could also try including the testimonials of past clients in one of the emails you send so you can motivate prospective customers to take action.
Summary
In this article, we've looked at some tips that will be very useful in helping you move people through your sales funnel much more quickly. And the great thing is you don't need to rush into all of these at the same time. Take your time, start implementing them one by one and, in time, you'll create an effective system that makes it easier and faster for customers to pass through your sales funnel.
Also, if you want to learn more about how to grow your business, make sure you follow The Better Web Movement blog to stay updated.
Author Bio:

Aaron Haynes is CEO and co-founder of Loganix. The company is an SEO fulfillment partner for digital marketing agencies and professionals, which provides the services businesses need to improve their online visibility and grow. If you liked this article, check out the Loganix blog, where you'll find more SEO guides full of expert advice.