You cannot always have your developer build an application or software for your business needs. So why not utilize a SaaS solution?
Most businesses profit from SaaS in two ways.
First, it provides them with access to vital online software applications such as cloud-based SEO gateway software and other upkeep-free programs. It also provides them with cost-effective alternatives for daily business processes.
Second, you will have more cheap access to tools that you wouldn't be able to get otherwise. SaaS accessibility can also increase productivity by providing a simple, trouble-free way to keep your entire team connected. This way, your team will even be able to utilize the resources they require remotely.
WordPress is one of the most popular SaaS tools that is used by businesses worldwide. In fact, nearly 41% of all websites are built on it, including some of the Fortune500 companies like Microsoft.
A lot of work when it comes to operating a company is taken care of by SaaS solutions. They're frequently scalable to the scale of your firm, which means that if your company grows, the SaaS product may adapt as well. SaaS tools also minimize human labor, resulting in less human error and increased productivity.
More and more businesses are adopting SaaS tools. In 2021, nearly 91% of businesses adopted it to grow their company. In this article, we will talk about the top five SaaS tools to help you grow your business in 2022. These tools will help you run your business efficiently, thereby increasing productivity and sales.
Top 5 SaaS Tools to Help You Grow Your Business in 2022
1. Appcues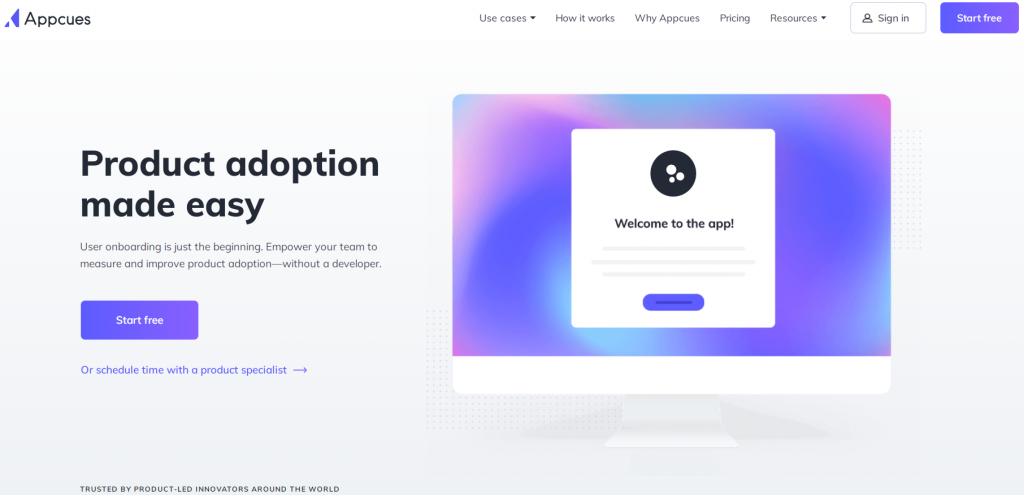 The first step to scaling your business is holding your client's attention. If users don't find your product engaging or fail to understand how your product solves their issue, you're in for a steep fall. Appcues is the best SaaS tool that you can use to make the user onboarding process as smooth as butter. It guides new users, increases activation and conversion, and saves you a ton of time.
The best part? You do not need to have any coding skills to do that. Appcues' user onboarding tools let you create a personalized design. With persona-based induction, you can also use branching logic to establish several paths inside your application.
With this amazing SaaS tool, you can welcome new users and show them around. Another good thing about this tool is that you can analyze and measure how many users reach their 'aha' moment while on your website.
Your potential sign-ups won't remain around if they don't have a great onboarding journey. User onboarding is your chance to develop the habits and behaviors of engagement that will result in long-term loyalty and actual growth for your business.
Pricing
Starts at $249 per month for a minimum of 2500 users.
2. Foyr Neo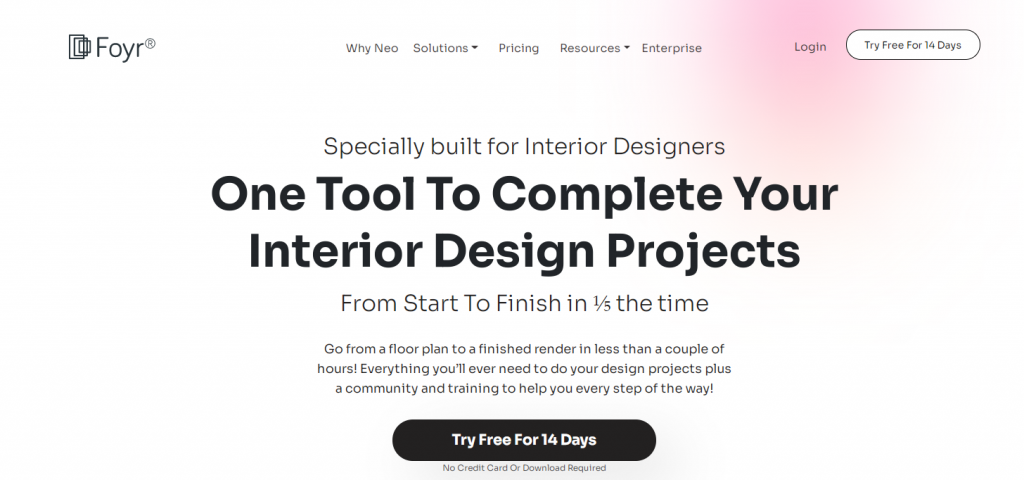 Consider the following scenarios:
Your company lacks contemporary aesthetics because it has been years since it was founded.
You are starting a new business, but you're having trouble with interior design. However, You are hesitant to go that route since an interior designer may charge a significant fee.
Many people, including yourself, struggle to express your preferred design to designers.
If you want to do 3D modeling with interior design software like Maya or AutoCAD, you will need to learn how to use it first. It is possible that learning will take up to a week. That is one of your options for interior design, but why waste time when Foyr Neo is available?
Foyr Neo, a SaaS-based interior design tool, is the best answer for all of the mentioned scenarios. It demands no previous knowledge. So, everyone, from a novice to a professional, can use it and produce results comparable to those of an expert.
It saves time by letting you choose from a built-in repository of over 50,000 designs ready for 3D rendering. If you dislike the rendered product, you can always start over. This is because you can accomplish it in a short amount of time.
In merely a few minutes, Foyr Neo leads you through the entire process. From generating 2D walls and space planning to a 3D rendered model, Foyr has it all.
It also includes a library of ready-to-use designs chosen by internationally renowned artists. These designs might serve as a source of motivation for your own strategy. You may also simply copy them for your own company or workplace.
Pricing
Starts at $1999 per month for a single user.
3. Bit.ai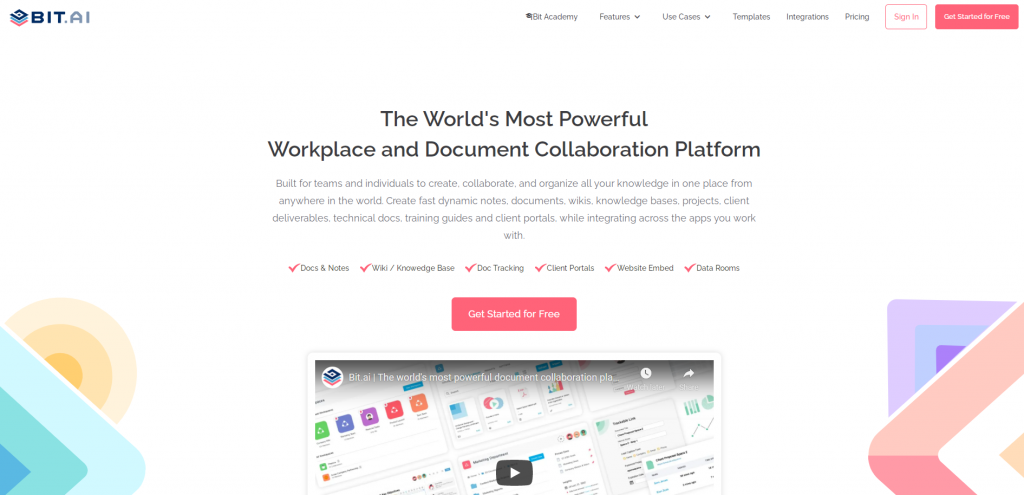 Bit.ai is among the most dependable data management solutions available. It has a user-friendly UI which ensures that it is apt for all industries. Bit.ai features a variety of features that help in every stage of a firm's or team's knowledge management. These include organization, creation, engagement, integration, searching, and distribution.
All business operation begins with a workstation. You may develop private workspaces or collaborate with as many team members as you want to join you. Teams, divisions, company-wide usage, customers, partners, and huge projects all have their own workspaces. Based on their features, Bit's workstation UI enables entire organizations and employees to interact and share their knowledge.
Teams can interact on smart docs and linked resource libraries within each workstation. Bit Smart organizes all of the knowledge that has to be shared in a way that goes beyond words and visuals. Bit allows teams to insert documents, live embedded data from approximately 100 major third-party devices.
It also allows sharing from cloud systems, code blocks, arithmetic equations, graphical weblink cards. Groups that utilize Bit to connect their knowledge report that they communicate more effectively and are more productive. With the knowledge you cooperate on, you may even develop internal and external wikis.
Pricing
Starts at $8 per month per member. However, they also offer a free version with limited features.
4. ClickUp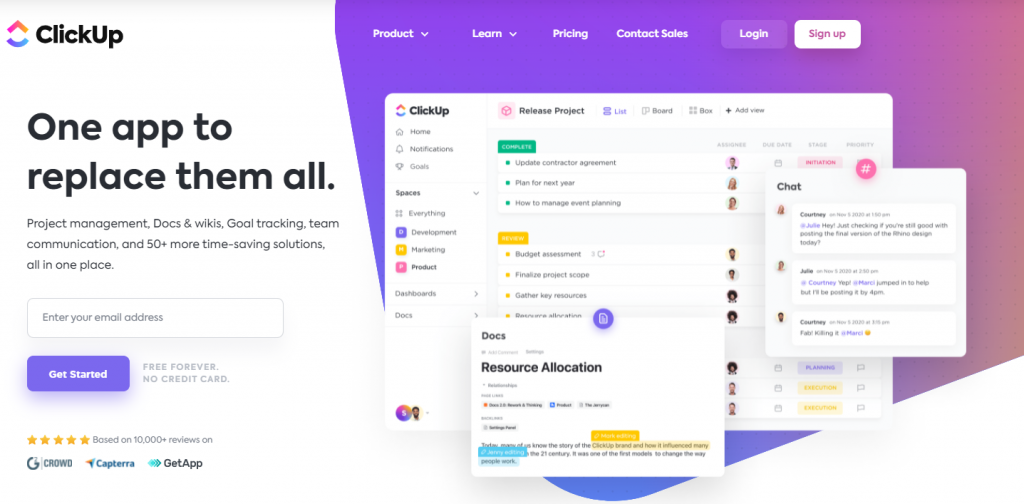 ClickUp is a project management software application. It is similar to an organization's hierarchical system, but it is a SaaS tool that substitutes all physical workstations. A frontline manager reports to a middle manager in the same way that a frontline manager reports to a middle manager in an organization.
On ClickUp, you may add all of your company's employees to the virtual organization. A ClickUp virtual organization, like a physical organization, can be organized into divisions such as finance, human resources, marketing, and so on.
Middle management can construct a to-do list with a due date to allocate a task to a frontline manager in these departments. One of the most intriguing aspects of ClickUp assignments is that the worker may keep track of their time as they work. As a result, an employee's pay can be based on the number of hours performed.
Pricing
Starts at $5 per month per member. However, they also offer a free version with limited features.
5. EngageBay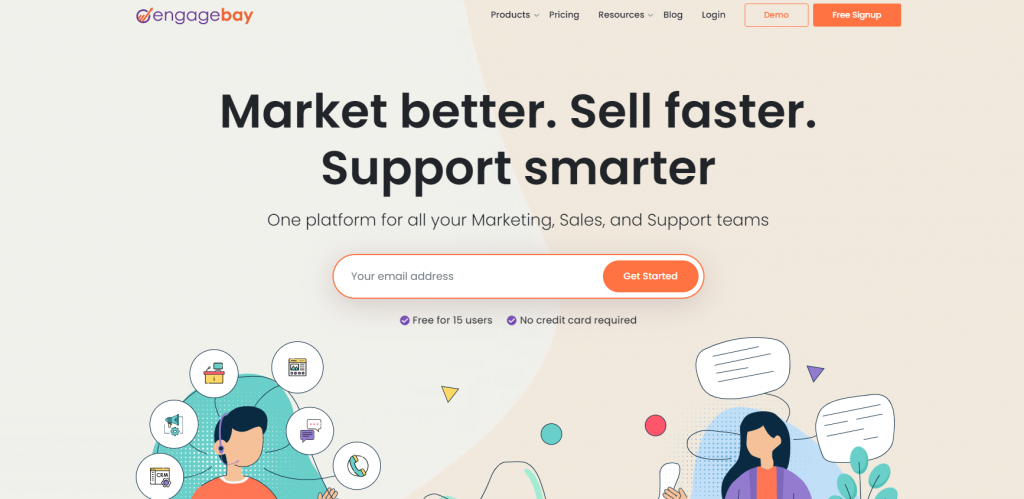 EngageBay is a free live chat platform with an all-in-one marketing, sales, and service platform. Small and medium enterprises will benefit from the platform's capabilities, which are specifically designed to improve your consumers' experience.
Customers may get one-on-one live service and get their issues resolved quickly, all while building strong client connections. Your agents may have all of the necessary customer information in the chat window using LiveChat, allowing them to interact more effectively and reduce turnaround time.
EngageBay's live chat widget may be added to any website and customized to match your brand's appearance. You may quickly construct answers to common questions with canned responses and use them in live meetings with a single swipe.
This program also allows for easy data transfer between service agents, allowing you to better satisfy your customers' needs. Additionally, EngageBay's rich metrics and reports provide in-depth and important data that may be used to improve customer service.
Pricing
Starts at $11.99 per month per member. However, they also offer a free version with limited features.
Wrapping Up
That's all for this article. Hopefully, these tools will help you build and grow your business to greater heights. Remember, SaaS tools can help you manage your business operations, so you may focus on other crucial business work.
Deciding between SaaS tools may feel like rummaging through a candy store for a kid. There are numerous features, and all of the websites are vibrant. However, like candy, having too many SaaS products might be a bad thing.
Consider the following suggestion to help you navigate through the process and locate the best SaaS products for your company.
Don't be irritated if a SaaS tool does not really work out for your company; it's all part of the learning process. There are SaaS providers that are perfect for your company out there. Furthermore, you must also understand your business needs before you jump on to a SaaS tool. You do not want to buy a tool only to find later on in the journey that it did not work well for you.