Data security is one of the biggest challenges online. Everyone wants to protect sensitive data about their business. Furthermore, if the business includes daily communication with customers and using their personal data, this becomes even more important. Thus, one must take all possible measures to maintain customer confidentiality and privacy.
For better and stronger communication, the customer also needs to trust and be sure about the website's identity when he enters his personal data. To have a website of this professional level, you should get an SSL certificate for your website.
In addition to securing sensitive customer data, it is crucial to prioritize the protection of your WordPress login site. To enhance login security and prevent unauthorized access, I highly recommend utilizing the WP Login LockDown plugin alongside obtaining an SSL certificate for your website.
What is an SSL certificate, and why do you need it?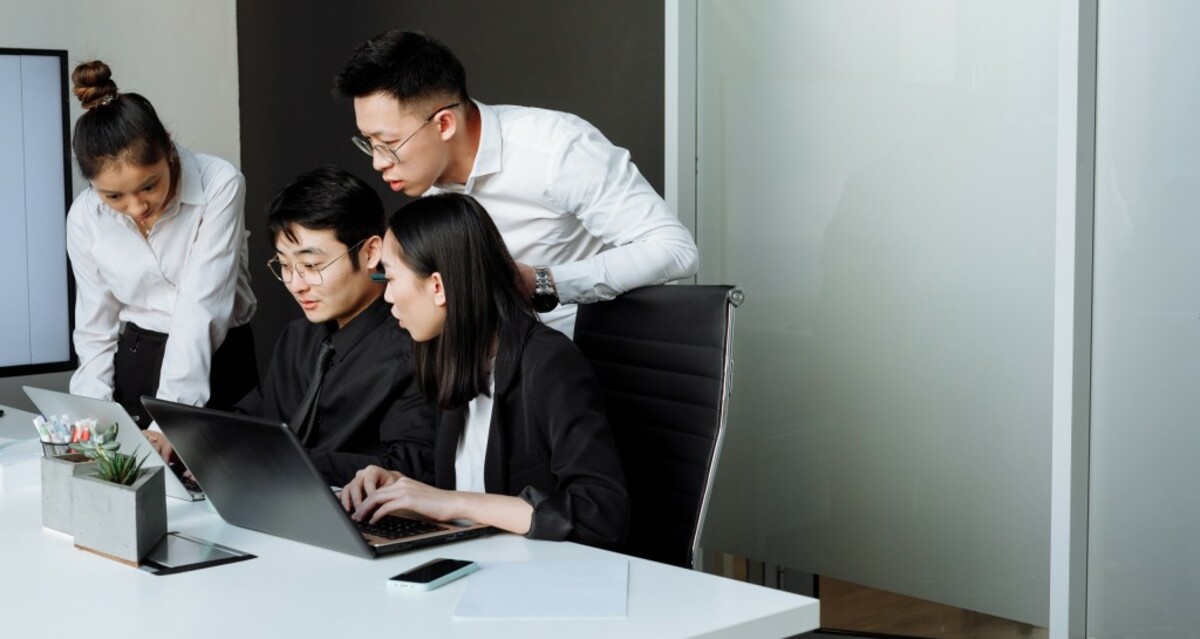 An SSL certificate authenticates the website's identity and makes connections encrypted and secured. It prevents any unwanted attempts to steal or modify information and data in the relation between the two sides. SSL is an abbreviation for Secure Sockets Layer, which is a protocol for creating an encrypted connection between two servers.
With this protocol and an SSL certificate, an internet connection is safe, data is encrypted and protected with unbreakable algorithms, and it is easily shared between servers.
Considering that the Internet became a large ocean of fake websites and phishing attempts for stealing personal data,  it is highly important to know with whom one shares personal data such as addresses or financial details. SSL certificates prove and guarantee customers that the website is authentic and secure.
If your web address is not a secured HTTPS address and your traffic is not encrypted, you can lose customer loyalty, and it can highly affect your business. With any type of online business, customer confidentiality and loyalty are the most important things that move you to a higher level and strengthen your bond with customers.
WP Force SSL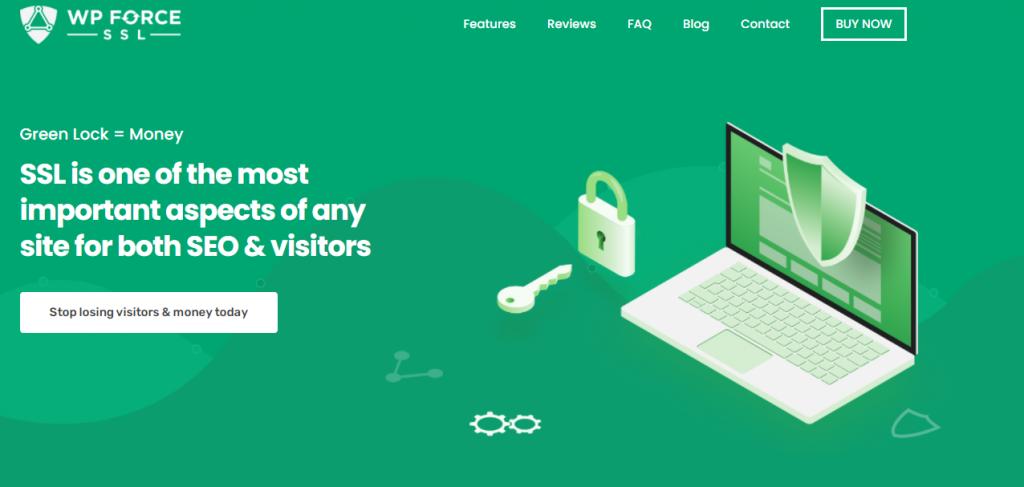 If you have a WordPress website or an online store you were probably thinking about improving it and making it more secure for your customers. You possibly even acquired a valid SSL certificate for your website, and now you feel safer. Only an SSL certificate does not mean that you finished the procedure.
You have to take a few more steps to make sure that your website is secure and exchanged data is encrypted. The WP Force SSL plugin from the WebFactory team does that for you. With this plugin, these steps are simple, and the connection between you and your customers is protected and private.
The WP Force SSL plugin makes your communication through a secure HTTPS protocol, which is crucial if you are about to send and receive personal data. This plugin is simple and very useful with its important life-saving features. It offers two versions, a free version with limited yet useful options and a paid version with a longer list of advanced features for making your website more professional and secure.
However, regardless of your initial selection, you can always switch to a paid PRO package with the growth of your business and needs. Next, we will mention some of the most important WP Force SSL features that make this plugin better than others.
SSL Monitoring

By installing an SSL certificate you have moved one step closer to complete security. However, it is a long-lasting process, and your certificate should be monitored and controlled regularly.
This feature is part of a PRO package, and it controls your SSL configuration instead of you. Instead of manually controlling the certificate, the plugin checks if an error has occurred, if it is about to expire, or if it already should be renewed. The plugin can pinpoint more than 50 errors whenever a scan is finished. In addition, it sends notifications about any change or date dues.
Content Scanner

This feature checks if there is mixed content on your website. It is very hard to check and notice it manually, so this feature comes in very handy. Sometimes, even though you have an SSL certificate and have a secure HTTPS website, some of your content can still be HTTP or unsecured.
That content can be available to hackers and attackers, and it can cause general security issues, regardless of how little unprotected content is in question. To be fully secured and protected, all content should be HTTPS. This feature scans absolutely everything. Besides that, it showcases aby errors and mismatches in a comprehensive report.
If you allow it, the content scanner can automatically fix the errors, transfer and redirect the HTTP content to HTTPS content, or it can leave you to fix what you want and when you want it.
Installing SSL certificate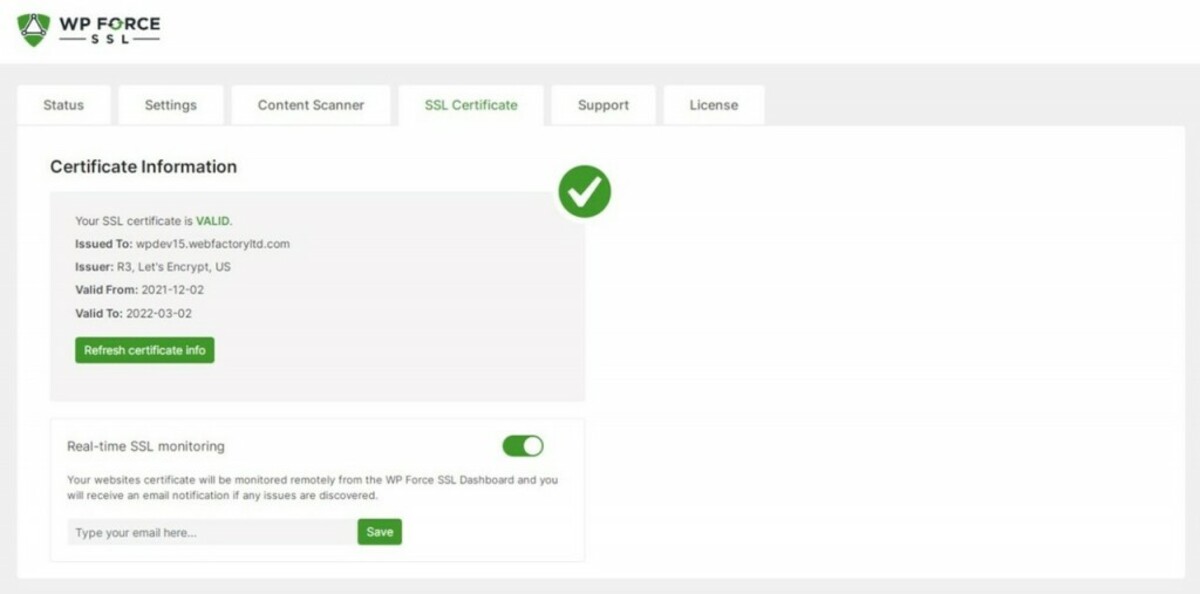 This feature is reserved for those who purchased the WP Force SSL plugin first and then decided to get an SSL certificate. The WP Force SSL plugin offers simple SSL certificate installation over the free Let's Encrypt tool.
This feature allows a simple way of adding security to your website and receiving all needed and useful information for fast and easy installation. It is very handy for beginners since it does not require any skills and extra knowledge.
Centralized Dashboard
The WebFactory team proved how controlling WordPress plugins could be simple. Like other plugins from this team, WP Force SSL has a centralized dashboard where you can control all your websites, purchases, and licenses for different sites, SSL monitors, and more.
Moreover, you can do everything from a single centralized dashboard. This feature saves you a lot of time since you do not need to make several logins for every site individually.
Final Thoughts
Every professional businessperson that operates online respects customers and wants to strengthen their communication. If you want to maintain a strong connection with customers, you also need to have a strong and secure connection between your two systems. Encrypted and secured data is important for any online business, especially eCommerce.
For a better and more secure WooCommerce store, you should get an SSL certificate and monitor it with the best plugin for that – WP Force SSL. The WP Force SSL plugin ensures a high level of protection and security for both sides. It simplifies SSL certificate implementation and monitoring and provides a safer environment for your customers.